Top 10 NOSH Stories of 2018: Readers Find Fascination with RXBAR
2018 was filled protein, plant-based innovation and, perhaps not surprisingly, lots of deals. But perhaps what readers paid most attention to was how those deals are paying off — namely RXBAR, which was acquired in 2017 for $600 million.
Want a quick reminder of the whirlwind that was 2018? Here are the most read stories on NOSH over the past year.
10. With Layoffs, WFM Erases More Brand Marketing Tools
2018 was Amazon's t first full year as owner of natural retailer Whole Foods, and the twelve months saw numerous changes for the company. In addition to widespread category resets, new delivery options and a new cell phone app, the company also underwent restructuring. In March, Whole Foods announced widespread layoffs to its store-level marketing and signage teams, who were tasked with producing the chalk art that adorned the stores as well as highlighting unique products sold on shelves.
Going forward, the company said, signage will be more uniform and produced on a regional and national level in order to streamline operations. Although the move may result in cost savings, it also removed a key marketing tool brands had to catch consumers' attention. It's expected in 2019 that Amazon will find even more ways to streamline the Whole Foods business, which previously lacked standardization from region to region.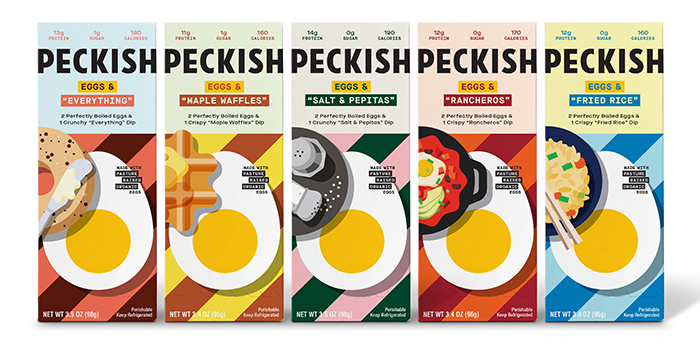 9. Sonoma Brands Hatches Peckish: An Egg-Centric Fresh Snack
Just as Sonoma Brands founder Jon Sebastiani reimagined the jerky category with Krave, now the snack innovator hopes to do the same for the humble hard boiled egg with the launch of Peckish. Comprised of five "peck packs" of two fully cooked, organic, free-range eggs along with a crispy topper to dip each egg into, the line launched into California retailer Erewhon earlier this month with further distribution expected in 2019. Peckish was just one of several new products in 2018 that used eggs, or egg whites, as a key ingredient.
8. Nestlé Acquires Rights to Starbucks CPG Business for $7.2B
In May, Nestlé acquired the global rights to sell packaged retail products from coffee giant Starbucks Corporation for $7.15 billion plus additional royalties. The deal, which included whole bean and ground coffee products as well as tea under several brands, followed a spate of Nestlé investments into the coffee space including Blue Bottle Coffee and Chameleon Cold Brew.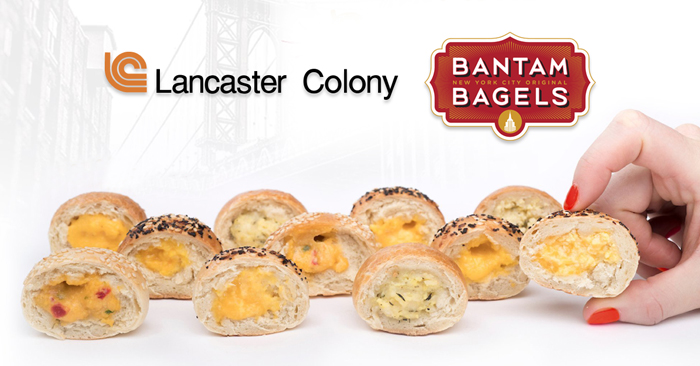 7. Bantam Bagels Acquired for $34M, We Will Maintain Authenticity Co-founder Says
2018 saw numerous brands seek fame and fortune via TV pitch competition show Shark Tank. But perhaps it's no wonder with success stories such as Bantam Bagels, which received a $275,000 from Shark investor Lori Greiner in 2015 and then in October was acquired for $34 million by T. Marzetti Company, a wholly owned subsidiary of Lancaster Colony Corporation.
Nick and Elyse Oleksak told NOSH that the company was at an inflection point where it needed more capital to scale, and the agreement with Lancaster will allow them to remain invested; the deal includes the potential for earn-out payments for the Bantam Bagels team based on the future financial performance of the business.
6. PepsiCo Buys Health Warrior for new HIVE unit
October also saw PepsiCo acquire protein-based brand platform Health Warrior as the first acquisition of its HIVE division, a new emerging brands unit within the company's North American Nutrition group. The deal is part of PepsiCo's strategy to acquire more snacking brands, particularly ones that emphasize health and wellness.
5. RXBAR Lays Off 40 Employees, Launches into UK
Roughly one year after its acquisition by The Kellogg Company for $600 million, protein brand RXBAR in December laid off approximately 40 employees, reportedly 20 percent of the company's total staff. The "proactive" reductions were part of an effort to "support our business objectives in 2019 and beyond," a spokesperson told NOSH.
On quarterly earnings calls, Kellogg had noted that RXBAR's sales were at a "torrid pace" and only expected to continue in an upward trajectory.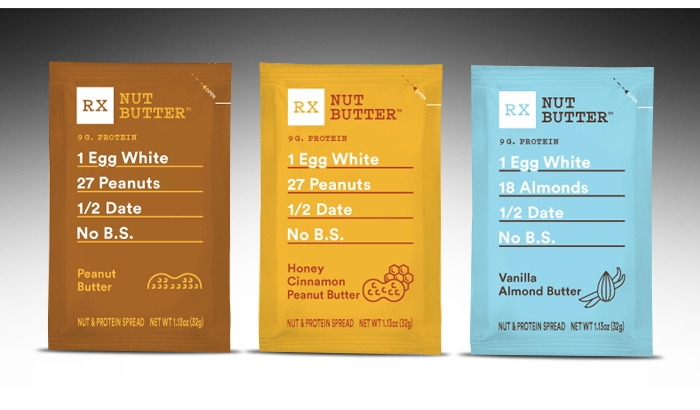 4. RX Goes Beyond the Bar with Nut Butters
As part of its growth strategy, RXBAR launched into new categories this year as it seeks to evolve into a platform brand. At the Natural Products Expo West trade show in March, the brand launched a line of single-serve nut butters that are enhanced with egg whites for protein.
"This is the first trigger of RX as a platform," founder and CEO Peter Rahal told NOSH "[RX] means recipe, that's the origin of the word, and it's just a shorthand for health and high standards."
3. Industry Responds: RXBAR Sued for Allegedly Misleading Consumers with Clean Label
With an increase in success often comes an increase in scrutiny, and that was certainly the case for RXBAR in 2018. Part of the brand's recipe for success was an early design that featured a front of pack list of ingredients. Although ostensibly designed to emphasize the fact that the bars are made with simple ingredients, the labels were the subject of a lawsuit in June which argued that in reality the design was deceptive and didn't accurately convey what was inside of RXBAR.
More so, the suit alleges, the back of pack ingredient list is also misleading. When the brand first launched, ingredients were listed as "egg white protein powder" and "dried wild blueberries infused with apple juice concentrate." However, the nutrition panel now lists the ingredients in the same way they are described on the front of the pack.
Since its launch, other brands have been "inspired" by RXBAR's front of pack listing, and how this suit, which is ongoing, proceeds will determine if this design trend has staying power or is a passing fad.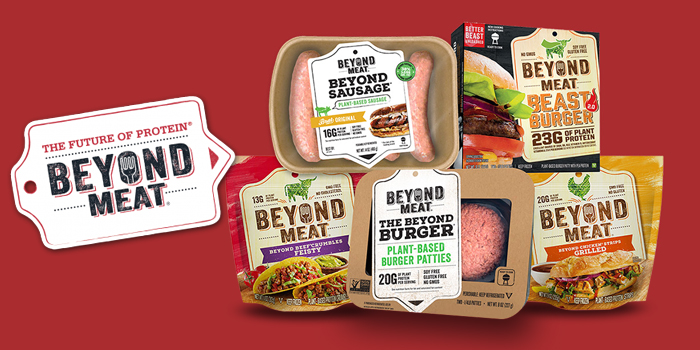 2. Seven Meaty Takeaways from the Beyond Meat IPO SEC Filing
2018 saw plenty of investment in plant-based meat with two strong competitors emerging in the form of Impossible Foods and Beyond Meat. Now the latter brand is taking its company to the next level, announcing in November that 2019 would see the company going public.
Although the company still faces some uncertainty in becoming profitable, the brand sees a path to success by appealing to meat-eaters (not vegans and vegetarians) looking for new protein alternatives that are more sustainable.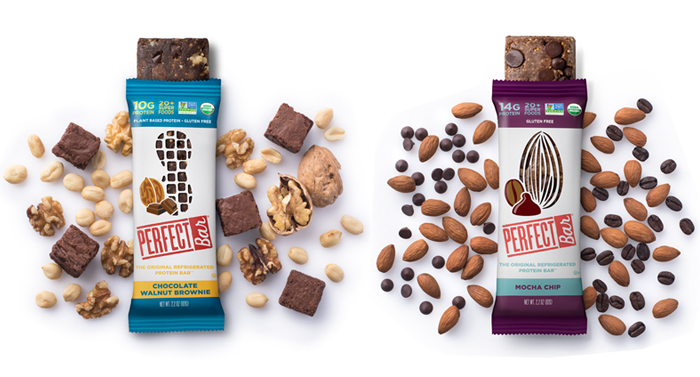 1. Foodstirs and Perfect Bar Use Starbucks as Retail Springboard
As consumers care increasingly more about what they are eating, retailers, restaurants, cafes, food service providers and hotels have had to pay more attention to what food offerings they have, even if it's not a core part of the business. Alternatively, for food producers, this shift has also opened new distribution channels for their products and new ways to gain consumers' attention.
In February, two rising food brands — baking brand Foodstirs and chilled protein bar Perfect Bar –announced they were launching into Starbucks. Although Perfect Bar is a grab-and-go item, Foodstirs launched its mug cakes line into stores, which cannot be prepared on-site.
The additions came as Starbucks has placed greater emphasis on expanding the times of day consumers come to stores as well as increasing guests' average order total.