RXBAR Lays Off 40 Employees, Launches into UK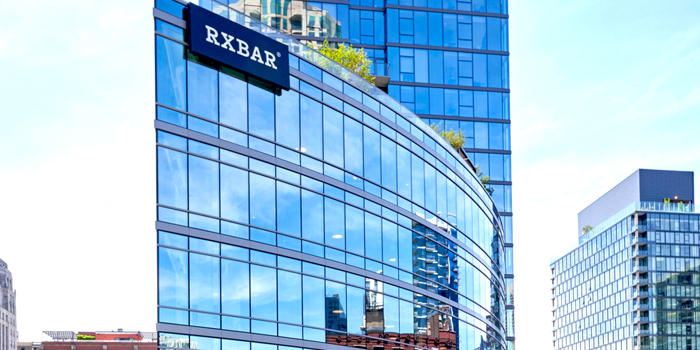 Snack company RXBAR has had a week of highs and lows.
On Wednesday, the company laid off approximately 40 employees, reportedly 20 percent of the company's staff. The "proactive" reductions were part of an effort to "support our business objectives in 2019 and beyond," a spokesperson told NOSH. At the same time, the company also saw distribution growth this week, launching into the UK with a new website for overseas shoppers to purchase the protein bars or sign up as a wholesaler.
The news of the layoffs comes roughly a year after the company was acquired by The Kellogg Company for $600 million. Earlier this year the company moved into a new nine story office building to support its growing headcount.
The spokesperson added that the layoffs were due to changing needs of the business.
"This reorganization includes two key components: [First] adjustments to our infrastructure that will better enable us to invest in key areas of the business," the spokesperson said, followed by "an evolution of our resource management strategy including the rescoping of some existing roles, introduction of new capabilities and evolving activities to drive our vision for the business."
At NOSH Live Summer 2018 RXBAR CEO and co-founder Peter Rahal told the audience that at that time, the company had not "lost" one employee. He added that part of the reason RXBAR sold to Kellogg was because of the large company's commitment to RXBAR employees.
"We didn't want to exit, a mass exodus. Everyone loves their job at the company." Rahal said from the stage. "[We weren't] going to look for a partner that's going to fire everyone."
At the same time, Kellogg has been undergoing a multi-year cost-saving process dubbed "Project K" which includes consolidating business processes and some staffing reductions.
On the company's last two quarterly earnings calls, senior leadership spoke to RXBAR's continued successful growth in the marketplace, with CEO Steven Cahillane stating sales were at a "torrid pace." In response to one analyst's question on the last quarterly earnings call about RXBAR's flat sales, Cahillane noted that RXBAR had gone from 30 percent ACV distribution to 70 percent ACV distribution, yet had not seen sales per point of distribution drop. He added that sales would increase as brand awareness grows.
The layoffs may have come as a surprise to employees.
"Never did I think at any point, I would leave RXBAR on anything other than my own terms. Hell, I practically convinced myself I was going to retire there," Sarah Argue, former Senior HR Manager, wrote in a LinkedIn post about the layoffs. "[But] I respect the decisions that were made and can empathize with the leaders who had to make those choices."