Nestlé Acquires Rights to Starbucks CPG Business for $7.2B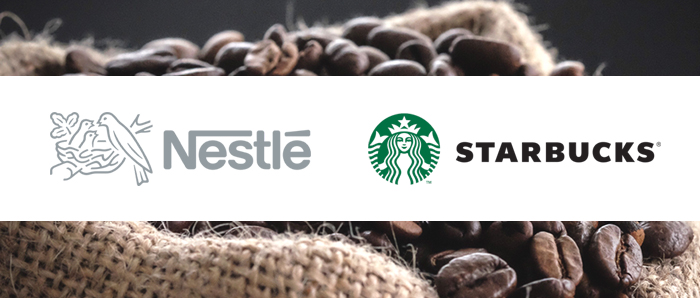 Nestlé S.A. has acquired the global rights to sell packaged retail products from coffee giant Starbucks Corporation for $7.15 billion plus additional royalties.
The agreement will "accelerate and grow the global reach of Starbucks brands in Consumer Packaged Goods (CPG) and Foodservice," according to a press release from Starbucks. This segment, which generated annual sales of $2 billion, includes whole bean and ground coffee products under the Starbucks brand, as well as coffee and tea products marketed by Seattle's Best Coffee, Starbucks Reserve, Teavana, Starbucks VIA and Torrefazione Italia in at-home and away-from-home channels.
The agreement notably does not include ready-to-drink (RTD) coffee, tea and juice products. Since 1994, Starbucks RTD coffee products have been marketed and distributed through PepsiCo as part of the North American Coffee Partnership (NACP). The contract was amended in 2006 to include another Starbucks property, bottled water brand Ethos.
"This global coffee alliance will bring the Starbucks experience to the homes of millions more around the world through the reach and reputation of Nestlé," said Starbucks president and CEO Kevin Johnson, in a press release. "This historic deal is part of our ongoing efforts to focus and evolve our business to meet changing consumer needs, and we are proud to work alongside a company that is committed to our shared values."
Starbucks will retain a "significant stake" as a licensor and wholesale coffee supplier, while its branded portfolio will be integrated into Nestlé's Nescafé and Nespresso single-serve capsule coffee systems.
The transaction does not include any industrial assets, but around 500 Starbucks employees are expected to join Nestlé as part of the deal.
In a press release, Nestlé CEO Mark Schneider called it "a great day for coffee lovers around the world."
"This transaction is a significant step for our coffee business, Nestlé's largest high-growth category," he said. "With Starbucks, Nescafé and Nespresso we bring together three iconic brands in the world of coffee."
Sales of any products within Starbucks retail locations are also exempt from the agreement.
Starbucks will use after-tax proceeds from the payment for share buybacks; according to the company, it will return around $20 billion in cash to shareholders from buybacks and dividends through fiscal year 2020. Earnings per share are expected to increase by the end of 2021 at the latest, according to the company.
Nestlé's acquisition of Starbucks' CPG business is the latest in a spree of recent moves by the Swiss food conglomerate to further reinforce its position as the world's leading coffee company at a time of increasing competition in both at-home and on-premise businesses. Last September, Nestle purchased a 68 percent stake in premium coffee roaster and retailer Blue Bottle Coffee for around $425 million to bolster its presence in high-end coffee. Two months later, in November, Nestlé USA acquired Austin, Tex.-based Chameleon Cold-Brew, which makes a variety of organic RTD coffee products, for an undisclosed fee.
The deal with Starbucks will specifically help in the U.S., where Nestle retains less than 5 percent of the market, according to Euromonitor International. Starbucks leads the market with 14 percent.
In recent years, JAB Holdings Inc., a privately held company based in Germany, has emerged as Nestlé's most significant global rival in coffee through a variety of acquisitions. Portfolio companies Stumptown Coffee Roasters, Peet's Coffee, Caribou Coffee and Intelligentsia Coffee have provided a strong base in premium roast and ground coffee, as well as on-premise service, while the 2015 merger with Keurig Green Mountain, makers of pod-based single-serve beverage systems, has given the company a strong foothold in at-home coffee preparation.
In January, Keurig Green Mountain announced a merger with Dr Pepper Snapple Group (DPS) valued at $18.7 billion.
Wells Fargo Securities beverage analyst Bonnie Herzog said the firm viewed the deal positively from Starbucks' perspective, noting that Nestlé's distribution network will allow for accelerated retail expansion into new channels worldwide.
In an email, Matthew Berry, senior beverages analyst at Euromonitor, said the agreement will instantly vault Nestlé ahead of JAB Holdings as the market leader in North America at retail. He indicated that the challenge that Starbucks-branded Keurig-compatible coffee pods, which is the company's biggest category, are facing at retail from less expensive, unlicensed pods may have influenced Starbucks' decision to sell its CPG business.
"[The deal] is a further step in the consolidation of the global coffee market that has seen many of the big players get even bigger in the last few years," he wrote.