Seven Meaty Takeaways from the Beyond Meat IPO SEC Filing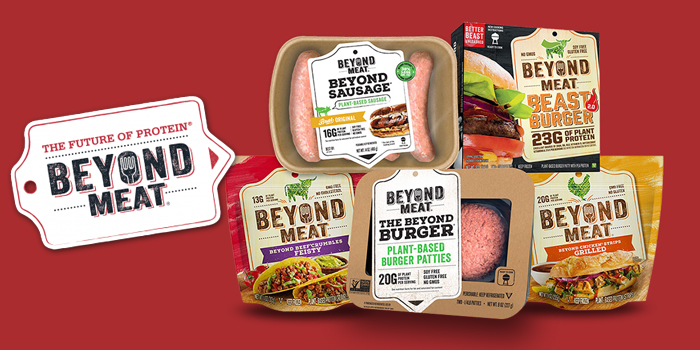 As plant-based meat brand Beyond Meat prepares for a planned $100 million initial public offering, the company's announcement of intent with the U.S. Securities and Exchange Commission yields some interesting food for thought. NOSH took a deep dive into the hundreds of pages of filings to pull out some of the salient points for brands to note, admire and potentially add to their own playbooks.
Beyond Meat is Appealing to Meat Eaters
While Beyond Meat produces plant-based products, the company wants to cater to more than just vegans and vegetarians. In its IPO filing, Beyond Meat notes "it is not, and has never been, our goal to become the best-selling veggie burger or to market our products in a manner similar to traditional veggie burgers or soy-based meat."
Instead, the goal is getting meat-eating consumers to consider making the switch to plant-based products by emphasizing that it doesn't compromise on taste.
The company notes that in Kroger, 93 percent of Beyond Burger buyers over a 26 week period ending June 30, 2018 also purchased animal protein, a statistic the brand says "evidences Beyond Meat's appeal to meat-loving consumers." In the Southern California division of Ralph's this summer, the Beyond Burger was the top selling packaged burger patty by unit — including meat-based patties — sold in meat case for the 12-week period ending Aug. 4, 2018.
Beyond Meat writes that the reason for this strategy comes down to dollars and cents. According to Fitch Solutions Macro Research, the filing states, the meat industry is the largest food category, with researchers estimating that in 2017 it generated sales across retail and foodservice channels of approximately $1.4 trillion globally. If Beyond Meat can capture a significant share of that market, its revenues will be impressive.
The company goes on to use the plant-based milk category as analogous to the market opportunity that lies ahead for Beyond Meat.
"The success of the plant-based dairy industry was based on a strategy of creating plant-based dairy products that tasted better than previous non-dairy substitutes, packaged and merchandised adjacent to their dairy equivalents," the filing says. "We believe that by applying the same strategy to the plant-based meat category, it can grow to be at least the same proportion of the approximately $270 billion meat category in the United States, which over time would represent a category size of $35 billion in the United States alone."
The Company is Growing, but It's Still Losing Money.
In 2015, Beyond Meat had a net revenue of $8.8 million. Two years later, in 2017, the company had grown over fourfold to $32.6 million in revenue with a 92 percent compound annual growth rate. That upward trajectory has continued in 2018. For the nine months ended Sept. 29, 2018, alone, the company saw net revenues rise to $56.4 million — a 167 percent jump from the same period in the previous year.
Much of this growth is thanks to what the company's flagship product — the Beyond Burger. In 2017 the Beyond Burger accounted for 48 percent of the company's gross revenues. Jump ahead to the first nine months of 2018 and that number is up to 71 percent.
"We believe that sales of The Beyond Burger will continue to constitute a significant portion of our revenues, income and cash flow for the foreseeable future," the filing notes.
Foodservice has increasingly become a large part of the brand's channel strategy. The company's products are currently sold at approximately 11,000 restaurants and "foodservice outlets" across the United States. Net revenues from food service operations l increased 84.7 percent from $3.8 million in 2016 to $7.1 million in 2017. In 2018 the company saw even more growth, with sales of $19.2 million in the channel for the nine months ending September.
Despite the rising revenues, the filing states "we have generated losses since inception." Net losses were $25.1 million in 2016 and $30.4 million in 2017, a rise the company attributes to investments in innovation and the growth of the business.
Innovation and Increasing Capacity Are Two Focus Areas
Encouraged by the Beyond Burger's positive start, the company is now working to further improve its products. The filing notes that although it took years to develop the original Beyond Burger, a newer version took less than a year to develop. That burger patty, which is currently only sold in Canada at A&W restaurants, "[generated] enthusiastic comparisons to traditional beef."
Going forward, the company adds, it expects to produce one new product every year.
Innovation will be accompanied by an enhancements in production. Beyond Meat plans to to triple its monthly production output by the end of the first quarter of 2019 as compared to the end of the second quarter of 2018. The company notes that it currently does not have sufficient capacity to meet current consumer demand.
Supplier Relations are Extremely Important
The technology powering Beyond Meat's "fresh products" heavily relies on the use of pea protein — an ingredient the company writes only comes from on single source supplier. During 2017 and the first nine months of 2018, products that contain pea protein from this supplier accounted for roughly 48 percent and 79 percent, respectively, of net revenues.
The company also has had issues with co-packers. According to the filing, Don Lee Farms, a former co-manufacturer, filed a lawsuit in May 2017 alleging that Beyond Meat wrongfully terminated a contract and that the company "misappropriated their trade secrets by sharing them with a subsequent co-manufacturer." The co-manufacturer alleges that they developed some of the processes used to create Beyond Meat products.
Beyond Meat in turn filed a cross-complaint alleging Don Lee Farms failed to provide saleable product due to products being contaminated with salmonella and "other foreign objects," engaged in unfair competition in violation of California's Unfair Competition Law, and "unlawfully converted" several pieces of Beyond Meat property.
In a February 2018 press release, Don Lee Farms announced it would be "the first to produce and nationally distribute organic plant-Based raw burgers."
The FDA and USDA Could Play a Role in the Company's Success — or Struggles
In the filing Beyond Meat acknowledges that any changes to laws, regulations or policies regarding the use of the word "meat" in relation to plant-based products could "adversely affect our business, prospects, results of operations or financial condition."
As an example of what might become larger legislation, the company points to a recently enacted Missouri state law that prohibits "meat" from being used to describe products not derived from livestock. Coincidentally, Columbia, Mo. is where Beyond Meat produces many of its products.
While currently Missouri is currently the only state to pass laws that may impact plant-based "meat," the filing notes that federal agencies may also step into the fray by referencing the FDA's pending review of the standard of identity for "milk.". Although the USDA has received a petition demanding the term "meat" be used exclusively to describe animal-based products, the filing adds, the USDA has yet to respond substantively to the request.
"We do not believe that USDA has the statutory authority to regulate plant-based products under the current legislative framework," the filing notes "However, should regulatory authorities take action with respect to the use of the term "meat" or similar terms, such that we are unable to use those terms with respect to our plant-based products, we could be subject to enforcement action or recall of our products marketed with these terms, we may be required to modify our marketing strategy, and our business, prospects, results of operations or financial condition could be adversely affected."
Social Media and Celebrities Endorsements Are Essential to Marketing
In the filing, Beyond Meat credits social media marketing for driving its brand awareness. As of September 2018, it had over 1 million social media and newsletter followers — specifically over 202,000 newsletter subscribers, roughly 339,000 Facebook followers, over 450,000 Instagram followers and approximately 60,000 Twitter followers. Despite those numbers, the company dedicated only around four percent of its marketing and advertising spend to digital marketing channels in 2017, according to the filing.
The reach and impact of some of Beyond Meat's prominent investors and celebrity partners helped the company achieve over 4 billion earned media impressions last year.
"Our audience continues to grow from the attention generated by our large following of celebrities, influencers and brand ambassadors who identify with our mission," the filing states.
For example, on October 2017 Beyond Meat announced the Leonardo DiCaprio would be joining the company as a brand ambassador. In total, that campaign generated over 378 million earned media impressing, the filing notes, including a viral video about the partnership which alone had more than 8.5 million views.
Although the company values these impressions and views, it notes in the filing that these numbers can only tell so much. "While we use earned media impressions to evaluate growth in brand awareness of our products, we do not use them as a metric in evaluating our business or results of operations."