Industry Responds: RXBAR Sued for Allegedly Misleading Consumers with Clean Label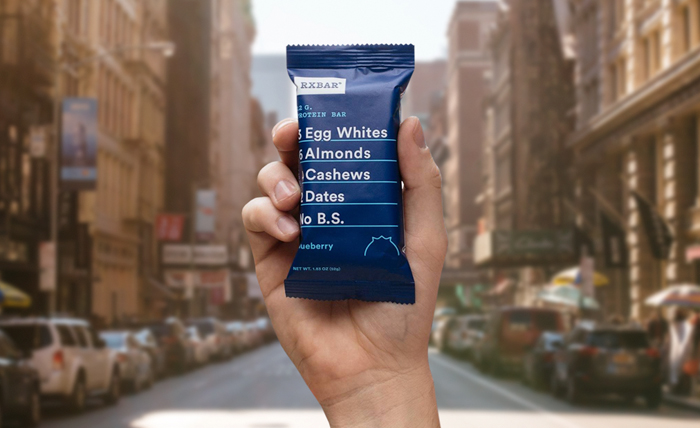 RXBAR is getting called out for alleged "B.S." on its label.
Earlier this month, protein bar maker RXBAR was hit with a proposed class action lawsuit that claims the brand misleads consumers with its front-of-pack design. The brand's signature look consists of an oversized list of ingredients on the front of the wrapper, along with the phrase "No B.S." The company has stayed with that strategy after selling to the Kellogg Company last year and expanding into new categories.
In the suit, which was filed by Levin-Epstein & Associates PC in the eastern district of New York, the plaintiff suggests that the ingredients in RXBAR aren't accurately represented on the bar's label. When the brand first launched, previously the ingredients were listed as "egg white protein powder" and "dried wild blueberries infused with apple juice concentrate." However, the nutrition panel now lists the ingredients in the same way they are described on the front of the pack.
"We are proud of our products and are committed to offering the highest-quality food to our customers," RXBAR CEO and cofounder Peter Rahal told NOSH in a statement. "We stand by our product and packaging and will defend our position against those that question our integrity."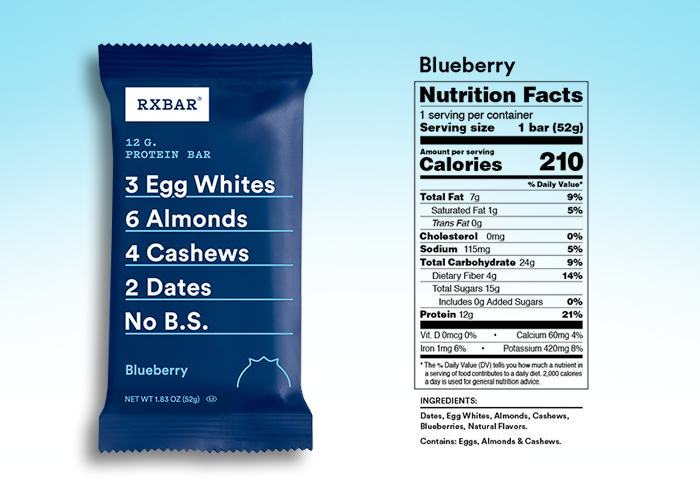 RXBAR is the second brand recently to face scrutiny for oversimplifying its list of ingredients. Levin-Epstein & Associates also filed suit against fruit and veggie bar maker That's It, alleging that the brand is using deceitful marketing tactics around its ingredient list.
That's It founder and CEO Lior Lewensztain previously told NOSH that everything on its packaging had "complete merit," and further doubled down on its clean label look in a recent redesign.
In 2017 Nielsen found that 93 percent of U.S. households have purchased a clean-label product in grocery stores and 91 percent of consumers think products with recognizable ingredients are better for them. To appeal to this large segment of shoppers brands are increasingly exploring how they communicate these attributes via their largest billboard: the front label. Even meat bar maker Epic has embraced this ingredient-forward branding in its newest meat-free bar. Still, many industry leaders are discussing what is the most effective way to deploy this strategy.
Food and beverage attorney Justin Prochnow, who is not working with either party in this case, previously told NOSH that brands used to use the word "natural" to convey clean label. Ironically, this term fell out of favor in an effort to avoid litigation. Now, brands try to convey the clean label message through a combination of branding, images and ingredients.
But, from a legal perspective those waters are getting murkier now as well.
"To basically say, 'You are making claims that aren't actually there but are inferred,' it makes it tough to say what is safe to say and what's not," said Prochnow, "because essentially there is probably not anything that's safe to say anymore."
To build faith with a consumer, Fred Hart, a partner at branding and design firm Interact Boulder, explained it's a balancing act. A company needs to create a brand that doesn't chase trends, but employs a marketing strategy that resonates with their specific consumer while also meeting the new standards of the food industry.
"Food is becoming more of a vehicle of wellness than it's ever been, but you can't do anything to jeopardize that movement as a whole because as soon as we start to undermine one brand or another brand, people start to get skeptical," Hart said. "I think that's why people care about this subject. They look at a brand like RXBAR that has always preached 'No B.S.' and transparency, and it's a direct conflict with that positioning. Being able to walk the talk is important."
Becky Nelson, partner at design firm BexBrands — the company behind juice company Suja's ingredient-forward packaging — added that brands trying to convey that they are a "clean-label" product have to walk a fine line on messaging. She added that although brands may avoid explicitly using that phrase, it's important for companies to clarify whether it's communicating "highlights and headlines versus the full picture."
"I think if you talk to most people, they assume there's nothing else in the bars aside from the ingredients listed on the front," Nelson said. "While I understand the desire to be quick and to the point, RXBAR's catchy phrase (No B.S.) seems to be compromising trust in the consumers point of view."