Bantam Bagels Acquired for $34M, We Will Maintain Authenticity Co-founder Says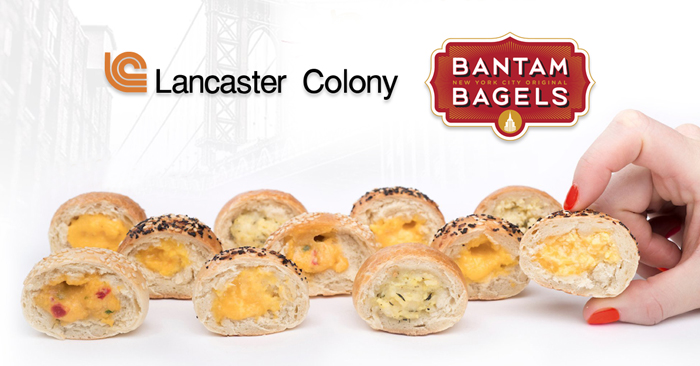 Brooklyn cheesecake. Coney Island hot dogs. Bagels and lox. New York has a plethora of iconic foods, and as a new producer it takes a lot to stand out. But frozen brand Bantam Bagels did just that — going from hometown darling to Shark Tank success story and now an acquisition by Lancaster Foods.
The company announced today that it has been acquired for $34 million by T. Marzetti Company, a wholly owned subsidiary of Lancaster Colony Corporation. The deal includes additional earn-out payments for the Bantam Bagels team based on the future financial performance of the business. Aaron Goldstein of Lincoln International served as financial advisor to Bantam on the deal.
According to a a release by Lancaster, Bantam currently has annual net sales of roughly $20 million, significant revenue for a brand less than five years old.
Founded by husband and wife duo Nick and Elyse Oleksak in 2012, Bantam was originally funded with a small friends and family round in 2013 in order to open a New York City shop. In 2015 the company appeared on reality TV show Shark Tank, and received a $275,000 investment from "shark" Lori Greiner in exchange for 25 percent of the business.
After that, co-founder Elyse Oleksak told NOSH, growth quickly spiraled. The brand was picked up by Starbucks nationwide and grew from $200,000 in sales before Shark Tank to a reported $2 million by 2016. According to a Shark Tank follow up, the company hit $13 million in sales by 2017. Bantam is now sold in roughly 20,000 stores including Target, Stop and Shop, Vons, Albertsons, Fresh Thyme, Kroger, Sprouts and Costco.

The line has also expanded from cream cheese stuffed bagels to egg stuffed bagels as well as stuffed pancake bites.
All that growth meant the company was at "an inflection point," Oleksak said, adding that "it takes money to make money." Seeking capital for inventory, production, capacity and marketing, the brand decided to either raise a round of funding or find an acquirer. After meeting Marzetti executives, Oleksak said, there was no question of the next step.
"In business, a partner is not just a business partner, a partner is a new family member… We walked out of our first meeting with [Marzetti] with our hearts swelling and we were like, 'that's it,'" Oleksak said. "It felt like not only did they get us and they would be able to help us strategically, but they were also willing to listen to us and allow us to drive our brand and who Bantam Bagels is."
The Oleksaks and their six employees will remain with the company. The founder duo will manage the company's day-to-day operations including spearheading future innovation.
"In acquiring Bantam Bagels, it's our goal to truly partner with them, enhancing the business where we can, but allowing Bantam and its products to flourish within the Lancaster Colony family," Dave Ciesinski, Lancaster Colony's CEO, said in a release. "Keeping Nick and Elyse and their founder's passion involved in the ongoing growth and development of Bantam is incredibly meaningful to us."
Bantam's founders will also be incentivised with the potential for future payments tied to the financial performance of the business. Oleksak told NOSH this deal structure allows them to continue to feel invested in the business.
"We do still feel like every decision still affects us personally," Oleksak said. "I think the toughest thing as an entrepreneur is to overnight feel like you no longer own what you've been hustling so hard for. And this is a happy medium where we could have [Marzetti] as a partner and have their infrastructure support but still feel that we're working towards something as owners."