PepsiCo Buys Health Warrior for new HIVE unit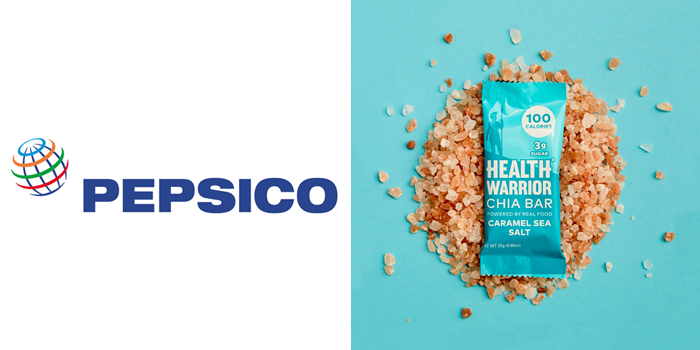 A few years ago, PepsiCo's Naked Juice brand launched a smoothie that included chia as an ingredient. It must have liked the taste.
This morning, the soft drink and snack giant announced that it was buying Health Warrior, an upstart snack bar company that is best known for its use of chia — and other nutritional seeds and nuts — in its plant-based products.
The company will serve as the first investment in the PepsiCo HIVE, a new emerging brands unit within the company's North American Nutrition group. Financial details were not immediately available.
In a statement this morning posted to social media site LinkedIn, company CEO Shane Emmett noted that "In joining the PepsiCo family we will offer more Americans access to good for you food more quickly. It's still early. We are just getting started."
Health Warrior was started by three college friends; one of them, Emmett, is a former attorney for the Commonwealth of Virginia, co-founder Dan Gluck remains active in the food business as a managing partner of Powerplant Ventures, while Nick Morris works on Wall Street. The company is closely tied to the communities that are known for their use of chia, including raising money for the Tarahumara of Mexico, whose use of chia brought attention to the seeds when it was written about by author Christopher McDougall in the widely-read book Born to Run.
The brand's first success nearly killed it: the brand took off when a Wall Street Journal article noted that a prominent NFL player, Ray Rice, was using chia seeds imported by Health Warrior as a source of energy. At the time, the company had just barely begun making bars, and demand skyrocketed, leaving the company to scramble to source products for retailers like Whole Foods.
Recently, the brand expanded from its original chia line to incorporate pumpkin seeds and plant-based protein. Since then, it has also launched a vegan protein powder and a microwaveable "mug muffin."
According to Emily Silver, the VP and general manager of the PepsiCo HIVE, Health Warrior can help PepsiCo achieve an ongoing commitment to offer more nutritious options.
"We were attracted to Health Warrior because it's a growing, plant-based superfoods company," Silver said. "Not only has the brand made significant headway in the fast-growing nutrition bar category but it's also proven that it can transcend bars with additional on-trend, plant-based protein offerings – like its Protein Mug Muffins and Superfood Protein Powder."
Emmett will continue to lead the business from its headquarters in Richmond, Va. PepsiCo noted in a press release.
"This will enable us to continue building the Health Warrior brand at a deliberate and sustainable pace and to leverage its entrepreneurial expertise and talent to benefit our broader portfolio," said Seth Kaufman, president of PepsiCo North America Nutrition. "Health Warrior is a nutrition-forward trailblazer that can provide great insight into high value categories and consumers while benefitting from our expertise and resources to bring plant-based nutrition to more people."
Sales discussions on the outright acquisition began a few months ago, according to Silver, who said the deal closed on Monday, Oct. 29. A part of the VMG Partners investment portfolio, the company also received early financing from local group New Richmond Ventures partners, as well as a group of professional baseball and football players. Piper Jaffray's Janica Lane ran the deal on behalf of Health Warrior.
"Health Warrior has found a fantastic home within PepsiCo," VMG co-founder Kara Roell told NOSH. "VMG has been honored to support a truly mission-driven team and brand led by Shane Emmett and we are thrilled for our ecosystem of 'good for you' food that PepsiCo is investing in and and focusing on these critical nutrition trends."