RX Goes Beyond the Bar with Nut Butters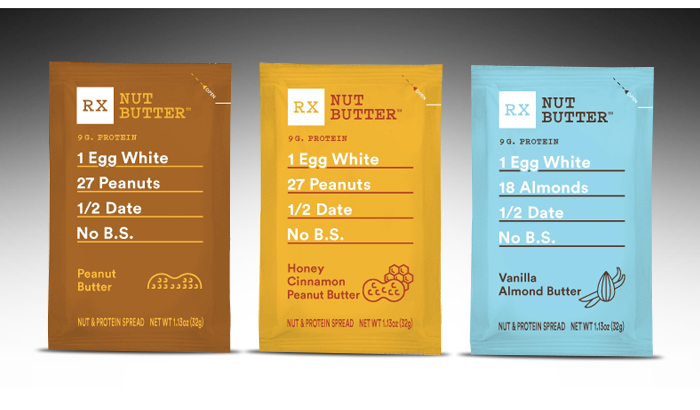 While RX Bar shook up the standard for the bar industry with its limited-ingredient bars in 2013, the company– now part of Kellogg's — is ready to establish itself as a platform brand. The first iteration of this expansion is a line of protein-enhanced nut butters, which launched today.
The nut butters will be sold in single-serve, 28-32 gram packets in vanilla almond, original peanut butter and honey cinnamon peanut butter. Each will retail for under $2 and have roughly nine grams of protein per serving.
While the product is new, the strategy is the same: fill the gap between performance products consumers need to achieve their health goals and natural products consumers want for their simple ingredients.
"In nut butters, there's a similar dichotomy that existed with bars," CEO, president and co-founder Peter Rahal told NOSH. "There are very natural, minimal ingredient bars on one end of the spectrum and then there's super performance-based ones that you'd find at specialty stores like GNC."
Rahal said that while a multi-serve jar will follow, the single serve packets were faster to bring to market, are better at driving trial and fit the needs of their on-the-go consumers who are looking for easy, healthy snacks.
The line will roll out on the company's own site and ecommerce platform in the spring before heading to retail shelves. Rahal told NOSH that it will continue to use the company's tried-and-true digital presence to launch new products and quickly get them into the hands of consumers.
While this will be RX Bar'smain innovation of 2018, it is the start of the company's progress toward having a suite of clean ingredient, protein-forward products.
"This is the first trigger of RX as a platform," Rahal said "[RX] means recipe, that's the origin of the word, and it's just a shorthand for health and high standards."
It's also, he added, a nod to the company's roots in CrossFit where RX stands for the highest, prescribed movement standards for the day's workout.
The nut butters are also the first products released post- Kellogg's acquisition. However, Rahal said, the line was in the works before the deal closed. While Kellogg's will advise the company on future products, he said he sees their innovation path remaining similar.
"It's a bit of a two way street between Kellogg's R&D team and our R&D team. They have a ton of experience and resources that we can tap into and leverage but generally, our team here is leading [the innovation process]." Rahal said. "