Sonoma Brands Hatches Peckish: An Egg-centric Fresh Snack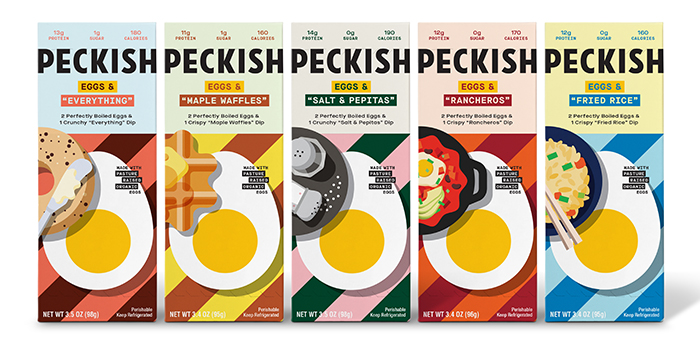 With the launch of Peckish, a fresh snacking platform centered around eggs, food incubator and investor Sonoma Brands is aiming to bring the same attention to the humble egg as founder Jon Sebastiani did for meat snacks at his previous company, KRAVE Jerky.
The first products under Peckish will be five "peck packs" consisting of two fully cooked, organic, free-range eggs along with a crispy topper to dip each egg into. Each peck pack, which comes in flavors like salt and pepitas, everything, maple waffle, fried rice, and rancheros, will retail for $3.99. The flavors, the Sonoma Brands team said, are intended to work for breakfast and mini-meals throughout the day.
The snackable formats will be supported by the launch of a multipack of four individually wrapped cooked eggs that will retail for $4.99. All products will launch in January 2019 on Peckish's website, as well as in select, to-be-announced, retailers.
Peckish Co-founder Chelsea Bialla, who also serves as Sonoma Brands' chief brand officer, told NOSH that she was inspired to launch the brand after finding lack of convenient, higher quality products in retail that used eggs as a focal point.
"We started to peel back the layers and look at the egg space as a whole, which is a $5 billion category and growing. We saw beautiful brands being built in the shelled egg space, but no one really owning ready-to-eat and hard cooked eggs kind of sitting here as a sub $200 million category," Bialla said. "[We had to ask] is this due to a lack of consumer interest in this space and this food or is it because no one has paid attention to it?"
Bialla said unlike current hard boiled eggs, Peckish eggs will be creamier with a medium boil center. Although it's not a proprietary process, Peckish has an agreement with the nation's largest producer of hard cooked eggs to use the technology for the near future. The brand also has a strategic agreement in place with a smaller, organic egg supplier to ensure steady inventory.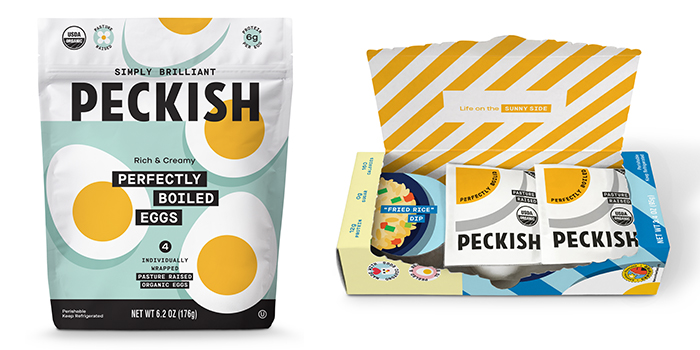 Disrupting a commoditized category is a play Bialla saw firsthand during her time as director of marketing for KRAVE. At the time, then-CEO Sebastiani brought new life to the jerky category by offering a higher quality product in innovative flavors.
"We're actually changing the conversation on the baseline product that consumers know," Bialla said. "Just like [when] old jerky was hard and crumbly and Krave offered a tender solution, we at the most basic format [are] elevating the hard cooked egg into a perfect boil and we're bringing to life these fun flavors."
But Sebastiani and Bialla aren't just taking lessons from KRAVE: The team will also draw from their experience launching snacking marshmallow brand Smashmallow as well as drinkable soup line Zupa Noma.
"I felt a tremendous sense of urgency to come out of the gate super fast [with Smashmallow and Zupa] so I hired a much bigger team," Sebastiani said. "In retrospect there were key learnings that we could have had if we'd grown a little bit slower like with Krave. With Peckish, we've gone to the middle of the road where we're very disciplined on our full time hires… and we'll leverage the Sonoma investment team to assist."
This disciplined approach, Sebastiani said, is even more important with a refrigerated product where slow sales can mean the loss of spoiled product. As a result, one of the most questions the Peckish team must answer is which category set will yield the most sales. In some stores this may be the dedicated refrigerated snacking set, but for other retailers that don't have such a set, that may mean Peckish is stocked with eggs or even in the deli.
Sales metrics such as velocities and repeat purchasing will also determine the extent of Sonoma's investment in Peckish. The brand is funded through Sonoma Brand's Fund Two, but the investment team is reserving additional capital until Peckish demonstrates its full potential. There's also the option for investment from external investors, Bialla added.
"We're going to remain curious and test our hypothesis to make sure that the velocities we think we can generate are in fact there before we invest millions," Sebastiani said. "We need to see proof of concept."
That caution doesn't mean the Peckish team isn't dreaming big, though.
"The vision for Peckish goes beyond the hard boiled egg," Sebastiani said. "We'll see other innovative products like egg salad and egg dips and all kinds of beautiful products that feature the protein and clean nature of the egg. This is a platform play and one that we feel can be a very big opening."
SaveSave
SaveSave