The Checkout: Sprouts, Beyond Meat and More Report Q2 Earnings
Welcome to The Checkout: an express lane for weekly news you need to know, always 10 items or less.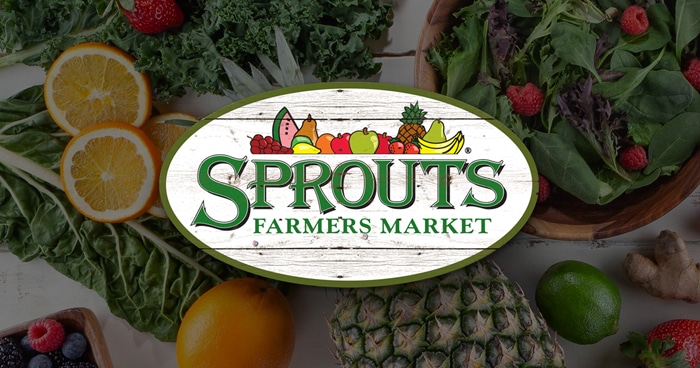 Sprouts: Expanding Natural Foods Footprint as Online Grows; Leadership Changes
Natural foods grocer Sprouts Farmers Market saw net sales of $1.4 billion in Q2, a 7% increase from the same period last year. According to the company's earnings release, sales were driven by opening new stores and a 0.1% increase in store sales, with gross profit of $465 million, a 6% increase from Q2 in 2018 and net income of $35 million, down from $42 million in Q2 of 2018.
In Q2, the company opened six new stores, including locations in New Jersey and Louisiana; it now has a total of 331 stores in 21 states. Meanwhile, online sales, though a small portion of overall sales, grew by 170%, as e-commerce sees "a higher penetration of private label items and less promotional items producing a higher gross margin," according to interim CFO Chip Molloy. More than 45% of shoppers' baskets include a private label item, he added.
Sprouts has also seen a shift in leadership this summer: at the end of June, following the resignation of interim co-CEO and CFO Brad Lukow, former Walmart CEO Jack Sinclair was named the company's new chief executive, along with Molloy as interim CFO.
"We have a great foundation, but we have significant work to do. Leaning on my background in companies of scale, I know we have opportunities to evolve this business model to be even more efficient and effective," Sinclair said.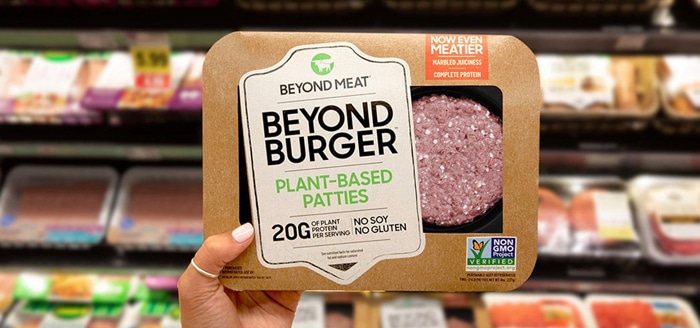 Beyond Meat: Plant Based Fuels Higher than Expected Revenue
After last week announcing a new partnership with Dunkin and its development of a meatless bacon, plant based brand Beyond Meat reported its Q2 earnings earlier this week, its second earnings release after its May IPO.
In Q2, the company saw revenues reach $67.3 million, a 287% increase from $17.4 million during Q2 of last year. Despite more meatless rivals, including big CPG brands, continuing to emerge, Beyond Meat predicts more than $240 million in revenue for 2019, a year-over-year growth rate of 170%.
CFO and treasurer Mark Nelson said net revenues grew due to increased demand and sales of the Beyond Burger, along with retail and food service expansion, which, in addition to Dunkin included Blue Apron in Q2. The company also reformulated its famous patty recipe and debuted plant based ground beef in Q2.
But despite increased revenue, the brand's shares fell by 17% after the earnings report, as it reported a wider loss as well. It plans to sell over 3 million additional shares of common stock, diluting the value of current stocks.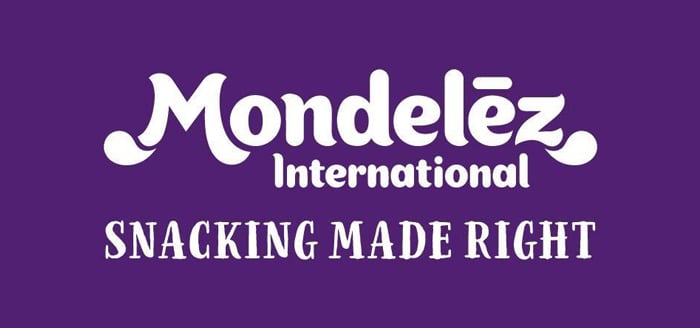 Mondelez: A 'Mindful Snacking' Future
Global snack maker Mondelez reported $1 billion in cash sales this year, with net revenues declining by 0.8% and organic net revenue increasing 4.6%.
While revenue was boosted by Cadbury and Oreo, Mondelez is also expanding its snacking lens through its venture arm, SnackFutures. Mondelez's entrepreneurial approach to snacking has so far included investment in better-for-you chocolate brand Hu Kitchen and prebiotic company Uplift Foods. Additionally, it acquired refrigerated snack brand Perfect Snacks in June; in its Q2 earnings call this week Mondelez chairman and CEO Dirk Van de Put said the brand will operate as a standalone business, noting that Mondelez will offer "significant resources to expand distribution." Perfect Snacks generated about $70 million in net revenue in 2018.
"We will operate Perfect Snacks as a separate business in order to nurture its culture and its spirit," Van de Put said on the earnings call. "And importantly, key members of the founding family are keeping a significant minority stake and will continue to lead the company. The business is delivering very strong growth and we're excited about the potential with clear opportunities to expand this platform further."
Mondelez also highlighted increased efforts in sustainability, such as including portion amounts and 'mindful snacking' guidance on all packages and transferring to recyclable packaging by 2025.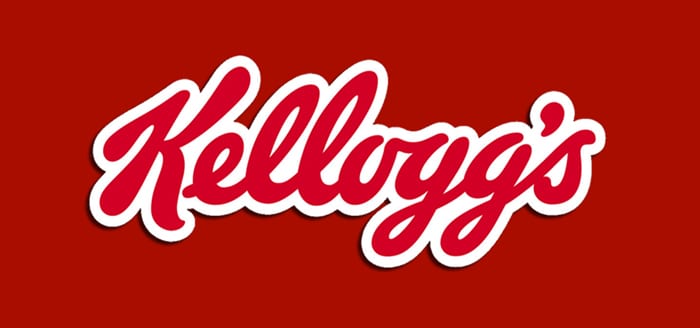 Kellogg: Snacking Over Cereal?
After reporting falling cereal sales last quarter, Kellogg saw declines continue in Q2 of this year. Overall, net sales increased 3% year-on-year while operating profit decreased by 16% as the business expands its efforts in "wholesome snacking," CEO Steve Cahillane said on the earnings call.
Snacks led to improved organic growth in Q2, including a boost from clean label bar and nut butter brand RX, which it acquired for $600 million in 2017, but suffered from a product recall in January 2019. Cahillane noted that RX restored distribution and saw strong double digit growth in Q2, with plans to expand in 2019. Kellogg received further fuel from on-the-go pack formats for legacy snack brands.
"These aren't just any brands," Cahillane said. "Collectively, they represent over 60% of our U.S. measured channel consumption for snacks, a figure that goes up to nearly 75% when we exclude our now divested cookies and fruit snacks categories. So clearly, we have our North America snacks business in very good shape."
Meanwhile, its frozen business posted "solid net sales growth" in Q2 led by meatless brand Morningstar Farms, including new breakfast products, a Vegan Cheezeburger, mini Corn Dogs and popcorn chicken, which "demonstrate how we are extending into more consumer occasions, from center plate options to snacking," Cahillane said.
Cahillane also noted that growth in frozen was boosted by 'premium launches. As part of an effort to bring functionality to breakfast products, the company, which produces Eggo, recently launched Off the Grid, a new protein-focused waffle line. Further wellness-minded innovations continue: the company this month announced a Nutri-Grain kids line, a bite-sized version of its original Nutri-Grain bars.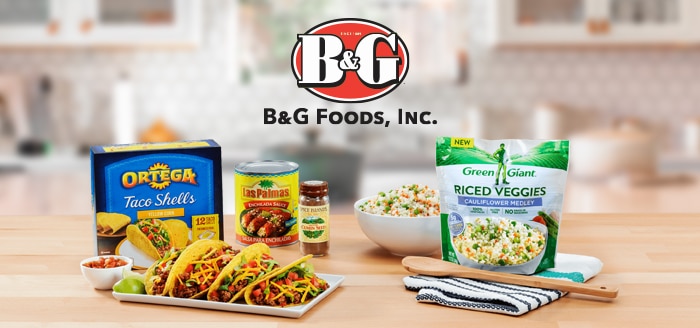 B&G Foods: A Future Powered by Veggies
Shelf-stable and frozen foods brand B&G Foods reported net sales of $371 million in Q2, a year-over-year decline of 4.4%. The results were impacted in part by the sale of puff snack company Pirate Brands to Hershey for $420 million in 2018.
This year, B&G acquired baking powder brand Clabber Girl in May, which contributed $2.2 million to Q2 net sales, along with $8.4 million from oatmeal company McCann's, acquired in July 2018. But business performance was "powered by" Green Giant, CEO Ken Romanzi said on the earnings call: net sales from both frozen and shelf-stable Green Giant products grew 7.9%, with its frozen net sales alone up 4.1% and shelf-stable net sales up 23.5%.
New vegetable-forward innovations — including Green Giant Cauliflower Pizza Crust, Protein Balls and Little Green Sprouts Organics — support B&G's "vision of making Green Giant 'the plant based' vegetable food brand in the future," Romanzi said.
"Our vision is to not only introduce new vegetable products in the traditional frozen vegetable category," he said, "but to help people get more of vegetables in their diet by expanding the Giant's reach across the frozen food case."