Mondelēz Invests In Hu Kitchen and Products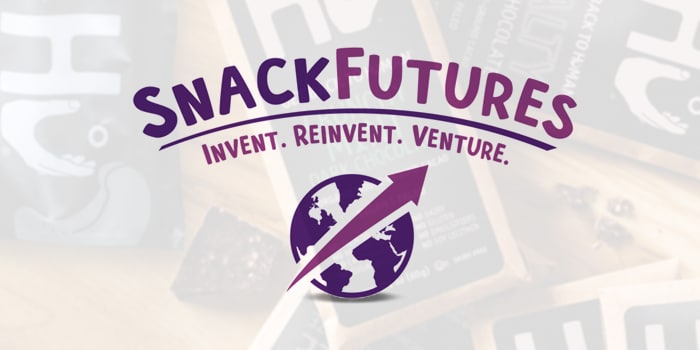 Mondelēz International is taking its commitment to change the snack industry seriously. Just over a month after taking a stake in Uplift Foods, the global snack company announced today its second investment in Hu Master Holdings, the parent company of both CPG brand Hu Products and fast-casual restaurant concept Hu Kitchen. Hu Chairman and Co-Founder Jason Karp told NOSH the investment will allow the emerging brand to scale and increase accessibility of its products.
Last year sub-brand Hu Products closed a small funding round led by venture firm Sonoma Brands. Since closing that round, the company has grown to be sold in over 3,000 stores and now has a staff of 20 employees. Karp has also departed his multibillion dollar fund, Tourbillon Global Master Fund, to focus on Hu and investing in the wellness space.
Karp and Hu co-founder Jordan Brown told NOSH the company wasn't seeking more capital for the business but had been approached by several strategic investors, including Mondelēz's venture and innovation arm, SnackFutures. The duo told NOSH that, in the end, they realized Mondelēz would bring more than just capital to the company.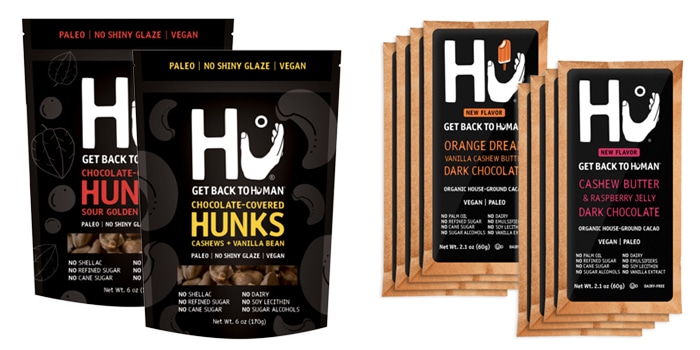 "The reason for the partnership is much more about the intangibles then the investment dollars. They are the global snacking leader and they are the largest player in organic chocolate," Karp told NOSH. "With this investment, we believe that our probability of success and our probability of scaling faster, reaching more people and making our products more accessible goes up."
Karp and Brown said they were impressed by both leadership additions at Mondelēz as well as the company's recent increased focus on better-for-you snacking. The hope, the duo said, is that Hu can inspire Mondelēz's own innovation, while the strategic provides assistance with operational efficiencies and supply chain.
Mondelēz currently has one of the larger brands in organic chocolate brands with Green & Black as well as several of the leading cracker brands in Ritz, Triscuit and Wheat Thins.
Hu Products initially launched with organic chocolate bars before branching into other chocolate confections. This month the brand debuted a line of grain-free, gluten-free crackers in sea salt, everything and piaza flavors. The company plans to bring the crackers, initially sold exclusively online and at its Hu Kitchen restaurant in New York City, to retail later this year. The partnership, Karp said, will help both product lines scale faster and reach more accessible price point sooner.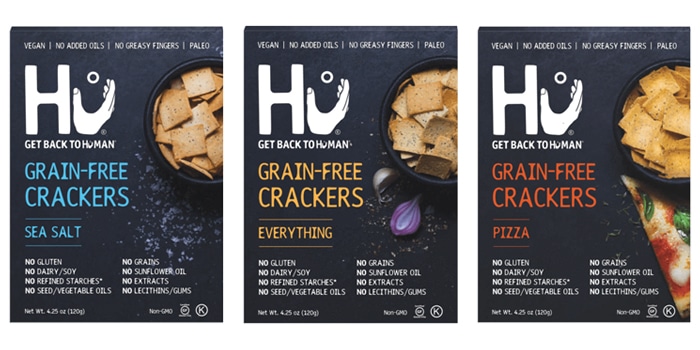 The crackers are also an example of how Hu Products uses Hu Kitchen as a testing ground for new products. Originally, the crackers were served in the restaurant, which serves over 1,000 customers a day, to offer a savory snacking option instead of the sweeter chocolate snacks.
Unlike last years' investors, Mondelēz invested in the entire Hu company — which includes Hu Kitchen. Karp told NOSH that Snackfutures was interested in the restaurant as a "brand experience and innovation hub" with the potential to serve as an innovation pipeline and a testing ground for new snack products.
"We believe there's an exciting opportunity to continueexpanding the Hu proposition into a broad health-focused snacking platform across categories," Tim Cofer, Executive Vice President and Chief Growth Officer of Mondelēz said in a statement. "And, with an in-house test kitchen and insights lab, they have a unique ability to quickly test and learn."