Hu Products Closes Round, 43 Investors Strong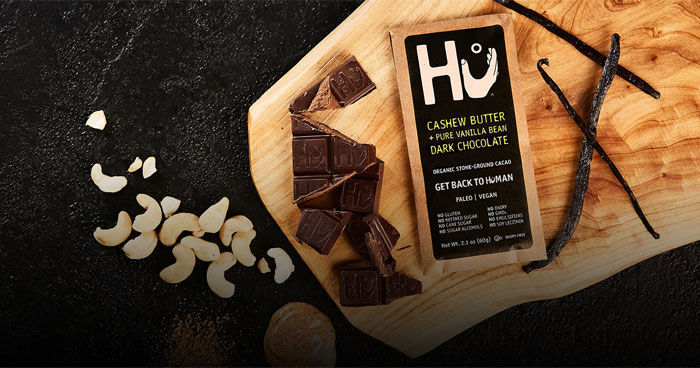 Today Hu Products, a producer of paleo-friendly, vegan, organic chocolate, announced the close of a round of funding led by Sonoma Brands, the venture fund helmed by CPG veteran Jon Sebastiani. The round was under $10 million and included 43 total investors including nutrition experts Dr Mark Hyman and Dr. Peter Attia, author Tim Ferriss and billionaire Nelson Peltz.
Hu Products' portfolio includes a line of chocolate bars sold in several thousand retailers and coffee beans that are currently only sold direct-to-consumers via e-commerce.
Hu Products is an offshoot of Hu Kitchen, a fast-casual, paleo-style restaurant in New York City. Hu Kitchen was founded in 2012 by investment manager Jason Karp along with his wife, Jessica Karp, and brother-in-law, Jordan Brown. The restaurant originally developed the line of chocolate after being unable to find a chocolate option that was free from refined sugars to use in its baked goods.
Customer response was so positive that it became apparent Hu Products could stand on its own as a unique product line, according to Karp.
Business, Karp told NOSH, has been operating "in the black" but his team sought funding in order to acquire strategic assistance. The company, he added, has also not been able to keep up with demand and needed more capital to scale. Previously the company was self-funded, aside from a minority investment from Peltz in Hu Kitchen.
"I realized there was a lot we could learn," Karp said, "and we have so much demand that if we want to grow fast enough to accomodate it, we need growth capital."
Karp said he was particularly drawn to investors with skills that "money can't buy." Sebastiani, for one, brings a robust understanding of the confectionary market thanks to snack brand SMASHMALLOW.
"Permissible indulgence is exploding," Sebastiani said. "Sweet tooths aren't going anywhere, they're just evolving to reach better-for-you options. We all love to indulge, we're just choosing the best kind of delicious we can get our hands on – because today we can."
Hu Kitchen and Hu Products are financially separate — though both report to CEO Rita Hudetz, a former Pepsi executive. However, Karp told NOSH that the restaurant provides a solid testing ground for Hu Products.
With the new investment, six new products are already developed to sell in the restaurant and just need to be "commercialized" in order to take into retail. The company previewed a line of chocolate "hunks" at the 2018 Winter Fancy Foods and is refining the packaging before bringing them to market, according to Karp.
Regardless of product type, Karp said the company will always stick to producing clean-label, gluten-free, dairy-free products that are free of refined sugars, sugar alcohols and GMO ingredients.
The Hu in the company's name refers to the term "human" — Karp believes consumers need to get back to how they ate centuries ago.