What's Next for Beyond Meat Post IPO?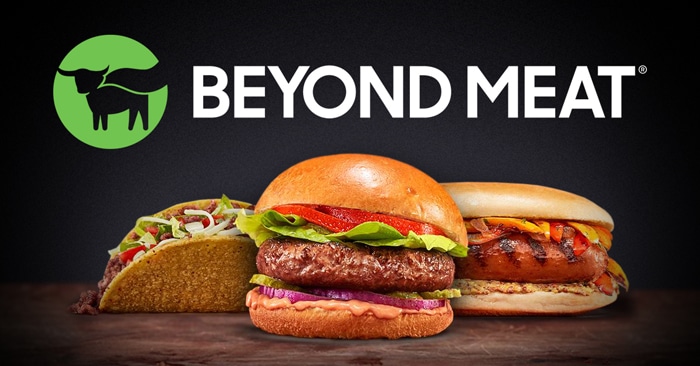 Yesterday plant-based meat brand Beyond Meat faced the heat and emerged sizzling. The popular protein play began trading on the Nasdaq exchange under the symbol BYND and served up the year's best IPO debut.
The California-based company initially priced shares at a range between $19 to $21 before increasing that pricing to $25 a share earlier this week. Yesterday shares of the producer of vegan beef, burger and sausage alternatives initially began trading at $46 a share, rising to $65.75 at close, giving the company a market value of $3.8 billion. Note that the company lost $30 million last year and had revenues of $88 million.
However, the question remains, what does the company have to do next in order run alongside fellow protein players and move beyond its current market position? Here are three areas to keep an eye on.
Possible Expansion into More Restaurants
Last month burger behemoth Burger King announced a nationwide rollout of the "Impossible Whopper" made with competitor Impossible Foods' burger patty. This follows Impossible's existing partnerships with White Castle and Red Robin. The California-based brand has a partnership with foodservice purveyor DOT Food, and is reportedly in close to 5,000 restaurants.
Beyond Meat, on the other hand, is in close to 11,000 restaurants, including TGI Fridays, Del Taco and White Castle, through its partnership with Sysco, but lacks the large, nationwide restaurant chain presence that Impossible currently has.
That could change, however.
Former McDonald's CEO and COO Don Thompson sits on the board for Beyond Meat, and his venture firm Cleveland Avenue owns just over 4% of the company after the IPO. Thompson's former employer could be the key to beating Impossible in the quick service restaurant realm. On Tuesday's first quarter earnings call, when asked about the Impossible Whopper, McDonald's president and CEO Steve Easterbrook said the team at the golden arches were paying attention.
"The key for us is to identify the sustaining consumer trends," Easterbrook told analysts on the call. "I certainly know our teams are paying close attention and discussing this amongst each other and with some of the options that are out there."
How Federal and State Regulatory Efforts Affect Sales
Both federal agencies and several state governments are debating regulatory measures that may restrict the use of the word "meat" from being used on plant-based products.
With this IPO, the market has spoken and indicated that there is a place in the American diet — and financial portfolios — for plant-based burgers. But will the influx of new shareholders embolden or discourage Beyond Meat from being more outspoken about possible regulatory changes?
Furthermore, how will battles affect shareholder price? The company noted in its IPO filing that it is keeping an eye on such measures which, it said, could do harm to the company's financial stability.
"We could be subject to enforcement action or recall of our products marketed with these terms," the company stated in the IPO filing. "We may be required to modify our marketing strategy, and our business, prospects, results of operations or financial condition could be adversely affected."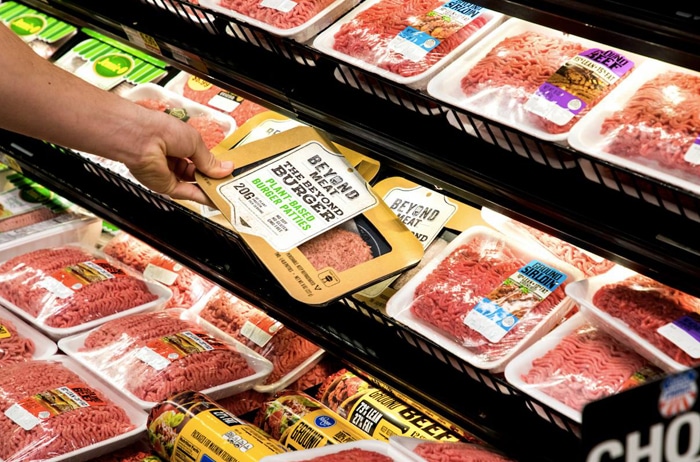 How will Retailer Relationships Evolve?
While both Beyond Meat and Impossible have buzz on social media, one of the initial techniques Beyond Meat used to build consumer interest was through its exclusive partnership with retailer Whole Foods Market, which agreed to, at least initially, stock the meat substitute in its meat cases.
Although Impossible hasn't entered retail yet — the timing was delayed as the brand worked on scaling production and getting GRAS status from the FDA — at Expo West a brand representative told NOSH the company would land on store shelves "sometime" in 2019.
Adding to the competitive landscape, other plant-based players such as Lightlife and Sweet Earth are also launching their own "looks-like-meat" product offerings, alongside meat producer Tyson Foods.
Beyond Meat has also wrestled with its own placement, which can vary from store to store — from the freezer aisle, to being slotted with the likes of tofu, to the meat section — and more competition in-store could mean a more defined set. But it also means more attention that must be paid to pricing, promotion and messaging.
And if the company truly wants to compete with chicken, beef and pork, the brand must find a way to get pricing in line with meat items, while not losing its own identity and becoming a commodity product.
All of these efforts will require the same close relationship with retailers as it has (or at least once had) with Whole Foods Market and the company will have to find new ways to attract consumers to team Beyond Meat, even once the competitive group widens.