Hershey's Picks Up One Bar To Enhance Snack Portfolio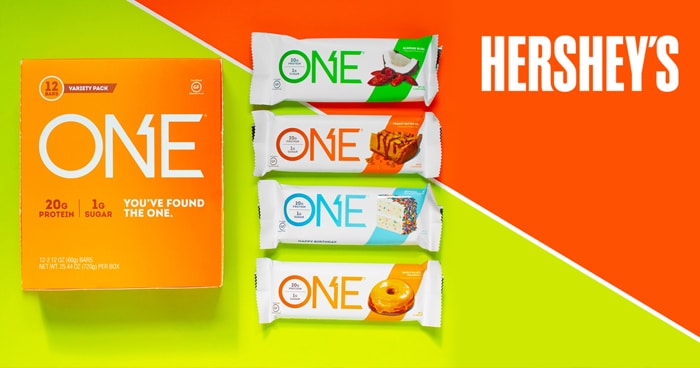 As part of its shift from confection to a broader snacking platform, Hershey announced yesterday its acquisition of the low-sugar, high-protein ONE Brands portfolio. The purchase price, which was financed with cash on hand as well as short term borrowings, was $397 million, or approximately $325 million net of tax benefits. The transaction is expected to close in the fourth quarter of 2019.
ONE, formerly known as Oh Yeah! Nutrition, was founded in 1999 by Ron McAfee. In January 2017 venture firm CAVU invested in the operation, pivoting the company to focus from OhYeah! Bars to the ONE brand. By October of that year, CAVU rebranded the line from a sports nutrition product to more of a lifestyle brand and brought aboard CPG veteran Peter Burns as CEO. Under Burns, who had just shepherded nut butter brand Justin's through a sale to Hormel, sales execution accelerated.
In March 2018, the company launched its Basix line, which is naturally sweetened with stevia versus the classic bar's usage sugar alcohols. That release allowed ONE to expand deeper into the natural channel, an enhancement to the company's existing business in mass, club and grocery.
Hershey noted in a release that ONE will complement the Oatmega protein bar line, which was part of the company's acquisition of Amplify Snacks in 2018. The deal also comes one week after the confectionery behemoth also made a minority investment in Fufil, an Irish protein bar company. On American soil, Hershey's last major acquisition was roughly a year ago when the company bought up puff brand Pirate's Booty.
ONE bars have been showing strong growth in retail channels covered by data provider IRI, which indicated that the company was the fastest growing in the nutrition bar category for the 52 weeks preceding July 1, 2019. IRI pegged sales at just over $80 million for that period.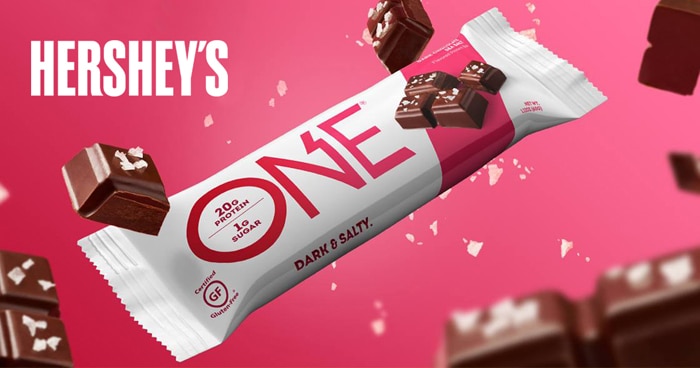 Like many brands in the bar space, ONE has excelled at creating a strong digital presence, with over 156,000 instagram followers and investment in campaigns alongside social media influencers. In part, it's this lifestyle angle, that attracted Hershey to the offering.
"Hershey intends to expand the existing ONE Brands offerings by leveraging its core capabilities in sales and distribution, category management and digital commerce," the company said in a release.
Recent months have seen the already competitive bar category tighten even further, with established brands (and their deep pocketbooks) staking out subsegments of the category. In June, Mondelez purchased the majority of refrigerated bar brand Perfect Snacks, as part of its emphasis on fresh snacking. And last week The Simply Good Company, maker of the Atkins line of bars, bought low net-carbohydrate focused Quest Nutritionals for the price tag of $1 billion.
At the time, Simply Good CEO Joseph Scalzo said the company had been searching for for the right target for some time, but found it "challenging to find the right branded business in the category at a reasonable price."
Although other bar brands embrace flavors such as chocolate and peanut butter, ONE draws its flavor inspiration from classic desserts. As a result, the brand offers Hershey a functional meal replacement that still adheres to Hershey's philosophy of fun and indulgence. However, the company made sure to emphasize that confectionery is still its key focus.
"ONE's portfolio of great tasting nutrition bars, with indulgent flavors such as Birthday Cake, Maple Glazed Doughnut and Peanut Butter Pie, will be a strong strategic fit within our overall innovative snacking powerhouse vision," Mary Beth West, Hershey's Chief Growth Officer, noted in a release. "Our beloved confection brands will continue to be the engine that drives our business while we broaden our better-for-you portfolio, offering more snacking choices for more consumers."
Janica Lane of Piper Jaffray represented ONE brands in the deal.