Under New CEO Burns, One Bar Rebrands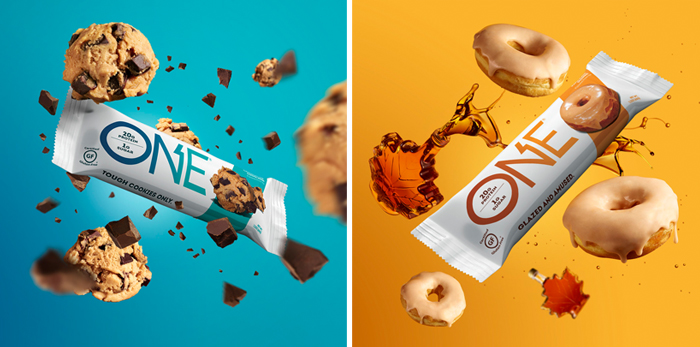 One Bar is ready to pump up its sales. That's what the company's CEO Peter Burns and its backer, investment firm CAVU Ventures, believe. The two have spent the last nine months working towards a new look as part of the brand's push into conventional grocers, and mass, convenience and club retailers.
In January, CAVU announced it had made a "significant investment" in One Bar's parent company, ISS Research, which is also known as OhYeah! Nutrition. CAVU also announced that it had recruited Burns as the company's president and CEO to serve alongside OhYeah's founder and CEO Ron McAfee Jr. As part of the deal, CAVU managing partners Brett Thomas and Rohan Oza joined OhYeah's board of directors.
Burns was coming off a stint as President and CEO of Justin's Nut Butters, where he had helped guide the company to acquisition by CPG strategic Hormel in May 2016. He was drawn, Burns told NOSH, to both working with CAVU as well as with a creative founder and appreciated the opportunity the brand presented.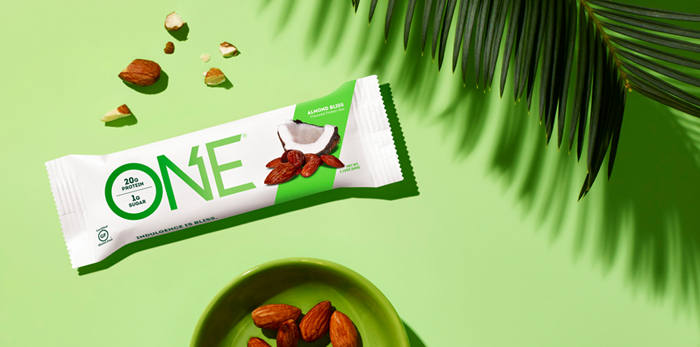 One Bar is already available in over 12,000 doors nationwide, but its retail presence is limited primarily to health and wellness stores, such as GNC and Vitamin Shoppe, as well as gyms. Where the brand has yet to really explore, said Burns and Thomas, is in more traditional retail channels.
'The biggest challenge is that we have so much white space, which is an amazing opportunity. We're starting to fill in that white space over the rest of this year and really into 2018 and beyond," Thomas told NOSH. "Our ACV is very low in conventional, we're barely in conventional and convenience. We're just really getting going."
But before moving into conventional channels, the bars needed a sense of brand identity and new look. Stevie Clements, CAVU's director of brand development, started work on the redesign and was assisted by OhYeah's new CMO, Lisa Wells, who joined the company in May from diet nutrition company Jenny Craig. To support the redesign, which launched in the past month, the company will invest in its first real marketing push in the fourth quarter of 2017 and even more so in 2018.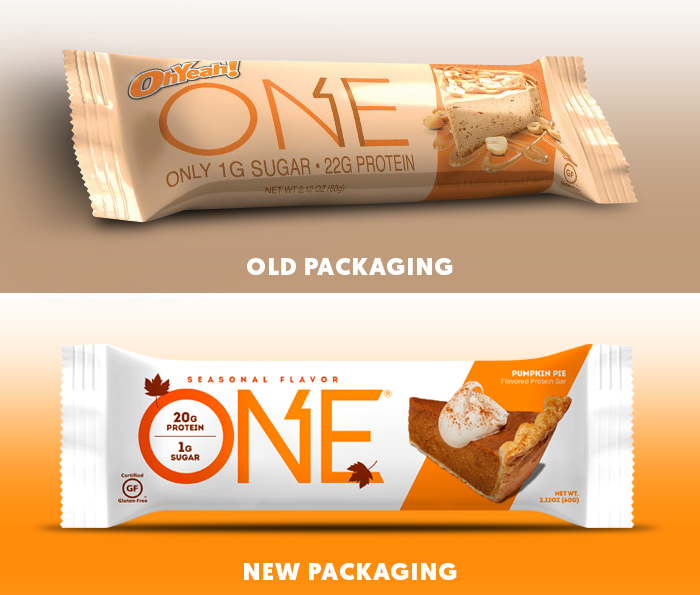 The new packaging is clean and modern. For callouts, it focuses primarily on the bar's 20 grams of protein, one gram of sugar, and dessert-inspired flavors. In a move away from its previous pastel colors, the bars now have matte white packaging with glossy shots of their dessert inspiration and brightly colored trays. It's a look Burns says will provide a great "block" to retailers in their planograms and stand out on shelf.
"The product itself is just so unique and eats so well from a taste and texture standpoint, we all thought the [old] package didn't meet the specs. What was on the inside of the package was absolutely tremendous but what was on the outside really needed some work," Burns told NOSH. "It's a clean package, we didn't want it to look like a NASCAR."
In addition to calling out the bar's protein level, Burns chose to keep the focus on the bar's one gram of sugar because he and the OhYeah team believe the"anti-sugar" movement is gaining momentum.
Currently One Bar uses sucralose, however, which means many natural retailers won't put the bar on shelves. Burns says a bar with an alternate sweetener is a possibility. The brand has already switched to naturally colored sprinkles in its top seller, birthday cake.
The bars utilize creative, non-traditional flavors that pull from classic American favorites such as maple glazed donut, lemon cake, cinnamon roll, blueberry cobbler, and peanut butter pie. Not only do the flavors differentiate One Bar from the competition but they also allow the brand to serve as a dessert or candy substitution in addition to the more standard protein bar uses as a meal replacement or dietary supplement.
"[We have] the indulgent flavors that everyone wants to eat but stays away from usually because of calorie count and sugar count," Burns said. "If people view this, and hopefully they do, as a better-for-you, alternative snack or meal replacement from a candy bar, we're okay with that. Because obviously the candy space is incredibly large with billion dollar brands. So if we can convince someone to have an almond bliss bar instead of an almond joy bar, I'm okay with that."
Going forward, said Burns, there is certainly the potential to expand the One Bar brand into a platform brand and move into categories such as RTD beverages and other snacks — OhYeah's original products have shown up as both shakes and bars in the past. However, he said, the focus on protein and low sugar would remain. McAfee, who is still with the company, focuses primarily on innovation and would likely help develop any future new products.
While OhYeah products will continue to be produced for now, Burns told NOSH that they will remain in health and wellness and that "95 percent" of the company's time and energy is being spent against One Bar.
One Bar is also committing to releasing four seasonal flavors a year. This fall and winter the brand brought back a pumpkin pie bar for the second year and earlier this year tested a limited edition key lime bar. Burns said some flavors may find their way into permanent rotation, but most will only be on shelves a few months of the year. All seasonal flavors are pre-sold into retailers, which, said Burns, is a "great revenue source."
"We are not short of ideas and our founder is not short of innovation," Burns added. "My job is just to say 'what are the key things we need' and prioritization. We have a pipeline of innovation in bars and you'll see that as we get to 2018, but I think the big piece here [for our success] is the rebrand and the packaging."