Sweet on SkinnyPop: Why Hershey's Bought Amplify Snack Brands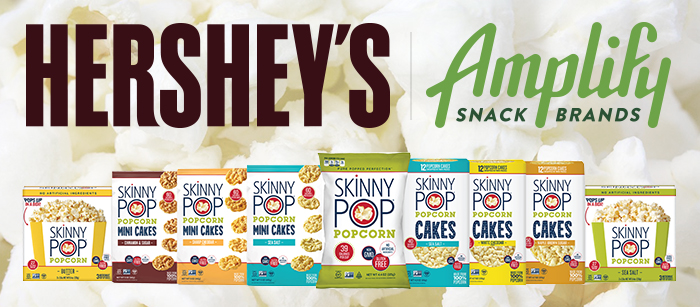 The Hershey Company is showing it's sweet on salty snacks, too.
The global confectionery leader announced today that it has agreed to acquire Skinny Pop maker Amplify Snack Brands for more than $920 million. The deal, which is expected to close in Q1, will be Hershey's largest acquisition to date.
Under the terms of the deal, which equals $12 per share for Amplify's stock, Hershey's will assume net debt and make another tax payment for a total deal value of about $1.6 billion. Following the close of the transaction, Amplify will operate as a standalone business through at least 2018 with a small team working on integration planning, according to the company.
With the addition of Amplify's products like Skinny Pop popcorn, Tyrells potato chips, Oatmega protein bars and Paqui tortilla chips to the company's confectionary and meat snack brands, Hershey's will not only gain a stronger foothold in the better-for-you market, but also capture consumers across a broader range of snacking occasions.
"Hershey has set a bold vision to be an innovative snacking powerhouse," Leigh Horner, spokeswoman for The Hershey Company, told NOSH. "And today's announced acquisition is an important step on this journey as it creates a foundation for long-term scale in warehouse snacks. We are known for our iconic brands and Amplify also has iconic scalable brands that will extend our presence in the growing savory snack space."
This strategic acquisition is also expected to help Hershey's hit its financial targets, thanks to the growth trajectory and margin structure of Amplify's key products like Skinny Pop, which will soon be Hershey's sixth largest brand. Since launching in 2014, the popcorn brand has claimed 17.5 percent market share of the growing ready-to-eat popcorn category, with a 13 percent compound annual growth rate (CAGR) each year for the past four years. Horner added that popped popcorn as a whole is "one of the most attractive, on-trend better-for-you categories."
For the 52-week period ending Sept. 10, Amplify's revenue for SkinnyPop was about $230 million across convenience, supermarket, mass market, drug and select club stores, according to retailing sales data provider IRI. That put it second in the $1.3 billion category, which is led by Smartfood at $434 million. Angie's BoomChickaPop, which was acquired by Conagra earlier this fall, was third at $91 million over the same period.
During a call with investors Monday morning, Hershey's CEO Michelle Buck praised Skinny Pop's brand strength and velocity at retail. However, in regards to the latter, she noted there is still room for improvement.
Buck said Skinny Pop's current presence on shelves does not fully leverage their velocities, but by looking beyond grocery to channels like convenience the company could find more opportunities to scale. To further build on Skinny Pop's success, Hershey's CFO Patricia Little also noted that the company will implement its advanced category management system in order "to reinvent the aisle and ignite growth" and "leverage greater presence in warehouse snacks aisle to support other Hershey's placements."
Amplify Snack Brands did not immediately return NOSH's request for comment. In a statement, Tom Ennis, Amplify's president and CEO, said he was attracted to working with Hershey's because of these synergies, which he hopes will enable Amplify to have long term scale and success.
"Hershey is a great cultural partner for Amplify and I'm excited for our team who will have access to Hershey's marketing and go-to-market resources to take our brands to the next level," he said in a statement.
While Skinny Pop may be the clear champion brand of this deal, the fate of the other brands within Amplify's portfolio seems less certain.
"As we are taking over the businesses, we are going to be partnering with their very strong management team to find out what our biggest strategic priorities are," Buck said on the call. "Obviously Skinny Pop is one of them, but as we work with the team, we want to figure out how prioritize the rest of the portfolio and maximize the potential that's there across the rest of the brands."
Hershey's purchase of Amplify brings the company deeper into the $90 billion snack world. The chocolate giant's quest to be a "snacking powerhouse" has been a decade-long crusade with the additions of brands like Brookside, Krave and Barkthins. The company has also tried to adapt to changing consumer desires by catering to the bring the better-for-you consumer in their confectionary business as well with packaging changes and reformulations. In a presentation to investors in March, Buck said that the company would continue acquiring snack brands with the intention that they contribute to company earnings within two years.
The U.S. confectionery business as a whole has seen major consolidation lately, all amid a slowing demand for chocolate. In an effort to broaden its horizons, global food producer Nestle announced last week that it acquired Canadian vitamin maker Atrium Innovations, the parent company of functional food and supplement brand Garden of Life. Mars Inc. also purchased a minority stake in Kind Bar last month, and Kellogg acquired protein bar maker Rxbar in October.