ONE Brands Debuts Basix Protein Bars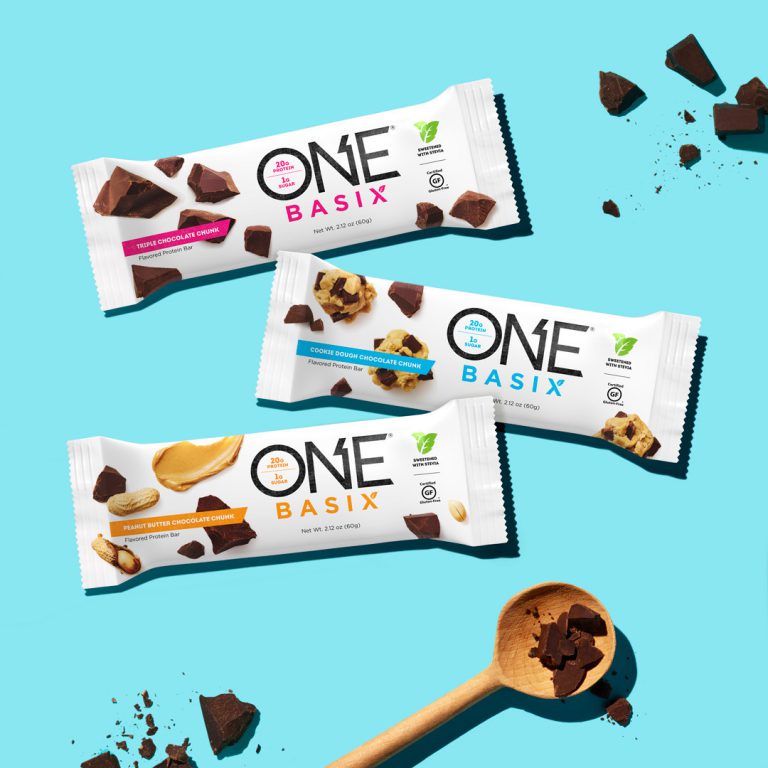 ANAHEIM, Calif. — ONE Brands, the maker of ONE Bars, boasting 20 grams of protein and just ONE gram of sugar, debuted their newest innovation, ONE Basix Bars, a naturally sweetened line made with no artificial flavors or preservatives, at the  Natural Products Expo West Show, Booths #5443 and #N202. Show attendees are invited to sample an exclusive first taste of the new uncoated protein bars available in three delicious too-good-to-be-true flavors: Cookie Dough Chocolate Chunk, Triple Chocolate Chunk and Peanut Butter Chocolate Chunk. ONE Basix will be available starting in May at select specialty stores and various gyms nationwide.
Utilizing stevia, a leafy green plant native to South America, as a sweetening agent, ONE Basix Bars offer a new, simplified take on ONE Bars. Ideal for anytime snacks and treats, ONE Basix Bars are free of gluten, sugar alcohols and sucralose and are certified Kosher. Longtime ONE Bar fans will recognize ONE Bar's unmatched texture and indulgent taste, now combined with decadent chocolate chunks and stevia.
The 2018 show will be ONE's first Natural Products Expo West since a comprehensive relaunch and rebrand in Fall 2017. The debut of ONE Basix Bars marks the start of yet another new venture as ONE enters the natural foods category, all while delivering the same 20 grams of protein and only ONE gram of sugar – the hallmark of the brand.
"We know through research and consumer feedback that many people desire a naturally sweetened protein bar and ONE Basix Bars meets this consumer demand without sacrificing anything ONE Bar stands for: decadent flavors, high-quality ingredients, complete nutrition, superior texture and taste," said Peter Burns, President and CEO of ONE Brands. "This is just one example of our ongoing commitment to innovation and providing the best protein snacks on the market."
"As a leader in the protein category, we are always creating, testing and innovating – we go all the way with everything we do. ONE Basix took us years to get exactly right and we are proud to introduce it as a naturally sweetened protein option," said Ron McAfee, Founder of ONE Brands. "The deep relationship between ONE and our customers keeps us focused on delivering extraordinary products."
Natural Products Expo West will take place March 8-11 at the Anaheim Convention Center, located at 800 West Katella Avenue Anaheim, CA 92802. For more information on the trade show, please visit www.expowest.com.
About ONE Brands
ONE Brands proves that guilt-free indulgence is possible. ONE Brands delivers anytime, anywhere protein bars that prove great taste and good health are not mutually exclusive. Each ONE Brand product provides decadent, crave-worthy flavored bars that are packed with at least 20 grams of protein and only ONE gram of sugar per serving – hence the name ONE. ONE offers a healthier option in delicious flavors that are ideal for breakfast, lunch, on-the-go snacking, post-workout recovery or just because. Through in-house research and recipe development, ONE is committed to offering exceptional taste, superior texture, and functionality—no compromises. The ONE Brands product roster of twelve powerfully delicious flavors is currently available at GNC, Vitamin Shoppe, Trader Joe's and regional grocers and gyms across the country. Now, with ONE Basix, consumers can experience the naturally sweetened side of ONE. Congratulations, #YouveFoundTheONE.