Hormel "Bought In To What Justin's Is" Says Founder Gold
Demonstrating the ongoing interest in next-generation food brands, CPG giant Hormel today announced the acquisition of natural nut butter and snack maker Justin's for $286 million. The deal adds to Hormel's protein-based product portfolio,following its 2015 acquisitions of beverage Muscle Milk and natural deli brand Applegate Farms.
Previously Justin's had taken a round of funding from investment group VMG.
Justin Gold, Founder of Justin's, told Project NOSH that the brand admires Hormel's success and looks forward to learning from the larger company.
"We need additional resources to keep growing, and Hormel can really provide that because they have an expertise in peanut butter and protein based snacking," Gold said.
While Justin's plans to leverage Hormel's strengths with supply chain dynamics, R&D and finances, the company's president and CEO, Peter Burns, emphasized that "there will be no immediate changes" following the acquisition, with the brand planning to stay at its current headquarters in Boulder, Colorado. Gold, too, said he's "not going anywhere."
When the company went looking for a buyer, Gold wanted a partner that would let Justin's remain independent, he said, adding that Hormel met this need and more.
"They believe in our mission," Gold said to NOSH. "They want to support organics, they want to support our sustainability efforts, so all the things that make Justin's special, they want to support."
A big focus for the brand going forward will be growing distribution. According to Gold, Justin's number one product (Classic Almond Butter) is only sold in 35 percent of grocery stores. The company also is not in convenience or international markets (expansion into which created a notable revenue boost for another Hormel-owned peanut butter brand, Skippy) and has limited club presence.
"We have nothing but distribution whitespace in three categories: Nut butters, confection and salty snack," Burns noted.
Regardless of whitespace, Justin's has been at an inflection point over the past year, according to data from retail information provider IRI. Justin's specialty nut butter is up 40 percent in the past 52 weeks, to more than $40 million, making it the fastest-growing brand of any significant size in both the peanut butter and specialty nut butter category.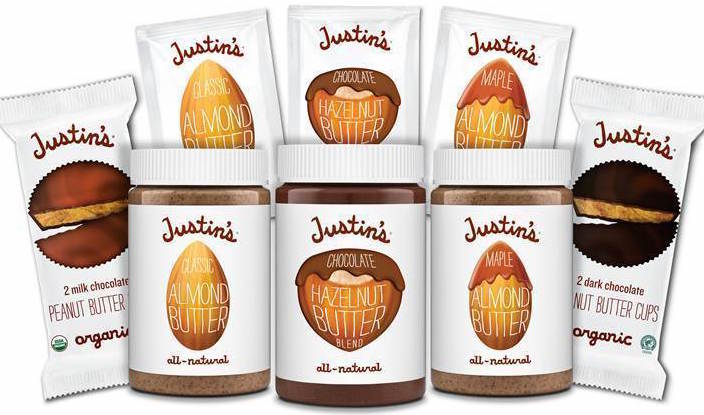 The decision to buy Justin's came just a few years after Hormel's 2013 pickup of Skippy.
While Skippy even has a "natural" line of nut butters, Jim Snee, Chief Operating Officer and President of Hormel, told analysts today that the brand appeals to a different, more conventional shopper, leaving a space in the portfolio for a more premium brand to reach a different consumer set.
"A lot of the research we've done around [Skippy] tells us that it's not extendable into the space where Justin's plays," Snee said. "We know that [Justin's] attracts a younger, more health conscious, on-the-go, millennial consumer."
Gold believes that a brand needs to have a strong company ethos to attract this demographic. "Justin's is deeply rooted in a mission-driven sales philosophy and transparency," Gold said. "I think that millennials really like products that take a stance on things that are bigger, that are more worldly than just a product."
Hormel has faced challenges with its portfolio of primarily meat-focused brands (such as Jennie-O, SPAM, and Dinty Moore) at a time when many consumers are trying to diversify their protein sources, and the Justin's acquisition allows Hormel to pick up a plant based protein alternative, one that also is also able to be sold in places where peanut allergies are a problem.
"The protein category in general is really growing in general," Gold said. "And Hormel is really being smart in that they realize you need to grow proteins from all sources, plant based and animal based."
Hormel has also worked to take a portfolio of meal-based brands and move them into the snack and convenience space. With Skippy, Hormel recently launched a line of peanut butter "bites" that can be eaten on the go. Justin's has long been in the portable nut butter category with snack packs, peanut butter cups, and (what some believe is the first) single serve nut butter packets sold in retail. "People aren't sitting down and having three meals anymore," says Burns. "We're participating in that growth."
The snack packs launched exclusively at Millennial perennial favorite, Target, which has worked with Justin's for years. The relationship is another strong reason for Hormel to acquire the brand, as Target has increasingly cut back on conventional brands in favor of more natural brands such as Justin's. "We see that partnership continuing in a great way," Burns said.
For those that might grieve at seeing another independent brand bought up by a strategic, meanwhile, Gold had a strong message. "For me, it wasn't about selling out," he said. "It was about Hormel buying into who Justin's is."