EVO Hemp Launches Line of U.S. Grown Hemp Products
EVO Hemp is growing more than its business this year. The brand, known for its line of hemp-based bars, is expanding its portfolio to include a complete line of products made entirely with U.S.-grown hemp, a first for a food brand in the US, according to the company.
The new products, which include hemp hearts, protein and seed oil, expands EVO's retail presence outside of its hemp bars that are sold in over 3,000 retailers, including Whole Foods Markets, Kroger, Shaw's, King Soopers Wegmans and Earth Fare. Ari Sherman, President and Co-Founder of EVO Hemp, said the company is in talks with retailers about getting the new line also on shelves.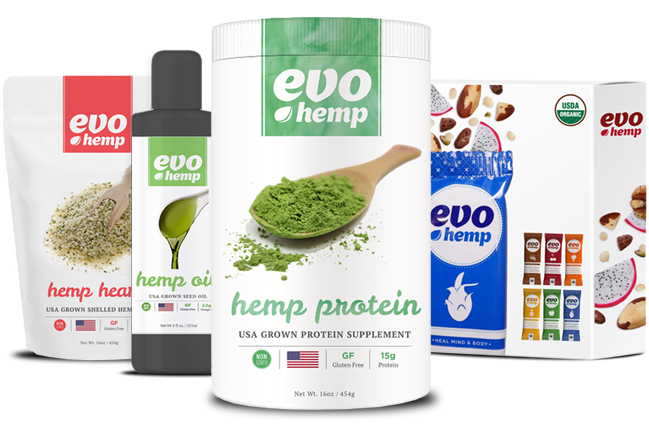 Sherman said he had previously sourced his hemp from Canada, but saw an opportunity to switch to domestic suppliers with the new line. While he said the company had hoped to exclusively use hemp from farms in its home state of Colorado, in order to make the switch the company is also sourcing from six other U.S. farms.
"We are really trying to position ourselves as the premier U.S. grown hemp foods company," Sherman told NOSH. "[We're] really working on rebuilding our agricultural system and helping to support the small family farmer with this pretty incredible plant."
Hemp is regarded as a more sustainable crop because the weed-like plant requires little water or maintenance, needs less pesticide to guard it from disease and has a negligible carbon footprint. In addition, Sherman said most hemp farmers can earn up to four times as much income growing hemp compared to their previous crops while using half of the amount of water.
A hurdle for EVO has been the production of the products themselves, which are required by law to be manufactured in the same states in which the hemp is grown. Though it's legal to sell and consume hemp food and beverages, domestic hemp production has been illegal under federal law since the mid-1930s. A loophole appeared in 2014 after President Obama signed the Farm Bill, allowing universities and state departments of agriculture to grow or cultivate "industrial hemp" in a limited number of pilot programs.
Like Sherman, others are interested in expanding the regulations around U.S. grown hemp. Republican house majority leader and Kentucky Senator Mitch McConnell is a supporter of the Industrial Hemp Farming Act of 2015.
"I am continuing to work with my colleagues to help advance industrial hemp research production," McConnell said in a statement to NOSH. "I am hopeful that growing hemp will help our farmers and create jobs. It's an opportunity Kentucky must not miss, and based on the growth of research pilot programs in Kentucky, it seems our farmers agree."
Though farmers are starting to value the benefits of U.S.-grown hemp, Sherman said consumer understanding is somewhat lagging behind. Many, he noted, think hemp has the same characteristics as marijuana because it is derived from the same plant species as the drug. But industrial-grade hemp is a safe and legal food ingredient that contains little to no Tetrahydrocannabinols (THC), the psychoactive ingredient found in marijuana that makes users feel high. It does, however, contain high amounts of protein, fiber and omegas. Sherman said he hopes the extended product line will show the flexibility of the seed's uses and its nutritional benefits on a larger, more mainstream stage.
"Going into the natural channels, it really hasn't been very hard," he said. "The customers are a little more affluent, they are a little more knowledgeable of the nutritional value of the hemp seed so the reception has been very good. It's when you hit the more conventional, traditional grocery store — the Kroger's, the Albertson's, the Targets of the world — [consumers] are a little bit hesitant to it. They don't completely push it away because it's a cannabis product, but they're more hesitant and [stores] are more picky about launching it."
To fight this confusion, Sherman said the company has initiated a comprehensive marketing campaign with videos that tell the story of each of their affiliated farmers. He added that the company also plans to launch an industry facing analytics platform to discuss statistics, news and studies about hemp.
"Once the consumer really understands the value of U.S. v.s Canadian hemp and what it could do for our agricultural problems, we think it will be really good for the industry as a whole," he said.