RX Brings in New Leadership, Launches 'Contrarian' New Brand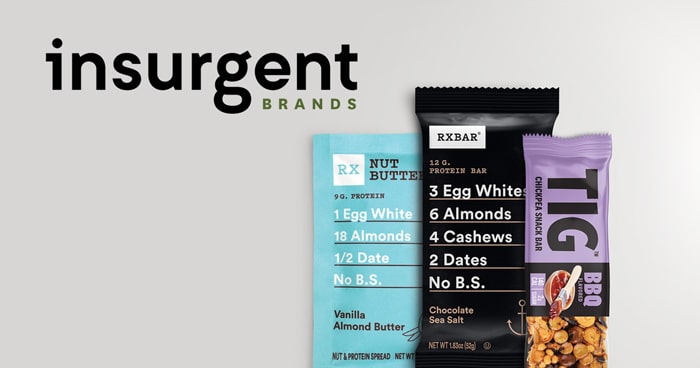 While RX has always had its own style, the company hasn't fully embraced its rebellious nature — until now.
Chicago Bar Company, makers of RXBAR, announced today it will rebrand as Insurgent Brands, expand its product mix under the RX brand and launch a new "contrarian" sub brand. All of which will move forward under new leadership.
The move comes roughly 18 months after the company was sold to The Kellogg Company for $600 million. Since then the brand has had ups (expanding into international markets and launching into new categories) and downs (lawsuits and layoffs). But as the brand moves forward, Peter Rahal and Sam McBride will no longer be CEO and COO respectively. Former CFO Jim Murray has assumed the role of President. Co-founder Rahal will step down from his position, but will remain with the company focusing on product development, while McBride will move to the role of advisor.
Rahal told NOSH the change was more reflective of his own personal skill set as an entrepreneur.
"I'm an entrepreneur," Rahal said "I need novelty and this [role] just didn't align with some of my strengths and also my interests. So I wanted to put myself in a position to add more value."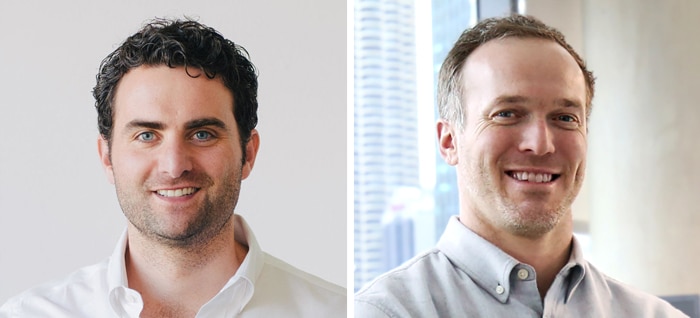 The company is also changing its overarching brand identity and will rename itself from Chicago Bar Company to Insurgent Brands, a transition the company said will better reflect its broadened portfolio. Rahal told NOSH that he had always planned for the company to make more than bars, but that he was also an "impulsive" entrepreneur who settled on a name quickly.
Last year at Natural Products Expo West was the first time the company expanded beyond bars with the launch of single serve RX Nut Butters. At the time RX decided to go with single serve packets in order to get onto shelves quickly and to drive trial. This year, based on the success of that product, RX will showcase multiserve jars of the spreads.
The company will also expand into RX Oats — a line of high protein oatmeal. With 12 grams of protein per cup, the oats will launch in maple, chocolate and apple cinnamon flavors and can be eaten hot or as overnight oats. Rahal told NOSH the oats are less sweet then alternatives on the market and answered a pain point from their consumers.
"What we found was that people are frustrated by breakfast," Rahal said. "So we took our brand and our principles and our ingredient philosophy and looked at how we could apply it to breakfast."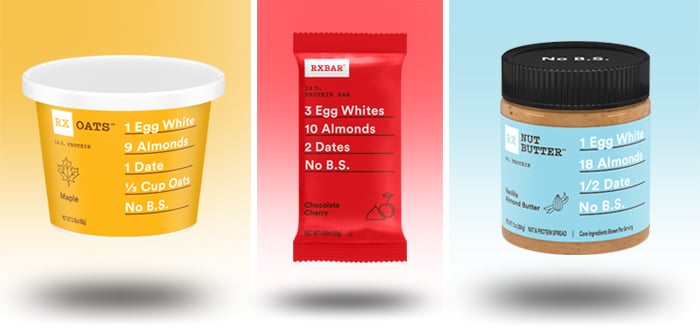 The company will also add three new flavors to the RXBAR lineup. And in opposition to RXBAR, Insurgent will launch a new brand, TIG Snacks, that Murray calls "the rebellious child of the organization."
While RX is about performance and can come off to consumers as "earnest and serious," TIG will be more playful. The line of lentil, chickpea and rice bars will launch in indulgent flavors such as pizza, buffalo, BBQ and chili lime. With TIG, Murray said, Insurgent hopes to offer a product that is the opposite of RXBAR and will fill the white space in the bar category, namely the lack of savory, crunchy bars that focus more on fun rather then performance.
Although the branding, nutrition profile and ingredients differ, Rahal told NOSH, the two do share some similarities.
"I've always taken a contrarian point of view to everyone else. RX was very contrarian. It didn't fit with anyone else," Rahal said. "This product is similar. It's paradoxical. It's super good for you but it's flavors like pizza and buffalo. There's a great tension there… TIG is WTF."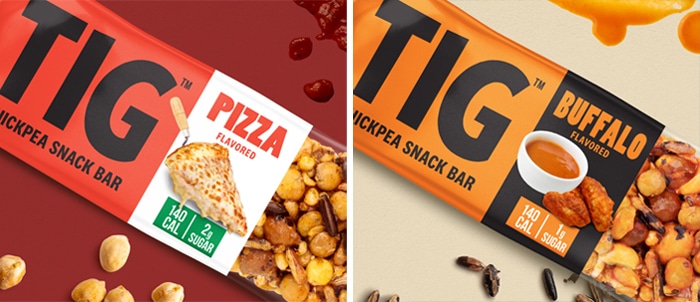 TIG will launch direct to consumer in March and may or may not eventually wind up on store shelves. Murray said Kellogg was hands off, although supportive, in designing the line. He expects future product development to maintain a similar path.
"Our approach is really to focus on what we're seeing from a consumer lense and place a lot of smaller bets," Murray. "Use our direct connection with consumers to get feedback and adjust and go from there."