General Mills & GoodBelly Partner to Launch Cereal and Yogurt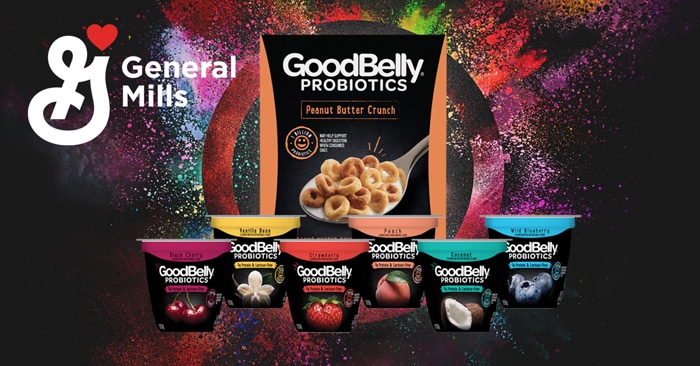 While Activia may not be a brand that resonates with younger shoppers, General Mills believes its message of digestive health does. That's why the corporation is deepening its strategic partnership with natural brand GoodBelly Probiotics by launching a line of lactose-free yogurts and cereal this week.
Both the cereal and yogurt lines are licensing plays for General Mills, which first partnered with GoodBelly on a line of snack bars several years ago. Last year the company's venture arm, 301 Inc, led a $12 million round of investment into the probiotic-focused brand. Like the bars, General Mills will take on production, sales and marketing of the yogurt and cereal lines.
"This is another great way to flex the partnership and leverage the collective strengths that each of us bring to the table," 301 founder and managing director John Haugen told NOSH. "We think that can accelerate the progression and scaling of the launch into the marketplace."
The yogurt will retail for $1.49 and debut in Wild Berry, Vanilla Bean, Peach, Coconut, Strawberry and Black Cherry flavors, while the cereal will debut with one SKU, Peanut Butter Crunch. Both will contain Good Belly's probiotic strain Bifidobacterium lactis BB12.
Alan Murray, CEO of GoodBelly's parent company NextFoods, told NOSH that consumers had been requesting GoodBelly enter new categories, particularly yogurt. Partnering with General Mills — which has some of the most iconic natural brands in cereal and yogurt with Yoplait, Annie's, Cheerios, Chex and Cascadian Farms — allows the company to answer this need faster and more easily than self producing. Although the two companies could have used a "powered by" Good Belly callout on an existing brand, the decision was made to keep the GoodBelly brand front and center.
"GoodBelly is synonymous with probiotic and digestive health," Murray said. "So we decided to ride that name harder rather then dilute the message."
The news comes as General Mills is focusing on its "consumer first" philosophy. According to a release, the company has increased the pace of new product innovation to almost 5% globally in fiscal year 2019, up from 3.8% of net sales in fiscal year 2017. At yesterday's investor day presentations, Jon Nudi, Group President North America Retail, told the audience that the company now emphasizes "speed over perfection," getting products into the market quickly to test, and then iterating.
GoodBelly's bar line is one example of this new methodology. Released in 2017, the bars have been slowly growing from their test markets into wider distribution. This summer, General Mills released the next iteration of the bar, improving texture.
Although cereal is in 90% of households and yogurt in roughly 80%, the two categories have struggled in retail of late. Cereal consumption was relatively flat, as was General Mill's dollar share of the category. But Nudi told analysts that he believes there is still room for growth, not only through new product innovation and marketing, but also due to changing consumer demographics — namely the increasing amount of children and over-55 consumers, two segments that have higher cereal consumption.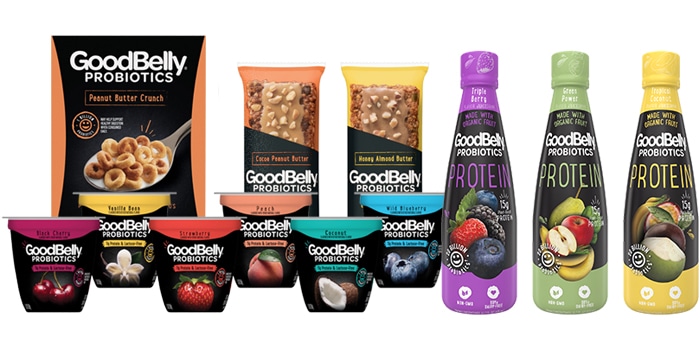 In yogurt, General Mills has made modest gains but the category is down roughly 2%. Nudi shared that the company is "competing more effectively" and has seen improved performance since fiscal year 2017. He added that the category's sales decline in fiscal year 2019 were driven by a 6% decline in greek yogurt sales (which makes up roughly 45% of the category) but there is an "attractive opportunity" in the fact that non-Greek yogurt sales rose 1% in fiscal year 2019.
Perhaps the greatest opportunity in yogurt is to take on Activia, a "300 to 400 million dollar business," hinted Haugen — who was previously the General Manager of Yoplait.
"One of the large competitors in the marketplace has a brand that was built specifically on digestive health and we think that the Good Belly launch is going to go right up against that with an even stronger value proposition to the consumer," Haugen told NOSH. "We see a tremendous opportunity for a more modern solution."
Of course while General Mills will benefit from the GoodBelly name, so too will GoodBelly benefit from General Mills' larger marketing and sales budgets. The strategic plans to support the launch with social media, online and in-store marketing efforts, Nudi said — investment that comes as GoodBelly launches its own new products in the beverage cooler.
In the last two months, the company has added iron-supplemented shots, revised, relaunched and rebranded its line of infused waters, and launched a line of sparkling beverages to compete directly with kombucha. Yet across all product categories, the commitment to true functional nutrition has remained constant, Murray said.
"There's so many posers in the marketplace that are just sprinkling probiotics on something and saying it has probiotics," Haugen added. "This has probiotics but its a proven strain with a proven level of efficacy."