GoodBelly Lands $12M Round, Led By 301 Inc.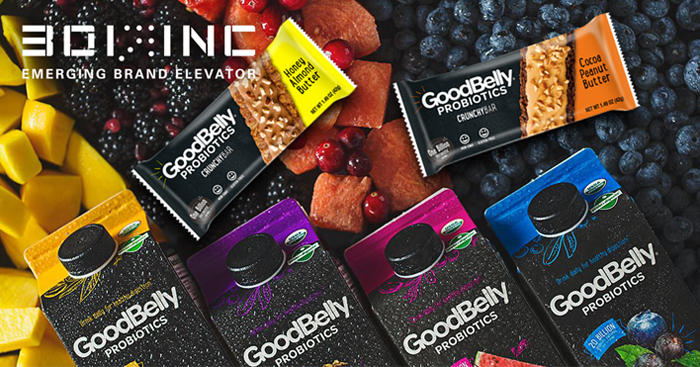 Today NextFoods Inc, the producer of GoodBelly Probiotics, announced the close of a $12 million round of funding led by 301 Inc, the venture arm of General Mills. Previous investor Emil Capital Partners also took part in the round.
GoodBelly is currently sold in close to 15,000 retail locations including Sprouts, Whole Foods Market, Wegman's, HEB, Kroger, Safeway, Publix and, most recently, Walmart. Its portfolio has long been heavily weighted toward shots and juice drinks, but a collaboration between General Mills and GoodBelly on a line of probiotic-infused granola bars provided the spark that eventually led to the investment, GoodBelly CEO Alan Murray told NOSH.
GoodBelly began to consider entering the bar category about three years ago as a way to create a shelf-stable product outside the beverage space; that filled a need for General Mills, which was simultaneously searching for new ways to enter the digestive health space.
The result was a licensing agreement for General Mills to produce and sell a line of bars under the GoodBelly name. The bars officially launched at Natural Products Expo East in 2017 and began rolling out in retail this year.
"We liked the idea of spreading the brand across categories, that GoodBelly could be a digestive health brand that you could pick up in multiple places in the supermarket," Murray said. "We started exploring what it would be like if we had a broader relationship and it ultimately culminated in this investment."
301 VP and General Manager John Haugen told NOSH that, although there are numerous brands espousing gut health benefits, 301 was drawn to the science behind GoodBelly, as well as its rigorous testing of product efficacy.
The investment will go toward expanding the GoodBelly platform, both by entering new retail channels — Murray named convenience, club, and foodservice accounts as potential whitespace — as well as through new product innovation. Haugen said the two companies are working on developing a pipeline of new products to expand into new categories.
Although General Mills licenses the Good Belly name, both Murray and Haugen emphasized that the GoodBelly team is hands-on with any product innovation. GoodBelly also has the ability to set up licensing agreements — such as for supplements — with other companies for products that General Mills does not produce.
301 currently has other portfolio companies that also play within the gut health space. Farmhouse Culture has a line of vegetables, beverages and snacks that all utilize naturally fermented foods, while both alternative dairy company Kite Hill and snack brand Purely Elizabeth have SKU's that carry probiotic benefits. Despite this overlap in functional benefits, Haugen said the products are complementary, not competitive.
"When you think about digestive health, it's such a big opportunity… so we're continuing to invest in that future," Haugen said. "It's going to be a broad-based benefit. I think there are multiple, very viable ways into delivering this benefit."
Whipstitch Capital ran the investment round on behalf of NextFoods.