With Greenhouse Program, PepsiCo Hopes to Help Brands Sprout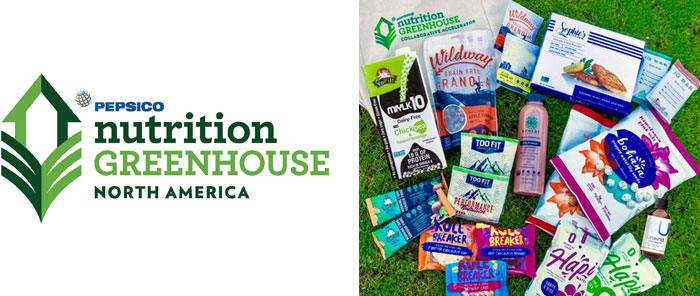 Sometimes to see growth you need to add a little fertilizer.
That's the concept PepsiCo hopes to offer brands with the Nutrition Greenhouse. The soda and snack giant's food and beverage accelerator, already launched in Europe, yesterday announced the nine brands to join the program's inaugural North American class.
The group includes: puffed lily seed brand Bohana, kid's drink Hapi, plant-based functional beverage companies Remedy Organics and Torii Labs, bean-based baked goods brand Rule Breaker Snacks, plant-based seafood alternative Sophie's Kitchen, supplement company Too Fit, breakfast and snack brand Wildway and meal solution YoFiit.
The companies, which all have less than $5 million in revenue, will participate in a six-month program during which they will receive mentorship from individuals in various PepsiCo divisions including The Hive (Pepsi's new division for emerging brands), the Frito-Lay snacks team, PepsiCo Ventures Group, R&D and procurement. Each company will be given a $20,000 "no strings attached" grant and challenged to "demonstrate collaboration and measurable progress" in an "entrepreneurial fashion."
Whichever company shows the most progress, highest level of collaboration and most effective use of the grant will be declared the winner and receive a $100,000 prize in April 2019.
Daniel Grubbs, Managing Director of the PepsiCo Ventures Group, told NOSH that selecting the companies came down to both product and mission.
"We were open to the idea of companies that are across the food and beverage spectrum," Grubbs said. "But all are delivering to the consumer their perspective on clean, healthy, nutrition and wellness products — but with a real commitment to how they are building their businesses."
Grubbs said he expects both PepsiCo and the participating brands to benefit from the program. PepsiCo, he said, will be exposed to emerging brands that are using forward thinking ingredients, platforms, flavors and delivery mechanisms. Some of these may be areas PepsiCo would like to explore for its own products, but many will be outside the scope of what the company may consider.
"For us, open innovation is just that — [open]. It's not always just about how does that translate into products that we end up developing ourselves," Grubbs said. "It's not about how do we learn and then go innovate in that same space. It can be much more of a collaborative setting."
In turn, the brands will be exposed to individuals with experience scaling major brands and expertise ranging from supply chain optimization to production assistance to consumers communications.
PepsiCo's ability to provide substantive value will be key in attracting and maintaining the Nutrition Greenhouse, particularly as competition between accelerator program from major brands is tight. In the last several years, Chobani, Land O'Lakes, Chipotle, Nestle, Cargill and Agropur have all launched their own or partnered with existing accelerators.
At the same time, others have shifted away from the model. AccelFoods pivoted away from an accelerator to a straight investment fund in 2016, while former accelerator The Food Nest transitioned to simply offering kitchen space before even accepting its first class.
Two of the brands selected for the Greenhouse program — Remedy Organics and Wildway — were part of the Chobani accelerator earlier this year.
Grubbs told NOSH that while he knows that there are many ways businesses can receive strategic assistance, PepsiCo does offer brands a unique opportunity. He noted that given its array of brands — both big and small — the company can teach brands both how to scale as well as how to eventually grow their audience to appeal to a broader base of consumers.
Of course there's also the fact participation could lead to further capitalization or, eventually, acquisition. The winning company agrees to give Pepsi an "exclusive" period of six months after the program where they cannot enter into a partnership or accept investment from other major strategic food companies. So while not guaranteed, Grubbs told NOSH that the Greenhouse program could serve as the first step in a larger relationship.
"It's an opportunity for them to really refine and optimize their approach to then really drive that acceleration," Grubbs said, "which could lead down the road to potential continued interest from a PepsiCo perspective whether its through investment or acquisition down the road."