Gluten Free Bar Rebrands to Focus on 'Fun'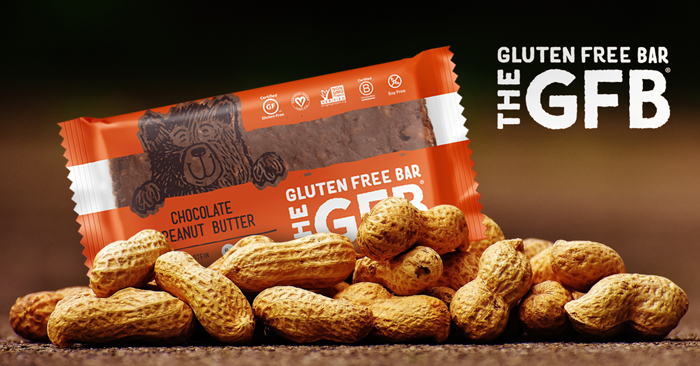 Gluten Free Bar (GFB) is hoping its new packaging will bring fun back to what it describes as its flavorful snack line.
The brand's revamped packaging, designed by Nucleus Maximus, features a colorful design with a hand-drawn bear. To start, the bear will only be featured on GFB's bar line, rolling out to 9,000 stores this month. But Elliott Rader, co-founder and partner at GFB, said he expects the rebranding will extend to both his Bites and recently launched Power Breakfast lines by the end of 2018.
"We've had our gluten-free bear [as a character] at trade shows for a few years, and people really respond to the connection there," Rader said. "What the bear does is bring this idea of fun and hopefully the idea of flavor and creates an emotional connection with consumers that was missing before."
Previous packaging used less vibrant colors, and focused on the brand's nutritional claims and certifications to reach its target consumers: Women shoppers who are hyper aware of gluten intolerances and allergies. But, in an effort to broaden its consumer market, the company moved its claims and certifications to the back of the package.
"With so many bars on the shelves, getting consumers' attention even for a second is hard. But if they pick up a package, they are much more likely to consider purchasing it… Once they pick up the product, we are halfway there," Rader said. "We are letting the packaging do the talking to get that initial attention, and then we'll let them peruse the packaging and nutritional ingredients themselves to figure out this is really a quality product."
The packaging rollout follows news that GFB has brought on a private investor, Bruce Carbonari, retired chairman and CEO of Fortune Brands. Terms of the deal were not disclosed, but Carbonari took a minority stake in the company. His investment will be used to bring the company's new design to the rest of the company's portfolio and start to add more organic ingredients to its sourcing, both of which Rader believes will increase velocities and penetration of the brand within its existing retailers such as Whole Foods Market, Kroger, Stop & Shop and Meijer. He noted that he also hopes the new line will encourage retailers to take on additional SKUs within the company's portfolio.
GFB will also use the investment to grow its team. As of last month, GFB brought on Kelley Freridge as director of marketing. Rader said the company is also looking to hire a graphic designer.
"What we do is focus on making fun, great tasting gluten-free snacks. And ever since we started our main goal [has been] to innovate on things that taste great and things with good certifications," he said. "We're excited to build out the people part of our company now."
Freridge's addition comes as the company is in the process of increasing its overall marketing efforts in order to reach a wider audience. Rader said the expanded target consumer group will include men, outdoor enthusiasts and college students who may not have any intolerances to gluten, but prefer to omit it from their lifestyles. According to recent study carried out by the Mayo Clinic, researchers found that of the 3.1 million people across the U.S. who follow a gluten-free diet, 72 percent of them are people without celiac disease. Overall, the number of Americans going gluten-free has tripled since 2009.