Two Moms Gives Birth to Soul Sprout
As competition ratchets up for many of the the niche brands founded in the early wave of natural products, the choice today is either innovate or become irrelevant. Such is the case with snack brand Two Moms in the Raw, which after 10 years is relaunching as Soul Sprout.
It's not just a new name, however: the brand also has new leadership team, new formulation and new goal of appealing to a more mainstream consumer.
Matt Fuller, the former president of Bare Snacks, is now running the company as CEO. Fuller joined as an advisor in Spring 2015 at the behest of then-minority investor NGEN and the leadership team (which has since mostly departed). In the fourth quarter, NGEN also increased its investment in the company, becoming the majority shareholder.
The former husband and wife team that started the brand, Shari and Greg Leidich, are no longer involved in day-to-day operations but remain as minority shareholders. Shari Leidich departed the brand early this year before Expo West.
"I was very excited to remain part of the company, but the company was just going in a different direction and vision," Leidich said. "It was time for me to step down and start a new venture."
The recent changes started roughly two years ago, when the company decided to cut product sizes in order to drop the unit price. The resulting stocking issues (due to new UPC codes) and loss of sales were a struggle for the brand to overcome.
The decision was made to grow sales by changing the company direction. Now the brand is ready to make its new debut — no longer as a gluten-free speciality brand, but a brand for all health conscious consumers.
"My intention was really to fill in a niche and it just happened that this niche crossed over into conventional and a mainstream palate. But it was always a niche," said Leidich. "This team wants to make it much more mainstream and accessible…which is very exciting."
The new name, said Fuller, conveys the sprouted benefits and should appeal to a broader range of consumers. Unlike its previous moniker which was found to be confusing and alienated some male consumers.
"What we really wanted to focus on was what was really impactful," said Fuller. "The fact that we are plant-powered, organic, great tasting snacks that are sprouted, that's the real powerful message."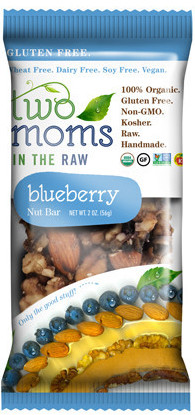 Choosing to focus on sprouted and plant-based was a strategic choice."There are a lot of health benefits that get bandied about in the natural world," Rosemary Ripley, Managing Director at NGEN said, "We wanted to make sure, as we invested more into their new brand, that there were real, not just perceived, health benefits in sprouted."
With a new focus, the product is also shifting where it's merchandised. Several retailers, including Whole Foods, have done away with their raw sets and Soul Sprout will now be on shelf in traditional sets. There will be more competition for the brand, but also more exposure.
Although there have been formulation and processing changes to improve taste and texture, the brand is staying true to using "low and slow" heat to remove moisture but keep nutritional benefits.
Soul Sprout is launching with all of the same product skus that were under the Two Moms brand. Because pack size and products aren't changing, the brand was also able to keep the same retailers and UPC codes to avoid more stocking issues.
The shift, said Fuller, has been met with a positive response, and that it has landed retailers that wouldn't have stocked the older brand.lf." One of the new retailers is Barnes and Noble College bookstores, where Fuller says the brand will be able to get in front of millennial consumers.
For its loyal fans though, Fuller says not to worry, it's just the next evolution of their beloved brand.
"We're continuing on the mission that was started 10 years ago," Fuller said. "That nutritional component, we're not going away from that. That legacy doesn't go away just because the business is evolving. We're true to that."