FBU Boston: Throwing the Books at Entrepreneurs
On Wednesday morning, a room of food and beverage entrepreneurs gathered at WGBH Studios for FBU Boston, a one-day crash course on the food and beverage industry put on by the staff of BevNET and Project NOSH.
Kicking off the day's festivities was Rob Ehrlich, the self-described "Shaman of snacks" and eccentric founder of Pirate's Booty and more recently Sexy Pop Popcorn. After an entrance that included Kanye West's "Power" and an entirely too brief interpretive dance routine, Ehrlich spoke on the keys to creating a product consumers can connect with, urging the audience of industry prospects to "Find your niche within your category and grow it. Own it, make it yours."
Up next, with a narrower focus, was Paul Pruett, CEO of mediterranean snacks company Mediterra Nutrition. Pruett explored the important variables at play when choosing a co-packer as brands begin to look to expand their operations beyond their founders' kitchens. Having used more than 15 co-packers throughout his career with both failed and successful ventures under his belt, Pruett didn't mince words when stressing how the selection of a co-packer can make or break a business.
"Picking the right co-packer is probably your most important decision," Pruett said. "It's going to either allow you to grow your business or not."
Tim Sperry, founder of natural foods consultancy the Tim Sperry Group, soon took the stage to discuss incubation in the natural channel, calling Whole Foods "the validator" for other retailers and "the best place to test your proposition." Sperry would also cite a lowered cost of entry into the natural channel than that of conventional grocers, due to lower slotting fees and more flexibility from what he called "emotionally-invested buyers." He also pointed to the ability of brands to launch in Whole Foods regionally, giving entrepreneurs the opportunity to test their products at retail without massive production requirements and unrealistic sales targets.
Later in the morning, Dena Zigun Kowaloff, director of marketing at Massachusetts grocery chain Roche Bros. would look at the conventional grocery channel, offering insight into not only securing placements at these retailers, but perhaps more importantly, maintaining those placements.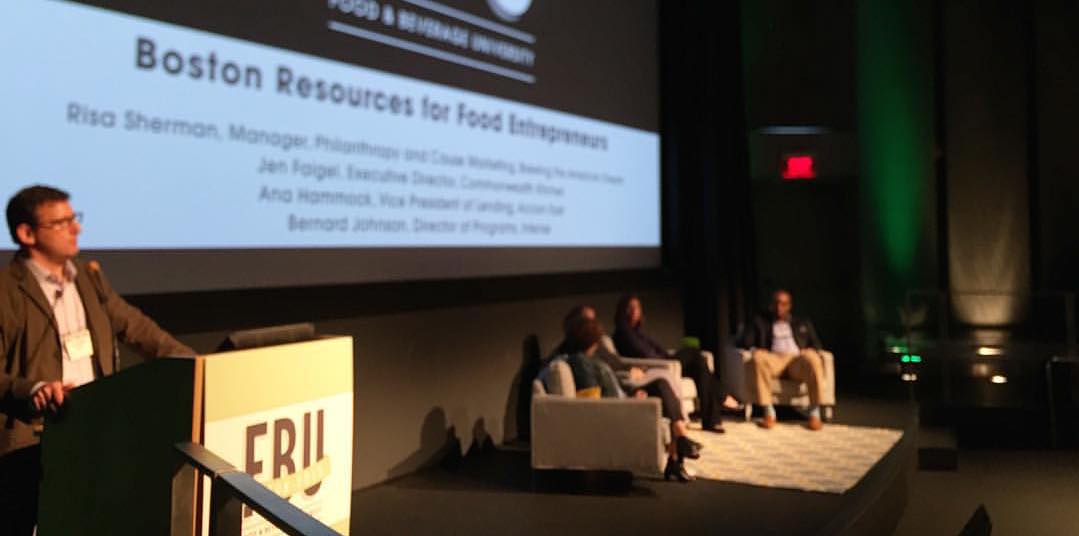 Moving along, John Maggiore of Maggiore Sales & Marketing presented on brands' go-to-market strategy alongside brokers and distributors, followed by Lindsay Greene, a former director of sales operations at The Chia Company, who tackled sales, the importance of "bean counters," and some of other more practical elements of running a successful business.
"The things you don't want to focus on, when you're in the thrill of 'Oh, I have this great company, this great brand' – somebody needs to focus on the minutiae," Greene stressed. "That's where you make your money and where you lose your money."
In a sitdown with BevNET editor-in-chief Jeff Klineman, Yasso frozen greek yogurt co-founder Drew Harrington opened up on the wins and losses of his now five-year old brand. When asked what his biggest misstep has been to date, Harrington urged attendees to take out more than they think they'll need when they embark on the first significant round of funding.
"Even if you think in that moment that you're never going to use that extra money and you don't want to take the dilution, more times than not it's better for the business to have that extra cash on hand," he said.
Speaking of raising capital, transactional advisor and Metabrand advisory board member Brette Simon was up next, offering tips for entrepreneurs when navigating and negotiating the fundraising process.
After a lunch and networking intermission, Silverwood Partners managing director Mike Burgmaier would returned to the topic of securing investments in a presentation entitled "What Really Matters: Creating a Company that Investors Really Want." Coincidentally, what that entails, according to Burgmaier, is a clear and concise exit strategy to eventually get out of the company."[Investors] always enter the room walking backwards with their eye on the exit. That's what matters," he said. "If they're looking at your company, all they're thinking about is how are they going to get out of your company. There's money that's going in and it needs to grow."
Nancy Rosenzweig of Big Path Capital, John Burns of Breakaway Innovation Group and Jeremy Halpern, a partner at McClennen & Fish, led a three-headed discussion of different types of financing. Rosenzweig wasn't in total agreement with Burgmaier's earlier sentiment on investors, as it pertained to private family investment offices.
"These are people who tend to think about much longer time horizons in which to invest their money," Rosenzweig said. "They don't have a set of limited partners like private equity firms have telling them how long the money can be invested and how much they can invest."
After a presentation on the key components of company structure from Natural Products Consulting Group founder Bob Burke, Justin Prochnow of Greenberg Traurig LLP scared some sense into the audience with a look at the claims and endorsements brands can and can't get away with under the watchful eye of the Food and Drug Administration as well as an increasingly active group of plaintiff's lawyers.
Lastly, Bill Creelman, CEO of Spindrift, took a step back from the nuts-and-bolts focus of the day's presentations, returning to the wide-eyed look at the entrepreneurial experience that Rob Ehrlich kicked things off with, in his discussion on life after a brand's infancy.
"As your company grows, you're eventually going to be handing off some of the day to day responsibilities," he said. "Your engagement will change to being the person who has to have their head above the clouds and looking out for changes in the market."