Functional Chocolates: A Dash of Sweetness, a Dose of Wellness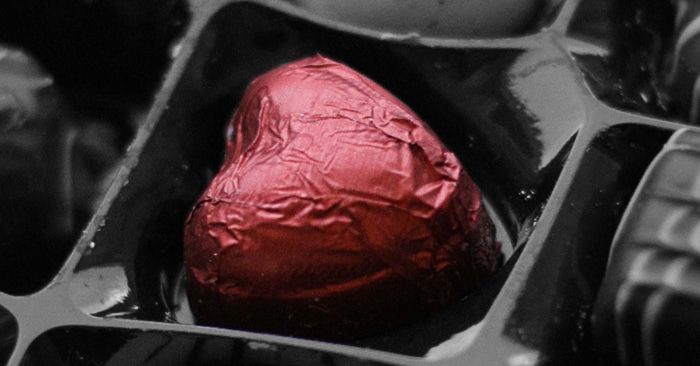 Consumers are looking for more than just flavor from their food: they also want function. But do they want it in their chocolate? A growing number of brands are banking on it.
And why not? It's no secret that consumers love chocolate: the National Confectioners' Association (NCA) noted in a May 2019 report that U.S. chocolate sales total over $21 billion annually and that, according to data firm IRI, household penetration for everyday chocolate is 91% in the conventional multioutlet (MULO) channel.
Betting on that ubiquitous affinity, companies are now trying to create high-quality, tasty sweets that incorporate functional benefits. Currently, brands are steering both into the supplement and snack aisles for merchandising, and they're looking at a variety of functions and ingredients: think everything from vitamins that taste like conventional candy to prebiotic European chocolate bars at the checkout counter.
Still, it's early days, and analysts point out some key questions. Do consumers want their supplements and their sweets separately? If they are indeed willing to do a dose of chocolatey wellness, then exactly when do they want it, and in what form? All of these issues, they say, may clash with what would otherwise seem to be a delicious delivery system.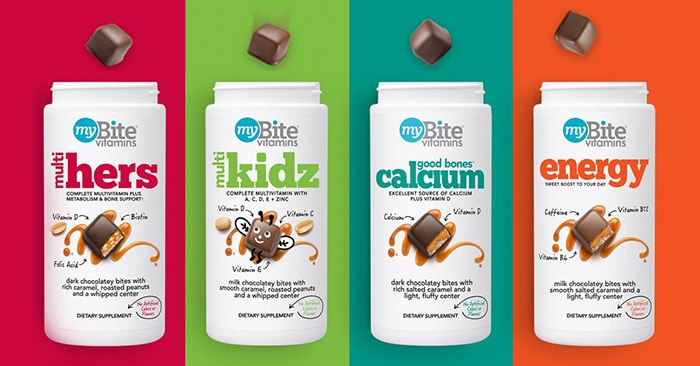 A Sweeter Supplement
Having previously created kids' mass market gummy vitamin brand L'il Critters, husband and wife duo Kate Jones and Marty Rifkin launched MyBite last fall. Designed to serve a need for fresh innovation in vitamins, MyBite seeks to provide health benefits with flavors similar to popular candies like Snickers and Milky Way. Jones noted the company's internal consumer research found that gummy snack sales are down 5.5% — and 72% of consumers reportedly place more value on chocolate candy versus fruit flavors.
"People really feel the gummy vitamin category needs some invigorating," she told NOSH. "The more mature gummy categories are declining because consumers are looking for something new. I have talked to buyers who definitely feel this delivery system could be bigger than gummies."
Each chocolate bite has three grams of sugar, 20 calories or less and under a gram of fat, Jones said, with 10 SKUs including a kids' multivitamin. The products launched as a Target exclusive and are now in 3,000 doors including Giant Eagle, Hy-Vee and Vitamin Shoppe.
Gummies were the first edible vitamin trend: a colorful, nutrition-packed bite that could convince picky kids (and adults) to take a daily vitamin. But the goal was making vitamins more palatable, not crafting a memorable edible experience. Now, consumers expect more, seeking wellness benefits, along with great flavor, in familiar snacking items.
For supplements, tastier options can encourage trial amongst even the least health-conscious consumer. In the past decade, the supplement category has already seen a big boost, with usage by U.S. adults increasing 10%, according to the Council for Responsible Nutrition (CRN).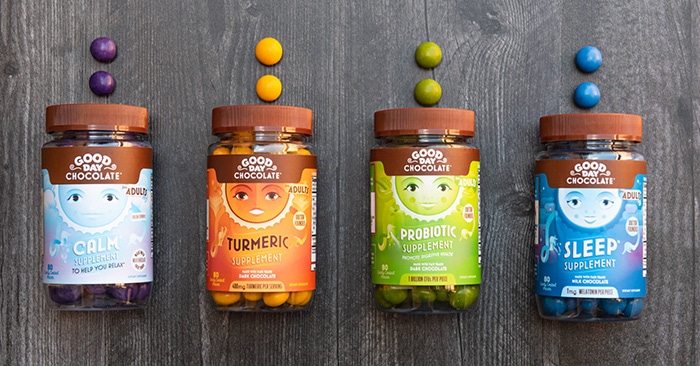 'Functional Indulgence'
The better-for-you chocolate trend may have started with brands offering low-sugar or eco-friendly options, but this new wave of innovation hits another level with added health benefits. Some products toe the line between snack and supplement — but with clearly communicated dosing instructions, brands can advise a controlled experience versus an overly indulgent one.
One such brand, Good Day Chocolate, offers almond-sized, shell-coated chocolate balls with benefits like energy (via caffeine), sleep (via melatonin) and most recently, sleep and calm (via CBD) and a regular CBD option. The company, launched in 2014 at Whole Foods, was co-founded by Boulder, Colorado-based surgeon Andrew Goldman and marketing professional (and Good Day CEO) Simeon Margolis. The brand is now in over 10,000 stores, including Target, CVS and Walgreens.
It's taken a double-placement strategy, with small, 8-count boxes often placed at checkout and larger bottles stocked in the wellness aisle.
The two packaging formats and placements encourage consumers to think of the products as having multiple roles, both as on-the-go treats or as part of an everyday wellness regimen, Margolis told NOSH. Good Day isn't a functional food or supplement company, he said, but is instead helping create a "functional indulgence" category. And the supplement aisle's consumers are generally ones who know what they're buying — with placement beyond supplements, the brand is able to gain fresh interest.
"The way consumers are discovering us is outside of the supplement aisle through those 8-count boxes," he said.
Although the brand got its start in the natural channel, over the last year it has found success in other retail channels as well. Along with an increased presence in the grocery channel, food supplements are growing fastest in convenience stores — up 23.4% since last year, according to data firm SPINS and research site New Hope Network.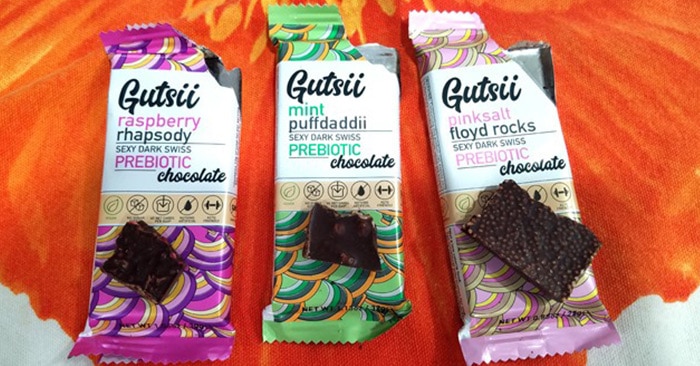 Dosing Deliciousness
Are functional chocolates food or medicine? And how are they regulated?
Health claims are a large concern for retailers: Whole Foods, for example, previously removed probiotic "junk food" snacks, including candy and chocolate, noting such food promoted an "underlying assumption that it should be eaten on a regular basis." Good Day's products all have supplement facts panels, Margolis noted, even when not needed: the Turmeric or Probiotic options don't make health claims, so could have food panels, but the goal is maintaining a level of "seriousness and integrity about the functionality of the product," he said.
While Good Day may veer toward the supplement side, gut-health chocolate brand Gutsii leans toward candy. Gutsii's bars aren't sold in the digestive health set at CVS, the brand's first retailer, but rather at checkout. Boosted by chicory root to provide inulin, a soluble prebiotic fiber, the bars come in three flavors: Raspberry Rhapsody, Mint Puffdaddii and Pinksalt Floyd Rocks, and are sold in about 2,000 stores and on Amazon. While a prime placement, selling at checkout means Gutsii must not only match conventional bars in taste, but also in price: the 1 oz. bar's MSRP is $2.29. Co-founder and CEO Janine Zappini told NOSH her bar is the first of its kind to reach the mass market and that keeping the price low is part of a strategy to reach beyond intentionally wellness-minded consumers.
"Brands like ours, which are first, tend to set the price," Zappini said. "I love to see it next to normal chocolate so that people have better choices."
Although gut health is a rising trend — SPINS reports 26% of consumers are interested in a personalized gut health-focused diet — Zappini is careful to tout the products as "enhancers" rather than nutrient replacements. The bars are designed to be easily eaten without scrutinizing the label, providing a more accessible path to health benefits for all consumers, Zappini noted.
Cover it in Chocolate
Whether brands dream up chocolate supplements or function-enhanced decadent treats, some functions can also aid in creating a quality product. For Gutsii, the prebiotics act as both a sweetener (allowing the brand to report no added sugars on its labels) and as a binder, helping create the creamy mouthfeel consumers seek in chocolate.
Of course, chocolate itself is also effective at masking undesirable tastes. Despite the wait for Food and Drug Administration (FDA) guidelines for regulating cannabis food and beverages, cannabidiol (CBD) chocolate is thriving and expected to become a multi-million dollar category, according to SPINS and UNFI. However, it also has a strong flavor that can be distracting in food, which has some entrepreneurs looking to chocolate as an excellent delivery medium.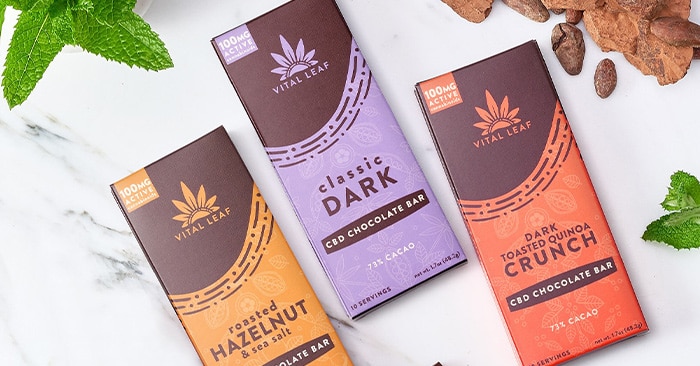 Launched last February, Vital Leaf CBD pairs high-quality full-spectrum CBD with craft chocolate from a regenerative farming cooperative in Ecuador. The chocolate flavor blocks CBD's intense herbal taste, Christina Sasser, CEO and chief product officer, told NOSH.
"It's the 'spoonful of sugar helps the medicine go down' idea," Sasser said.
With no direct regulations to follow, brands are steering their own paths to provide ample nutrition information. While CBD-infused foods should have an FDA-regulated Nutrition Facts Label, many CBD brands, including Vital Leaf, are also including a QR code on the packaging, which sends consumers to a product's lab results online to verify the amount and origin of CBD (or cannabis) contained in their products. Vital Leaf is sold by over 400 retailers, and the merchandising varies: Sasser said that some stores place Vital Leaf's mini chocolate bars at checkout, but many still keep CBD products in a separate section, hoping to create greater clarity and safety for consumers while regulations are still being written.
The Future of Functional Chocolate
If a spoonful of chocolate is good for medicine, it's kind of hard on the supply chain, however. Nutrition retailer GNC, for example, lacks a climate-controlled distribution network and thus can't sell true chocolate products in stores. Allen Mcclard, SVP & Chief Merchandising Officer at GNC, told NOSH the company would explore selling functional chocolates online only. He noted that not only are gummies the sole successful alternative multivitamin category, with about 30% share in food, drug and mass channels, but that GNC customers generally seek higher potency products, meaning food as vitamins are unlikely to ever fully replace "more traditional" pill formats at the store.
So perhaps for consumers wanting to just slightly sweeten their wellness routines, these products can provide an easy — and fun — bite toward better health. Moving forward, even high-end chocolatiers want to appeal to the wellness consumer: handcrafted chocolate company Compartés this fall launched functional chocolates in 'superfood,' 'endurance,' 'pro-power,' 'detox,' 'pure,' 'energy,' 'beauty,' and 'healing' varieties. Compartés owner Jonathan Grahm noted in a release that he "sensed a shift in the marketplace," and that premium chocolate could play a role.
"I felt a need to create something that would take into account our overall health and wellbeing, to be more sensitive to dietary restrictions, allergies, and food intolerances," Grahm explained. "I wanted to create a chocolate that didn't just tick all the wellness boxes, but also offered something new."
Indeed, using well-crafted chocolate products to help everyday lifestyle problems could be seen as a win-win situation — bringing just a touch of whimsy to better health. But can these products stick?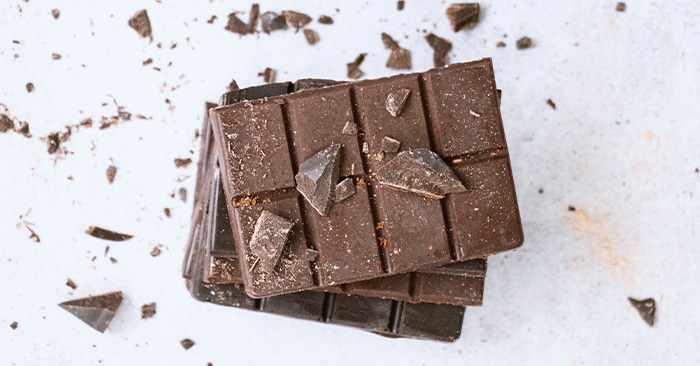 Abby Cullinan, senior consultant at research firm The Hartman Group, noted that this trend has appeared before — for example, as a chocolate calcium chew called Viactiv, which gained traction in the 90s. But chocolate often serves as a perfect sounding board for experimentation, she noted.
"Chocolate is an interesting space to see ingredients emerge," Cullinan said. "Experimentation is going on, but not necessarily coalescing around one single direction."
That lack of focus can lead to issues: for example, while entrepreneurs are happy to get those multiple placements, like in the supplement aisle or at checkout, they rarely end up in the chocolate aisle, Cullinan noted. While the supplement aisle has dedicated customers, it's unlikely to bring in new shoppers to engage at trial.
"There's an interesting interplay between ways people trust something like food on the shelf and the concerns and expectations people have in supplements," Cullinan explained. But familiarity has its advantages.
"There's still an actual consumer interest on deriving benefits from categories of food people normally thought was a throwaway or junk," she said. "There's a rising expectation [in] snacks and beverages particularly."
Although it's a familiar flavor, chocolate's indulgent associations may also work against a functional purpose. The Hartman Group's research has shown consumers care more about health benefits to begin their day — and socializing and relaxing to wind down.
"It can create some dissonance if you want to indulge and let go a little bit — that's a tension we've heard people talk about," Cullinan said.
Still, ingredients like CBD may make more sense since they offer relaxation, plus both cocoa and CBD are agricultural products, which can help in brand storytelling, she noted. With other functionalities, she warns, consumers might not connect to an ingredient that has no prior relationship to chocolate. She suggests that brands also consider whether adding functional ingredients to chocolate will hinder the desired functional benefits.
Another tasty complication? These products compete with an onslaught of high-quality chocolates with a better-for-you — and perhaps simpler — edge, like lower-sugar and dairy-free options, products that already have loyal consumers, Cullinan noted.
Though sweetness never goes out of style, trends like this tend to come and go — only gaining a niche audience, Jake Knepper, SPINS' product library solutions manager, told NOSH.
"You can only bring in so many people to buy chocolate designed for calm and peace," he said. "It has a limited market appeal and can't go grab a whole lot of people and try to sell them on it. A broader wellness appeal is probably just an easier route to success."
Plus for some consumers, function in chocolate might kill some of the fun.
"It's not playing into purchase instincts," Knepper said. "If there's no indulgence or enjoyment, why bother?"