To Help Scale Retail Growth, Good Day Chocolate Closes Funding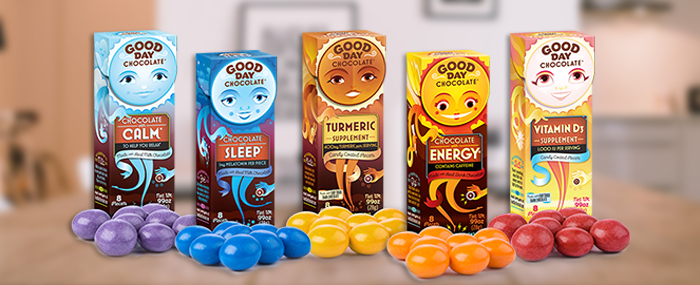 With its one-year exclusive with Whole Foods ending, enhanced chocolate brand Good Day Chocolate has closed a bridge round to finance expansion into a new set of retailers.
The Colorado-based brand closed the round a few months ago but is just now announcing the fundraising efforts. The bridge round was a convertible note that included Boulder Food Group (BFG), Accel Foods and a family office, among other participants. Exact numbers were not disclosed, but the round closed at under a million dollars. Good Day was initially funded through friends and family and closed a Series A round of $1.25 million in June 2015. BFG was the primary investor in the series A round.
Since coming off of exclusive, the brand has been accepted into retailers around the country, including Sprouts, Fresh Thyme, Molly Stone, Fairway, and Nugget Market and it has dramatically increased its business on Amazon as well as moved into food service locations such as cafes and airport shops.
To help support the growth, the company also hired Jacki Litz, formerly of Bhakti Chai, as VP of Sales.
Good Day was founded by decade long friends Simeon Margolis and Andrew Goldman. In 2012 Margolis discovered that Goldman, a board certified physician was crafting medicinal candy for his patients post surgery. This handmade functional treat paved the way for the concept of a supplement in candy form.
In November 2014 the brand was accepted into 20 Whole Foods Markets in Colorado. It soon grew to the entirety of the Rocky Mountain region and then in Nov 2015 was accepted onto shelves in Whole Foods globally in exchange for a one year exclusive.
Although Good Day is technically a food product, it's sold in the retailer's Whole Body department. Whole Foods stocks the product both in the supplement set as well as at registers. One of the draws for retailers, Margolis noted, is that on a per square inch basis, the brand's small boxes tend to create a fair amount of revenue.
Margolis and Goldman told NOSH that from the beginning, they wanted to create an umbrella brand for multiple functions. So the brand launched with "calm" and "energy" functional chocolates, soon after launched "sleep" and then followed up with vitamin D and turmeric-enhanced options.
The two latter releases have shifted the brand away from products that offer an instantaneous result to more of a slower, functional benefit.
"[The line is] very much divided into two camps. We think of some of them as purely functional chocolate and we think of the original three as mood food. We are constantly having that discussion internally about whether we are a mood food or functional chocolate company. And what exactly are people consuming and at what pace and what's sustainable and what's not," Margolis said. "Because of the size and nature of our product, we benefit from our own limitations. They can be frustrating at times and there are a million things we want to do and can, but at the end of the day… we think about our consumers instead of our products and how they are actually using it rather than what we can come up with in the lab."
Those limitations, Goldman said, are that the product will always be a chocolate flavored functional food. But even with these boundaries, there's still plenty of room to grow. The brand plans to roll out its sixth product in the coming months. The play remains the same, however: grow at the intersection of two rising trends: snacking and functional foods.
"I've been on the board for nearly two years, since BFG's initial investment in Good Day," Tom Spier, BFG's CEO, told NOSH. "Their differentiated approach in a huge category is what initially excited us about the opportunity, and it's what continues to excite BFG today."