Good Day Expands Into CBD on the Heels of Investment & Expansion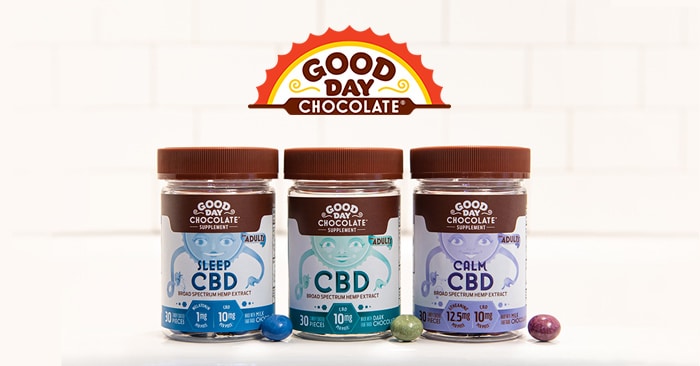 Functional food brand Good Day Chocolate announced last week it would be entering the CBD fray with the launch of three new CBD-enhanced chocolate bites. The launch follows the close of $3 million in investment this summer and the addition of a new Chief Growth Officer with experience in the segment.
The new products will launch in 30 count bottles, and retail for $59.99 (Original CBD) or $64.99 (Sleep CBD and Calm CBD). Each piece contains Fair Trade certified dark or milk chocolate and 10mg of broad spectrum, hemp-derived CBD. The Calm CBD and Sleep CBD offerings will also have 12.5mg of amino-acid L-Theanine or 1mg of melatonin, respectively.
Good Day's other products are functional chocolates for adults (Sleep, Calm, Energy, Turmeric, Probiotic) and children (Multivitamin, Sleep, Calm, Probiotic). The brand's "impulse" 8 count boxes have an MSRP between $3.29 to $2.99 while the larger bottles ring in at $14 to $24 a bottle. Good Day's existing lines are sold in over 10,000 doors including Target, Kroger, Safeway, Albertsons, CVS and Whole Foods Market.
Co-founder and CEO Simeon Margolis told NOSH that expanding into CBD made sense for the brand, which sees its flagship Sleep and Calm offerings account for 60% of sales. CBD, he added, serves the same "emotional need states" but with increased functionality.
"Our reputation already was in the spaces where people are consuming functional products," Margolis said. "To be leaning in to the CBD space with what turns out to be a more functional product just makes sense to us."
The CBD is sourced from organically grown hemp farms in Oregon and Colorado. Margolis declined to say exactly where the brand's new co-packer for the line is located, but told NOSH it operates out of a state that has already legalized recreational marijuana. Currently the line is sold on the brand's website and on Amazon, with retailers expected to come online in 2020.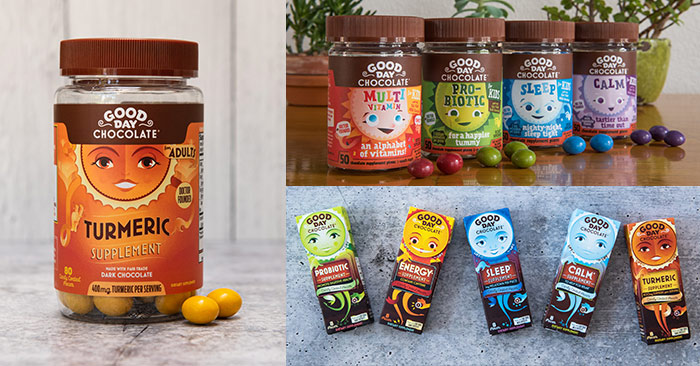 Margolis believes that despite the plethora of new entrants into the CBD space, Good Day will differentiate itself by combining real functional benefits with an indulgent taste profile. The company uses high-quality chocolate and the chocolate form factor encourages sublingual absorption — unlike other CBD edibles which require consumers to fully digest the product to feel effects.
"If you're not really delivering on [taste and functionality] Consumers are smart, they'll suss that out pretty quickly," Margolis said. "We knew the success of the product off shelves depends on the experience people are having and it needs to both function very well as well as genuinely satisfy a sweet tooth."
Good Day's expansion into CBD comes as the brand brought on Bo Becker as Chief Growth Officer earlier this year. Most recently Becker was the VP of marketing for hemp and CBD brand Charlotte's Web. Margolis told NOSH the company plans to hire for several other senior leadership roles as well.
In June Good Day closed a $3 million round of investment led by existing investor Boulder Food Group. Venture firms Accel Foods, Echo Capital Group and Clover Capital Partners also took part. At the same time, Good Day also finalized a $1 million loan from Dwight Funding.
According to SEC filings, the brand has raised over $5 million since inception. Margolis told NOSH the company plans to raise a subsequent round in 2020, adding that Good Day is prioritizing fast growth, which requires capital.
"[Raising funding] is both necessary and the responsible thing to do in order to accelerate growth and create brand awareness," Margolis said. "Certainly plenty of people have done this in a more measured manner and we are choosing, with the type of product that we have which appeals to such a large audience, to try to do it a little faster and that requires raising venture capital."