The Checkout: Appetites Big and Small Hungry for Plant-based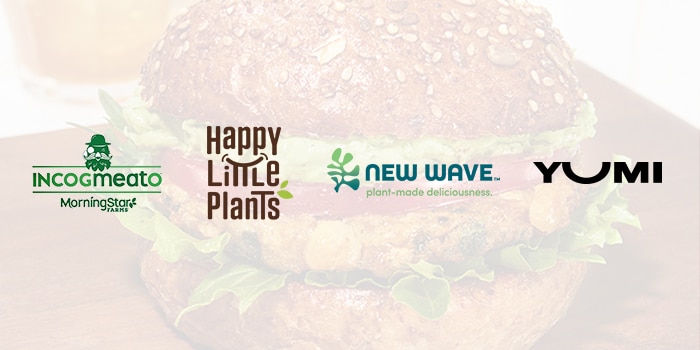 Welcome to The Checkout: an express lane for weekly news you need to know, always 10 items or less.
The plant-based protein category shows no signs of slowing down, with more innovation and investment coming daily — and even making its way to baby food. This week two major CPG brands announced their own new plant-based meat innovations, while another will dip its toes into plant-based seafood. And baby food maker Yumi is pairing with vegan fast-casual brand ByChloe to appeal to little palates.
Meat substitutes have seen 22% dollar growth since last year, according to data firm IRI's State of Meat report for 2019. These announcements from larger CPG companies intensify the competition as the most buzzed-about plant-based meat brands, Beyond Meat and Impossible Foods, aim to expand footprints through new foodservice and retail placements.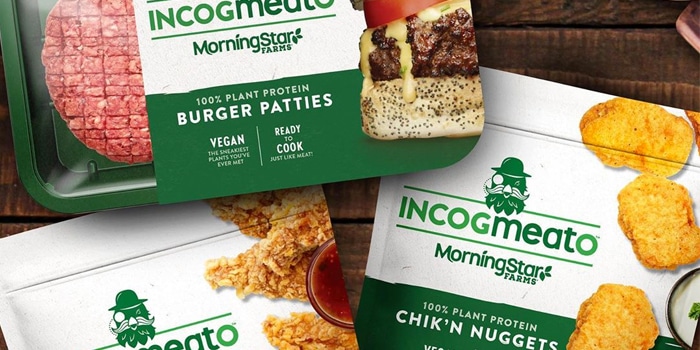 Kellogg Goes 'Incogmeato'
Global CPG company Kellogg announced its new line new line, Incogmeato, this week. The brand will launch under Kellogg's existing plant-based brand MorningStar Farms, the company announced at the Barclays 2019 Global Consumer Staples Conference. Made with non-GMO soy, Incogmeato will differ from MorningStar (which already holds significant category share), offering consumers fresh, not frozen, products that more closely resemble the texture and taste of meat. Incogmeato will launch with a refrigerated plant-based burger and with frozen, plant-based Chik'n tenders and nuggets in early 2020, according to a release. Both products, the company said, will be sold alongside their meat analogues.
"We know that about three-fourths of Americans are open to plant-based eating, yet only 1 in 4 actually purchase a plant-based alternative," Sara Young, general manager of MorningStar Farms and plant-based proteins for Kellogg, said in the release. "So, the intent is fully there, but it hasn't necessarily been followed with action."
Though still the top-selling veggie burger, MorningStar Farms' market share fell to 16.9% from 33.3% in 2013, according to Euromonitor data. In March, the company announced that it would transition the brand to be entirely plant-based by 2021. The overarching goal for the line, Kellogg CEO Steve Cahillane said on the company's Q2 earnings call last month, is to expand into more occasions, including center plate and snacking.
"We fully understand the opportunities and dynamics emerging in this category," Cahillane noted on the call. "We are very excited about what we have in the innovation pipeline."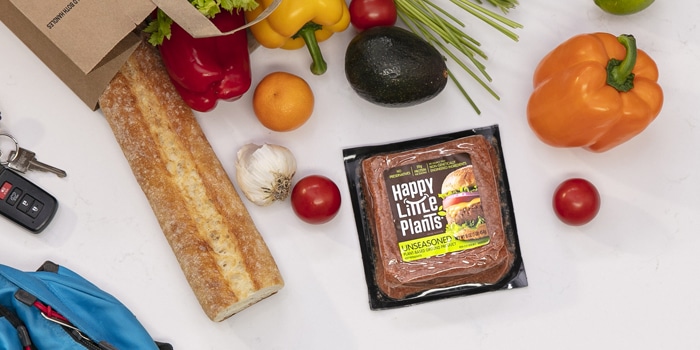 Hormel Finds its Happy Place
CPG giant Hormel Foods Corporation launched Happy Little Plants, the first project under its Cultivated Foods accelerator, into select retail locations this week. The line will launch with a plant-based ground beef alternative and roll out into more accounts over the coming months.
"We are continuing to build an organization that has the agility and adaptability to create products to align with today's dynamic marketplace," Jim Splinter, group vp of corporate strategy at Hormel Foods, said in a release.
The launch is part of ongoing efforts to offer meat alternatives. Blended burger line Hormel Fuse launched into foodservice in 2014, and Hormel also produces plant-based pizza toppings for foodservice and retail under its Iowa-based Burke Corporation subsidiary and a meat-and-mushroom blended product under natural brand Applegate.
"Consumers across a spectrum of lifestyles are adopting more flexible attitudes and behaviors when thinking about food, especially given the wide variety of products available in the marketplace," Splinter added. "We intend to focus on all the ways plants can help consumers find alternatives in their food routines."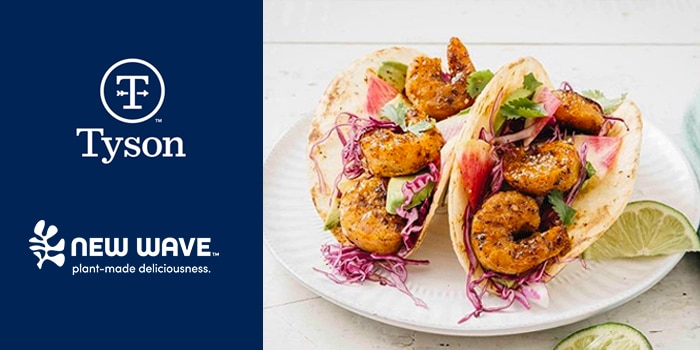 Tyson Turns to the Sea
Tyson this week said it's investing in plant-based shellfish brand New Wave Foods through its venture arm, Tyson Ventures.
"This continues our focus of identifying and investing in companies with disruptive products and breakthrough technologies related to our core business so we can continue to serve a growing global population," Amy Tu, president of Tyson Ventures, said in a release.
Tyson's venture arm previously invested in clean (or lab-grown) meat startup Future Meat Technologies and was an investor in Beyond Meat. It subsequently exited that company in April as it began to explore its own plant-based alternatives. Tyson's own plant-based chicken nuggets and blended burger line, Raised & Rooted, will be available in 5,000 stores by the end of the month.
San Francisco-based New Wave Foods works with top food scientists and researchers to create a product that "matches the texture, taste, performance and versatility of shrimp fresh from the ocean," CEO Mary McGovern explained in the release. Made with sustainably sourced seaweed and plant protein, the product is expected to enter retail and foodservice in early 2020.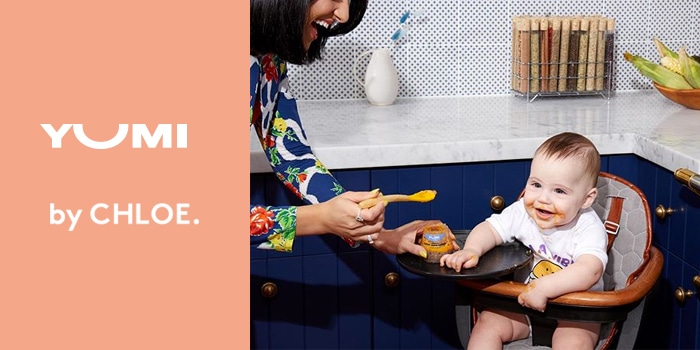 By Chloe and Yumi Bring Plant-based to Babies
Organic baby food brand Yumi and vegan fast casual chain By Chloe are bringing plant-based mouthfuls to small appetites.
Yumi, which creates chef-driven baby food, such as a broccoli mash bowl, raspberry chia pudding and beet puffs, offers parents a direct-to-consumer "meal plan" that rotates weekly. For a limited-time the company will offer an array of products inspired by By Chloe's most popular dish: the Guac Burger. Parents can select from bite-sized versions of the burger's patty or a blend of white quinoa, corn and pear inspired by the burger's corn salsa.
The baby food category has seen a spate of excitement in recent months, with parents (and investors) paying close attention: low-sugar, nutrient dense baby food brand Serenity Kids recently closed a round of funding, and according to SPINS State of the Natural Industry report, natural's share of shelf-stable baby food has increased to reach 11.2% since last year.