SPINS Releases First State of the Natural Industry Report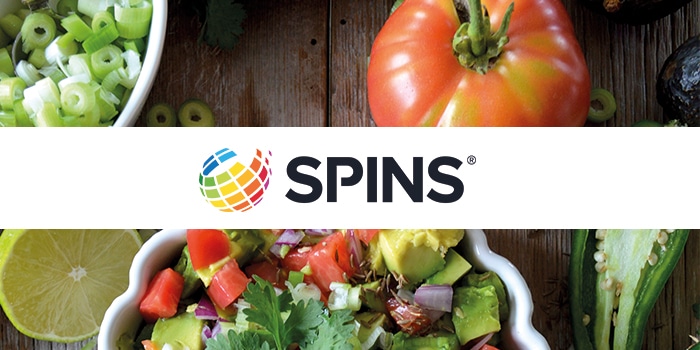 Natural is thriving, according to a report by data firm SPINS and media company New Hope Network released last week. According to the first State of the Natural Industry report, natural is a major source of growth in the food and beverage business: while overall food and beverage grew only 1.7% year over year, natural grew 5% within the same three year period, reaching $47.2 billion in dollar volume. Additionally, natural food and beverages' presence in conventional retail increased all three years to reach 9.1% dollar share in 2019, accounting for 27.4% of growth.
During a recent webinar, Molly Hjelm, VP of marketing for SPINS, noted the natural industry has doubled in sales volume since last year, driven by rapid innovation disrupting "previously untouchable areas" including milk, soda and pasta. The fastest growing categories both in natural and for the overall marketplace are produce and shelf-stable water: in the three years studied, 2017, 2018 and 2019, produce grew by $249.3 million to reach $3.8 billion in dollar volume, and shelf-stable water grew $239.3 million to reach $1.8 billion in dollar volume. Eggs, shelf-stable functional beverages and frozen and refrigerated meat entered the top five natural products for 2019, while frozen desserts, bread and baked goods, and shelf-stable wellness bars and gels showed the greatest change over the three year period. In snacking, chocolate leads the growth in sweets and grain-free options in savory, Hjelm noted.
Meanwhile, organic products are still flying off shelves, especially in conventional retail. Though organic food and beverage makes up only 3% of total food and beverage, it outpaces the total market at 2.8% growth, with the most growth coming in conventional retail. Organic bread and baked goods, refrigerated juice and functional drinks, and shelf-stable baby food top the list of growth drivers. Refrigerated tofu represents the highest category share (58%) for organics.
Outside of food and beverage, Christine Kapperman, senior content director for New Hope Network, noted vitamins and supplements are still "a bright spot for retailers," with 83% of those polled reporting that the newly legalized (for the most part) hemp-based supplement CBD is a top seller; it had $70.4 million in dollar volume with 213% growth in natural and specialty gourmet channels, although an unclear regulatory environment has hindered its full adoption into conventional outlets.
A Convenient Solution
The convenience (c-store) channel has added the highest rate of natural products; as c-stores replace underperforming mainstream products with better-for-you options, natural claimed 4.6% of dollar volume in the year ending May 2019, but it continued its strong growth, accounting for 15.9% of all food and beverage dollar growth in c-stores. Natural food and beverages showed 12.6% dollar growth in c-stores — its highest in three years, the report notes — to reach $2.7 billion with 11% unit growth, adding that subcategories fueling the surge include puffed snacks, enhanced beverages and kombucha.
Subcategories
Vegan products comprise a $7.1 billion market that's growing at 10.1% with $5.5 billion of that from MULO sales with 10.8% growth. Though milk and meat alternatives are growing fast and receive the most buzz, vegan chips, pretzels and snacks exhibit the fastest growth, up 12.7% to reach $661.5 million in cross-channel grocery. Vegan yogurt and kefir follow behind at 43.5% growth and $198.9 million, despite the yogurt and kefir category as a whole declining. Meanwhile, plant-based yogurts have grown in double digits in total dollar volume and unit volume over the three years.
Along with plant-based, more consumers are looking to paleo as well. More mainstream shoppers are showing interest and driving demand, especially for grain-free products. Paleo-positioned products generated $293.8 million in sales, up 48.8%, while grain-free-labeled products earned $139.5 million, up 81.5%, and both show the fastest growth in conventional retail.
Where Natural Wins
These natural plant-based versions took a large bite of their respective categories: natural refrigerated plant-based milk is at the top with 99.7% share of the overall category, followed by frozen plant-based meat alternatives (97.8%), refrigerated plant-based meat alternatives (96.9%), and shelf-stable plant-based milk (96.3%). Additionally, the report notes, natural grew by a full point or more in shelf-stable sweeteners, owing to increased use of natural sweeteners erythritol and monk fruit, along with natural maple syrup and granulated sugar cane.
Natural also grew by a full point or more in shelf-stable baby food, including cereal, teething biscuits and toddler snacks and ingredient-driven innovation in the category. Both shelf-stable and refrigerated, dairy and nondairy cream and creamers, often boosted by functions like MCT oil, saw growth, along with shelf-stable functional beverages. Even as shelf-stable coconut water declines, isotonic sports drinks, especially those with a coconut water base, occupy a bigger footprint.
Keys to the Consumer
Patrick Knight, SPINS' Principal of Consumer Insights, noted 99% of households buy at least one item considered natural and organic, with an average of 32 store trips and $386 per buyer, but consumers vary.
The 'core' natural base includes 'true believers' and 'enlightened environmentalists,' Knight said, and represents 21% of shoppers and 44% of natural and organic dollar sales overall. These shoppers spent $20.6 billion, a 12.2% increase, on natural and $8.9 billion, a 7.6% increase, on organic in 2018. They also "take pride in choosing and being knowledgeable," he said, adding that many of them have been buying natural for over six years. 'Aspiring' is the next tier: 'healthy realists' and 'strapped seekers' represent 24% of the natural/organic market and spent $11.4 billion on natural and $4.1 billion on organic in the past year, both reflecting an increase of 6% year over year. 'Mainstream' shoppers — 'indifferent traditionalists,' 'struggling switchers,' and 'resistant nonbelievers' — make up 32% of natural/organic sales.
Natural product use and preferences also vary by location. Regionally, dollar volumes grew everywhere, but growth rates have slowed in all regions except the Plains, which accelerated by 1.8 points with 6.3% year-over-year growth for natural products. The West leads with 6.8% year-over-year growth and captures 11.4% of the natural market share, lagging behind California and the Northeast.
In market share, the coasts still dominate: California has 13.9% market share, or $5.6 billion, in natural product sales of the state's total $40.1 billion in the conventional multi outlet (MULO) channel, while the Northeast has 11.6% share, or $8.5 billion in natural product sales out of $73.4 billion in the MULO channel. Notably, share of natural refrigerated kefir and yogurt saw an $80.8 million decline, a change of -2.4% in both natural and the total category, but overindexes in the Northeast over other regions — and also sees growth in the 'aspiring' shopper category.