Biena Launches Chickpea Puffs and New Look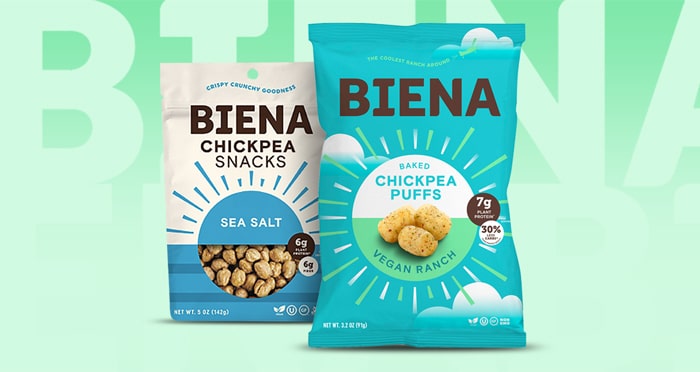 Chickpea snacking brand Biena is ready to stretch out. The company is about to launch a new line of chickpea-based puffs and has made over its packaging to unify the portfolio.
Founder Poorvi Patodia told NOSH that after six years in business, by 2018 the company was ready to expand beyond its original roasted chickpea product line. But first she had to decide the direction of that expansion.
Research firm IRI helped Biena determine that staying in snacking was the right course. Additionally, IRI's guidance encouraged Biena to think broadly, finding that the general category of "snacks with protein" would be a $3 billion segment and see nine percent growth year over year.
"It just validated for us that that we are a new-age brand and we don't need to categorize ourselves further," Patodia said. "We're a protein snack… and we've already spent all this time building brand equity and relationships there."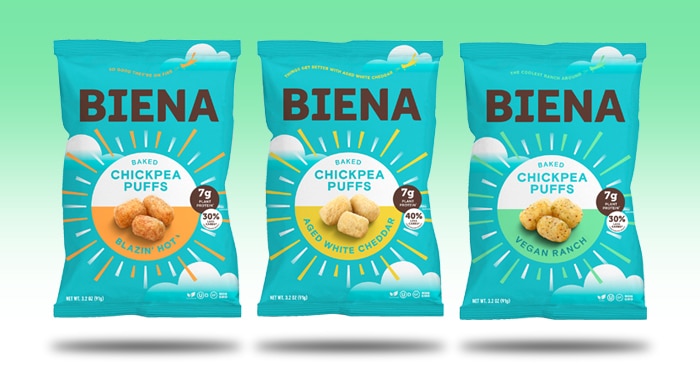 For further inspiration, Patodia looked to her daughters, both avid Pirate's Booty fans. Although Patodia disliked the puffs' nutritional profile, her daughters rejected other, healthier, puff options due to their texture or flavors. The puff power struggle in her own home sparked Patodia's imagination.
"The question was 'what's the next category where we saw an actual unmet need where we can also actually deliver and create a snack that meets our standards,'" she said.
The resulting puffs have the fluffy texture and intense flavors (vegan ranch, aged white cheddar and "blazin' hot") of more conventional puffed snacks. The puffs' lightness is thanks to a partnership with Nutriati, a protein ingredient firm that has developed a new chickpea flour. Biena will have the exclusive right to use that flour for puffs.
Beyond the taste and texture, Patodia said she is confident in their nutritional attributes: Each serving of puffs has 7 grams of protein and 40 percent fewer carbohydrates than other puffed snacks.
Patodia told NOSH that unlike when she launched the roasted chickpeas, which required helping consumers understand an entirely new category, the marketing strategy for launching into an established set will be different.
"You don't have to be first to launch to take a category, but you need something ten times better," Patodia said. "Your job in sales and marketing is to steal share from others."
Biena closed a $2.35 million round in April 2018 and a second internal round of financing later in the year.
Some of that money went towards packaging costs. As part of the puffs' creation, Biena was forced to reexamine its branding and packaging. Already lacking a cohesive look across its first product line, the addition of the new puff line would just fragment things further unless Biena underwent a makeover.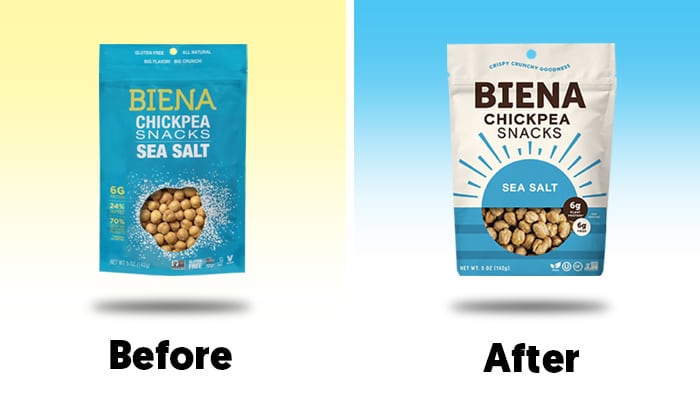 Both the puffs and chickpeas now sport a similar sunbeam in the center and more consistent color choices.
Some elements have remained the same out of necessity. The brand learned that some consumers actually identify their favorite Biena chickpea flavor by color, not by flavor descriptors. So while the new chickpea packaging is white on the top half, the bottom half of the bag corresponds to the older packaging's color scheme.
The hope is that the new look is an "extendable brand identity platform," Patodia told NOSH, because Biena plans to keep innovating.
"I want to build a brand that is known to go into categories and be number one," Patodia said.