One Year In and With $1M in Sales, Serenity Kids Closes Third Funding Round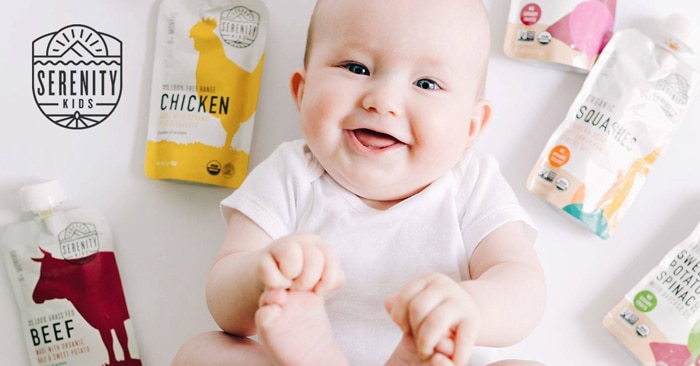 When Joe and Serenity Carr first walked down the baby food aisle, the couple expected an array of healthy options that would mirror their own paleo diets, but those were scarce as cavemen. What the couple found were products that were heavy on sugar but light on healthy fats. With plans to start their own family, the two decided to remedy the situation, launching a line of nutrient dense baby foods. Now the company is growing up, with its first round of institutional investment as it expands into conventional retail.
The company announced today that it has closed a $1.5 million round of funding, led by health-focused venture firm Wild Ventures. Additional investors in the round included Thrive Market Ventures (the venture arm of ecommerce retailer Thrive Market), Whole30 founder Melissa Hartwig Urban; Wellness Mama founder Katie Wells; celebrity nutritionist Kelly LeVeque and Thrive Market founders Nick Green, Gunnar Lovelace and Sasha Siddhartha. As part of the investment, Wild Ventures founder and general partner John Durant will join the company's advisory board.
Launched in 2016, Serenity previously raised three rounds of capital pre-revenue. The brand debuted on shelves with two varieties of its pouched baby foods in August 2018, and now is sold in over 700 stores with over $1 million in sales, co-founder and president Joe Carr told NOSH. Serenity now offers 8 SKUs, which lean heavily on non-traditional ingredients such as grass fed beef, wild Aslaskan salmon, grass fed bison, pasture raised turkey, kabocha squash and avocado oil.
The company in February launched into Whole Foods Markets nationwide. Carr told NOSH with this round of capital he was eager to bring on industry advisors who could help the company scale.
"We've continued to ask experts and do what they say. We're very humble around the fact that we don't know what we're doing but we're very passionate about what we're doing," Carr told NOSH. "Wild Ventures will vastly increase our ecommerce revenue; it's one the the biggest values they bring — influencers and affiliates that will push our products."
The Carrs were originally surprised about the lack of dietary options in premade baby food and immediately saw it as an opportunity. Less than 4% of baby food contains meat, and the average pouch of baby food has over nine grams of sugar, Carr said. Babies need 30 grams of fat a day, he added, but less than 1% of baby food has more than two grams of fat.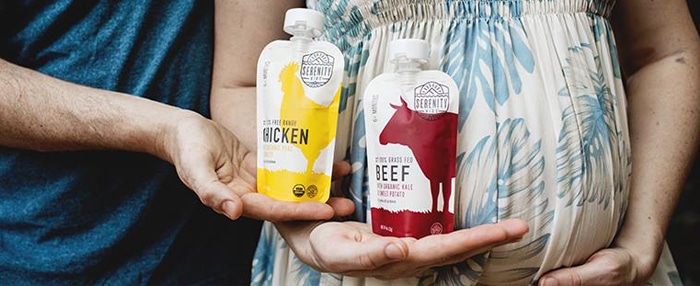 For advice, the Carrs first turned to fellow meat-based brand Epic Provisions, which also is based in Austin. Epic co-founder Taylor Collins and Katie Forest now sit on Serenity's board of directors. Although the idea was there, Carr said, getting to a market-ready product was difficult and took two years, with a lack of co-packers who could process meat into pouches.
Moving forward, the Carrs will focus on expanding their presence in retail, with Hy Vee, Harris Teeter, Earth Fare, Buy Buy Baby all coming online soon. As consumers only purchase baby food for a short period of time, the company also wants to look to new categories. To begin with, Serenity will launch new baby food purees as well as finger foods for babies. Down the road, Carr added, the brand may expand into foods for older children — but, with an acquisition as the end goal, he said, that expansion may come post exit.
"Our mission is to create nutrient dense foods that taste good to kids and are convenient to parents and no one is really doing all three of those things. In our minds, we have a pretty massive children's food company," Carr said. "[But] we want to dominate the baby aisle first and foremost."
With scale, the company also hopes to drop the price points on its pouches. Most premium baby food pouches ring in at $1.99. Serenity's meat-based pouches are $3.99 while its veggie-based pouches are $2.39 — the goal is to drop the former to $2.99 over time. Even still, Carr said, consumers understand the higher price point and the greater mission of helping families eat better.
"What you get for the money is very different, grass fed beef is a lot more expensive than an apple. So the value is there but we are trying to get the price down," Carr said "We've very much in this as a movement and as a way to change the way we eat and children eat and the baby food company is really a means to that end."