Tyson Exits Beyond Meat, Will Launch Its Own Alt Protein Play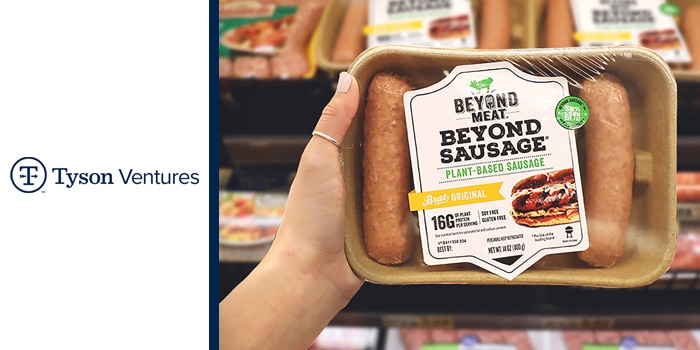 One financial backer of plant-based meat company Beyond Meat has left before a planned public offering of shares. Filings with the U.S. Securities and Exchange Commission have revealed that Tyson Ventures, the investment arm of meat producer Tyson Foods, is no longer an investor in Beyond Meat.
Although Tyson was listed as a shareholder in filings posted on April 15, by April 22 the protein producer was no longer included. According to the SEC documents, Tyson invested roughly $23 million for 6.5 percent of the company over two rounds, with an investment in 2017 and a subsequent investment in 2018. During that time, the purchase price per share rose from $6.19 to $10.94.
In a statement provided to NOSH, Tyson said that the "time was right" to exit the company.
"Tyson Ventures is pleased with the investment in Beyond Meat," the statement said. "Beyond Meat provided an early opportunity for Tyson Ventures to invest in plant-based protein products that many consumers are seeking."
The purchaser of Tyson's shares is unknown. The latest SEC filing does not list any new shareholders with over five percent of the business.
According to the news organization Axios, which broke the story, sources reported that tensions had arisen between the two companies, with Beyond Meat concerned about potential competitive products from Tyson. On the company's first quarter earnings call in February, Tyson president and CEO Noel White told analysts that the company was looking at new alternative protein products.
"We are combining our creativity, our scale and our resources to make great taste in protein alternatives that more accessible for everyone both domestically and internationally," White said. "In the weeks ahead, you'll be hearing more from us as we announce new products in the alternative protein space."
In February 2018 the company previously announced it would be launching Green Street, a plant-based meal line.
A search of recent filings with the United States Patent and Trademark Office reveals several recent trademarks filed by Tyson for products that contain references to meat substitutes or plant-based meat substitutes, including Raised and Rooted, PACT and GROUNDEDPROTEIN. Tyson is also the owner of the Raised and Rooted website domain.
Tyson told NOSH that it recently created a "new business" in the alternative protein space and that it "continues to be committed to providing alternative protein as a choice for consumers."
Beyond Meat declined to comment for this story.