Stryve Plans to Fuel U.S. Consumers with Biltong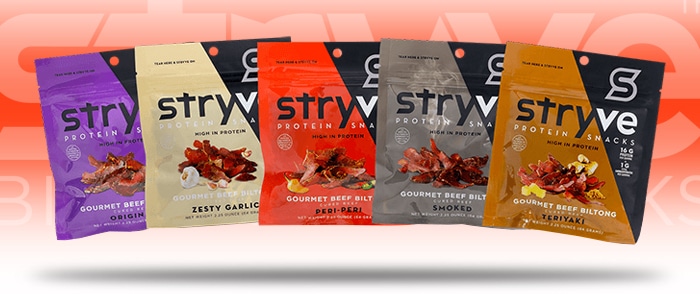 Meat snack producer Stryve doesn't just want to be the country's leading biltong brand; it wants to be the manufacturer of choice for the growing category. The company last week announced the close of a $16.5 million round of funding to not only grow its own brand but to grow its manufacturing facilities as well.
The round was led by Meaningful Partners, Pendyne Capital and Murano Group and follows a $10 million raise in September 2018.
Since then the company also finished a new 52,000 square-foot production facility in Madill, Oklahoma, which will be the only USDA-approved biltong manufacturing facility in the U.S., co-founder and CEO Gabe Carimi told NOSH. In early 2018 the company acquired the facilities of Braaitime LLC in New Jersey, which will shutter at the end of May, and Biltong USA in North Carolina, which is just used to produce Stryve's trail mix.
"We felt more comfortable being able to build one plant that we can grow into," Carimi said.
The new facility in Madill came online in mid-January, and the company now has 128 employees, with the goal of reaching $30 million in sales this year, Carimi said.
A dozen other biltong brands, such as Kalahari Biltong and Ayoba-Yo Biltong, are already utilizing the facility. Carimi told NOSH that many of the brands Stryve copacks for tend to have price points higher than Stryve's MSRP of $7.99 per single pack. Some have ingredients like grass-fed beef, which provides enough differentiation between the offerings to justify providing the facility to potential competitors. And while other brands focus on specialty retailers, he added, Stryve is focusing primarily on larger mass retailers.
"They definitely have a niche and different clientele they're going after," Carimi said. "That's why the co-packing situation works."
Carimi, who manages manufacturing at the new facility, told NOSH that since moving to the new facility the team has been able to double production. In total, co-packing now accounts for 20 percent of the company's revenues, which ultimately gives Stryve a buffer while they build out their own branded line. Stryve is currently available in about 12,000 stores nationwide, including GNC, CVS, Walmart and 7-Eleven and plans to launch in Sprouts in July. Although the company has seen fairly rapid pickup by retailers, many American consumers are still not familiar with biltong.
Part of the reason for Stryve's investment is to ensure that there is a facility that can handle the manufacturing requirements for biltong, which is different from jerky. Biltong is air-dried, not baked, and the beef must be first trimmed, then air dried for up to 21 days, and finally thinly sliced. The end result has no added sugars, 16 grams of protein and only four or five ingredients. It's a product, Carimi said, that fits into many of today's popular diets, such as keto, Whole30 and paleo but is still growing off a small base.

To drive trial among consumers, the brand is creating single serving bags of its mini biltong sticks, which are currently only available in larger bags on Stryve's website and Amazon. The smaller bags will launch in CVS next month.
Stryve is also in the process of changing its look: an upcoming rebrand will include new packaging with a clear design so that customers can see inside the bag, Carimi said. A new design will downplay the co-founders' sports nutrition backgrounds — Carimi is a former professional football player — in order to reach new consumers, he said.
The rebrand will be spearheaded by Jaxie Alt, appointed as the company's first chief marketing officer last month, along with Peter Rahal, the founder of RxBar and a new board member. RxBar's 2016 rebranding increased its revenue sixfold, Carimi said.
"We have one good shot to give a new life to the brand," Carimi said. "We have a great field marketing team in place, but it'd be nice if the package moved itself as well."