Stryve Secures $10M to Build Up Biltong Sector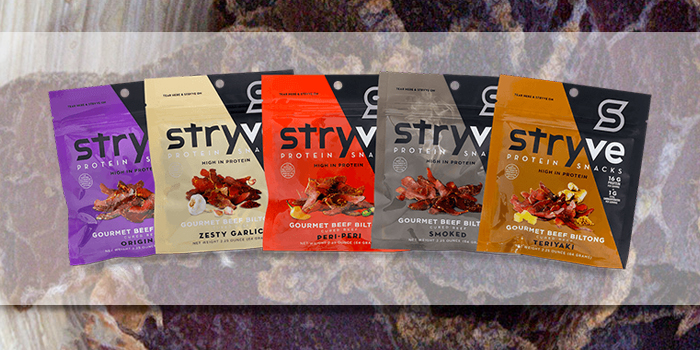 Stryve Biltong announced yesterday that it raised $10 million. Mission-oriented investment firm Meaningful Partners lead the round, with privately owned holding company Murano Group and other individual investors also contributing. Exact terms of the deal were not disclosed. The company was previously self-funded.
The Dallas-based startup — founded in 2017 by sports nutrition industry veterans Ted Casey, founder of Dymatize, Joe Oblas and TJ Humphreys, founders of Prosupps, and Gabe Carimi, a former NFL first-round draft pick and the current Stryve CEO — is one of the leading companies bringing South African-inspired biltong to the U.S. While similar to jerky in that it is a meat snack, biltong is air dried without heat or cooking, thinly sliced, and often made without sugar.
Though more competitors including Ayoba-Yo, Brooklyn Biltong, and Made-By True Jerky are playing in this emerging space, Stryve already has a larger retail footprint, with over 7,500 stores including CVS, GNC, Vitamin Shoppe, Central Market and Walmart.
"They have a differentiated and phenomenal tasting product that is truly good for you in a fast-growing snack category," Jake Capps, founder of Meaningful Partners, said in a statement. "We have great confidence that the team will continue to grow Stryve to become a leading meat snack company offering specialty products, including biltong, to grocery, mass, club and convenience stores nationwide."
With the funds, Stryve will work to build awareness and education for the brand and the category, as well as open a third manufacturing and distribution facility. The company acquired Braaitime LLC and Biltong USA to solidify itself as the sole owner of two of the largest USDA approved biltong facilities in the US. At its facilities it makes its sliced bagged biltong product and biltong sticks, as well as chicken and turkey bites and beef and turkey sticks. The new facility will give the company the capacity to continue to scale.
While the ability to continue to grow at an exponential rate is important, Carimi said that he is most excited to work with Meaningful because of the team's experience with field marketing programs, and data and analytics. He noted that he thinks demos with a highly trained sales staff will be key to driving velocities in their old and new accounts.
"One thing that we know for a fact is that if you try [our biltong] you'll like it but we need our teammate to be there because you can't have the lunch lady handing it out and not fully understanding what biltong means," Carimi said. "It is expensive to demos, but we need it. And not only do we need it but we need people who are very educated on the process."
Carimi told NOSH he thinks the investment is validation for not only the company but also the emerging sector of biltong.
"I think we are really seeing that America has a sensitivity to sugar," he said. "Americans want a snack that they can literally have zero guilt about that has not only macronutrient benefits but also overall health benefits and high protein, too. This category delivers on that."