Purple Carrot Acquired; CEO Says Deal Will 'Propel' Plant-Based Eating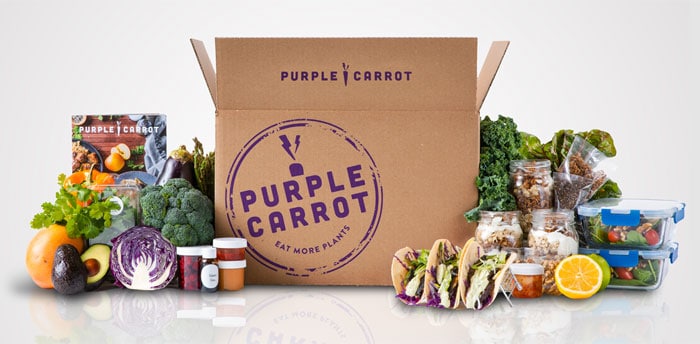 Plant-based meal kit company Purple Carrot will be acquired by Tokyo-based Oisix ra daichi Inc. (Oisix), Japan's largest meal kit and organic food delivery service. The deal, announced today, includes an upfront payment of $12.8 million, with an earn-out potential of an additional $17.2 million through 2021. Purple Carrot will retain its Massachusetts based headquarters and staff, and launch a new offering in Japan.
Founded in 2014, Purple Carrot serviced 22,000 customers last year and generated $43 million in revenue. In the first four months of 2019, the company achieved profitability and positive EBITA, Purple Carrot CEO and founder Andy Levitt told NOSH.
Thus far, the company has raised a reported $10 million from investors including Fresh Del Monte Produce, New Crop Capital, Stray Dog Capital and Windsail Capital. Whipstitch Capital acted as the exclusive financial advisor to Purple Carrot in the transaction and told NOSH that Purple Carrot was "an attractive asset" for potential buyers.
Oisix may not be a familiar name to U.S. consumers, but the publicly traded company generated approximately $580 million in revenues for the year ending in March 2019. In Japan, the 18 year old company offers over 30 different meal options a week and has relationships with over 4,000 Japanese farmers along with seven distribution centers. Its efficient supply chain and operation process are both elements of the business that American meal kit providers have struggled to optimize, Levitt said.
"They bring a whole new perspective that a domestic company would not bring forth," Levitt said. "It allows us to really extend our reach and bring the first vegan meal kits to Japan. Our goal and our mission has always been to help more people eat more plants."
According to Levitt, Purple Carrot's mission has always been to make plant-based food easy and accessible for omnivores. It's a similar "you won't miss the meat" messaging that has helped plant-based brands Beyond Meat and Impossible Foods change consumer perception of the category.
In a document posted on its website, Oisix stated that it estimates the global meal kit market to reach $9 billion by 2025 and that both companies "[provide] customers with deliciousness and a healthy eating table through food."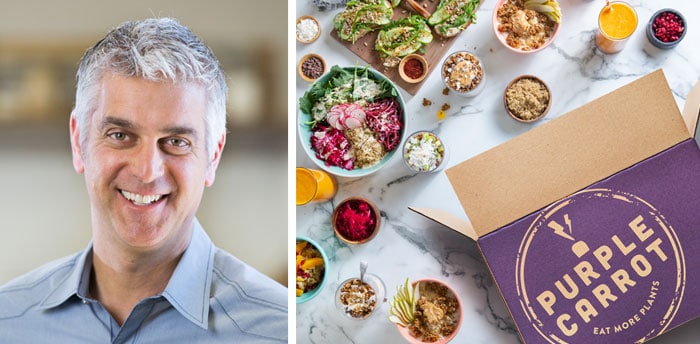 Achieving an exit has been a long term goal for Levitt, who began looking towards a path of acquisition in late 2016. The company received investment from Fresh Del Monte Produce in 2017 with the expectation that the relationship might lead to a future acquisition. However, the deal was tabled after Fresh Del Monte's faced its own financial struggles.
At the same time, the meal kit market looks much different today than it did in 2016. After going public in 2017, Blue Apron is now in danger of being delisted by the New York Stock Exchange. Meanwhile, Chef'd, another Purple Carrot competitor, declared bankruptcy in 2018. Levitt said the aftermath has left behind a much smaller pool of potential buyers, despite the fact that Purple Carrot has strong margins and a differentiated offering.
"As much as Blue Apron set the tone for the category, they've also cast a tremendously long shadow over the investment interest and M&A," Levitt said. "But in the end we feel so good about Oisix."
Another major change to the competitive landscape has been the synergies between brick and mortar retailers and meal kit providers. In October 2016 Purple Carrot launched ready-to-cook meals into select Whole Foods Market stores, but the relationship was short lived. Now the the expectation is for retailers to have a meal-kit play, with Plated now owned by Albertsons, Home Chef acquired by Kroger in 2018 and Chef'd since repositioned as an in-store offering.
Levitt told NOSH that not all of Purple Carrot's investors will see a financial return on their investment, but most appreciated that the deal will increase access to plant-based products. New Crop Capital, Stray Dog Capital and Windsail Capital all have mission-driven aspects to their investment theses.
"As hard as employees and founders can work together, it doesn't guarantee that there's going to be a huge return," Levitt said. "I'm proud of being able to return money to investors. It might not have been [these investors] biggest return to date, but I know as a mission-driven company we've made a significant impact."