Chef'd is Latest Meal Kit to be Chopped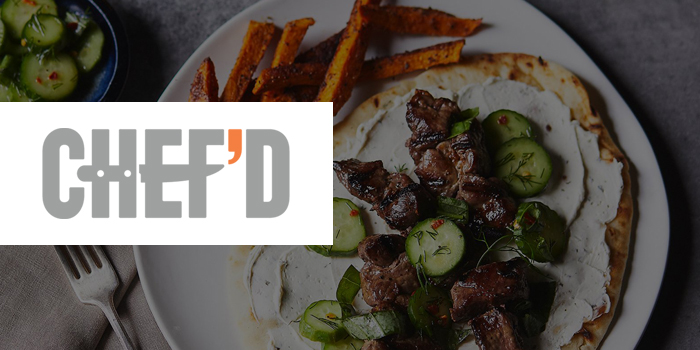 In the latest example of how meal kit companies are struggling to make the business model work, meal-kit brand Chef'd announced in an email on Monday to its over 400 employees that it is suspending operations, The Wall Street Journal reported. The Chef'd website currently does not allow shoppers to place an order and the brand's social media channels have been silent since Monday.
According to documents assembled by a recruiting firm working on behalf of Chef'd, the company was in the process of raising a $100 million dollar round of funding. Roughly a year ago, Chef'd closed a $35 million Series B round led by Smithfield Foods, with Campbell Soup and Fresh Direct also contributing. However, the company was unable to secure more financing, according to The Journal.
The news on Monday came as a shock to many within the company, although several key leadership members had departed over the past few months.
"Such an unfortunate end. Through all the emotions of this week, I need to continue to thank so many incredible and talented individuals that I have had the privilege to work with," Chef'd co-founder and chief culinary officer Jason Triail wrote in a LinkedIn post. "We did create something magical in the past 4 years and accomplished so many goals [and] at such a fast pace."
Chef'd had attempted to shake off the margin and customer acquisition issues that have plagued companies such as Hello Fresh and Blue Apron by giving shoppers a much wider selection of offerings that did not require an ongoing subscription. As Chef'd CEO Kyle Ransford described at NOSH Live Summer 2018, the brand also avoided large marketing expenses by partnering with brands and celebrities including Campbell's, Smithfield, Foodstirs, Beyond Meat and Spoon University.
Both of these strategies were working to an extent. A source familiar with the company's finances told NOSH that, in general, sales were trending upward and the recruiting document noted that Chef'd's "mid eight-figure run rate revenues are up 10 times from 2016 and projected to grow three times year-over-year for the next three years." Chef'd's customer acquisition costs clocked in at $15 per customer — 10 percent of the $150 Chef'd claimed other meal kit companies paid. However, its average order, the documents noted, was roughly $85 — leaving a slim window for any margin on orders.
Chef'd also tried to balance the struggles of the consumer business by co-packing for other kits and selling meals in retailers — both of which, the former employee told NOSH, accounted for the majority of the company's revenue. In recent months the company launched pre-packed kits in retailers including Gelson's, Walgreens and Costco in partnership with Smithfield. The kits were also sold in workplaces through Byte Foods, which produces high-tech fridges that act as modernized vending machines.
"The news is further validation that the meal kit business is tough and the competition for customers is fierce," Byte co-founder Lee Mokri told NOSH. "We know that by 4pm, 80 percent of people don't know what they're doing for dinner that night. Chef'd meals sold through Byte fridge's offered a convenient solution, and I know many of our customers will miss their meals."
Ransford noted at NOSH Live that there was still much the company could do to refine the process of working with retailers.
"Producing a retail-oriented product is much different, more difficult and has many more steps than producing a direct-to-consumer kit," Ransford said.
Other meal kit companies have faced the similar struggles. Data analytics platform Second Measure recently found that meal kits struggle with decreased demand and expensive customer acquisition costs in a crowded marketplace. There is also a lack of differentiation between many kits, which can encourage consumers to choose brands based on deals. Even the pioneer and once-leader of the category, Blue Apron, has faced issues controlling costs; the company saw revenue fall 20 percent year-over-year to $196.7 million this spring.