With New Burger, Beef Brand Teton Waters Encourages Consumers to Eat More Plants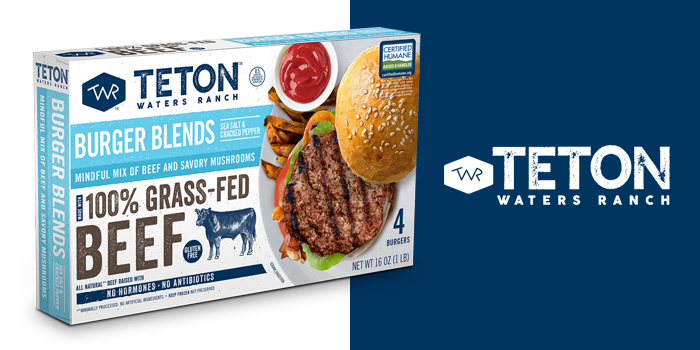 Sausage and hot dog brand Teton Waters Ranch (TWR) is in the business of beef. So it's a bit of an anomaly that the company's latest innovation aims to inspire its consumers to eat less of its core product. This week, TWR announced the Spring 2019 launch of a frozen hamburger patty made from a "mindful mix" of both grass-fed beef and mushrooms.
It's the first product fully conceptualized under new CEO Mike Murray, who joined TWR in April. Murray told NOSH that the brand was inspired by the "blenditarian" movement, which encourages consumers and chefs to mix meat with mushrooms in an effort to enjoy classic favorites while being more sustainably focused.
Although the "blenditarian" movement may not have the same name recognition as the flexitarian or plant-based movements, it's been slowly gaining in popularity — albeit initially as part of a marketing campaign by the Mushroom Council. Since 2011 that trade group has partnered with the James Beard Foundation to encourage chefs to put a blended burger on their menus as a limited time offering. Last year hundreds of chefs in over 40 states took part.
But the trend isn't limited to fine dining. Both food service provider Sodexo as well as fast-casual chain Sonic have offered limited-edition blended burgers. While for home cooks, meal kit brand Blue Apron has launched a blended burger kit and in New England, Grateful Burger offers premade veggie and meat patties.
Murray told NOSH that originally TWR, which is sold in over 2,500 stores, considered launching a 100 percent beef burger. However, the team realized a blended burger would help it gain further attention and better adhere to its core value of sustainability.
"We could have just gone out with a new patty, but why not go out with something more forward looking as a solution," Murray said. "This [is] a much more differentiated way to bring TWR to this section."
The patties will be sold out of the freezer section and are raw — both firsts for the brand. In some cases they will be sold in the meat department; in others, grocery. There is also the potential to partner with food service providers.
The announcement comes as TWR also launched a new line of breakfast sausages into Hannaford, Harris Teeter, Safeway, Raley's, New Seasons and Nugget Markets this week. Like the burgers, the sausages were developed to help target new consumers — those looking for easy breakfast solutions. But the burger also is a means of competing with the next-gen plant-based meat alternatives that have grabbed recent headlines, such as the Impossible burger or Beyond Meat burger.
"We're taking this obviously large and fast-growing meat alternative category and merging it with the larger beef patties categories," Murray said. "We are a purveyor of higher quality meat that supports people eating less meat. We support a rebalancing of the out-of-whack American diet as it relates to plants versus animals. A great way to do that, arguably even more so then urging people to go 100 percent binary plant-based/vegan, is flexitarianism."