Nielsen: Millennials Value Health and CSR
If you want to attract and retain millennial shoppers, you need to know what's most valuable to them and how they gather information. Although that can be an arduous task, research firm Nielsen recently shed some light on this generation's purchasing patterns with a new report entitled Millennials on Millennials: U.S. Shopping Insights In a New Era.
Nielsen researchers found that not only are millennials shopping differently for fast-moving consumer goods (FMCG), and using technology in new ways to inform those purchasing decisions, but also care more about "integrated corporate social responsibility" (CSR) initiatives and health claims then previous generations.
Here are key takeaways from the report
Get to Know the Millennial Generation
Nielsen spoke to 1,058 American millennials, which they defined as being born between 1977 and 1995. It's a group that will account for 57 percent of the U.S. population by 2020, an increase of seven percent from 2014. As a generation, Millennials, Nielsen found, are living their lives "differently" and hitting milestones — such as moving away from their parents, getting a job, or having a child — later in life then previous generations.
However, despite their slower independence, Millennials now account for 26 percent of households across America and "are the future front-runners in the generational spending power," the report stated. But that spending power is still to be seen. Although millennials average basket size of $57 is larger than any other generation, they also make fewer shopping trips per year — resulting in a lower total average of $5,716 spent on FMCG per year.
Among food consumption, some of the top indexing categories for millennials include frozen breaded chicken, shelf stable convenient breakfast options and boxed prepared dinners.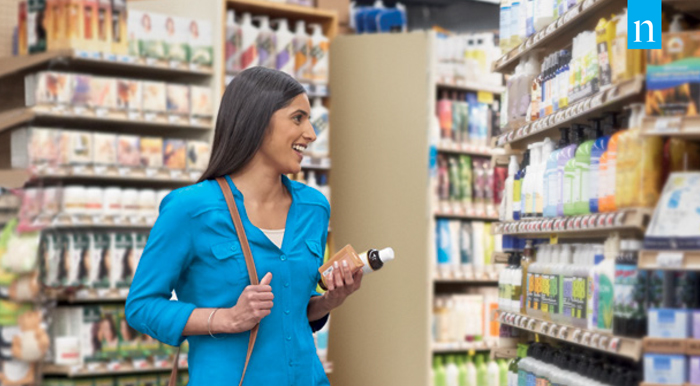 They Make Purchasing Choices Differently
Nielsen also noted that millennials are "the generation of researchers" for FMCG. As a group, they are more likely to do an online search when purchasing food items. And when it comes to "health" products, millennials are more apt to check user reviews than ask a friend or family member for a recommendation.
Although the internet, and social media in particular, plays a strong role in millennials' purchasing choices, retailers and brands should not overlook the power of in-store marketing, Nielsen found. 57 percent of all millennials and 64 percent of millennial women noted "if it looks good, I buy it" in regards to FMCG purchases — on par with other generations.
They Care About What Brands Stand For
Researchers also found that millennials care "significantly" more about CSR initiatives with 42 percent of millennials — compared to 35 percent of the general population — reporting that CSR was important when making a purchasing decision. However, although 70 percent of millennials reported they were more likely to purchase from a brand that "handles a social issue well," this generation is not apt to fault brands for missteps with only 26 percent of millennials stating that they were less likely to purchase from brands that mishandled a CSR issue.
When it comes to what millennials think brands should care about, this generation has realistic expectations.
"Millennials realize that brands can't strive to solve all of the issues going on in the world. They do, however, look to brands to address the issues and topics that they do have control over," the report notes. "Overall, millennial respondents expressed that brands should engage with social issues associated with the businesses they conduct."
For example, a respondent noted they didn't care if a candy company took a stand on net neutrality although they would expect their telecom provider to do so. Following that trend, millennials reported they believe food and hunger and environmental sustainability are important issues brands should address, but viewed bullying as less important to address.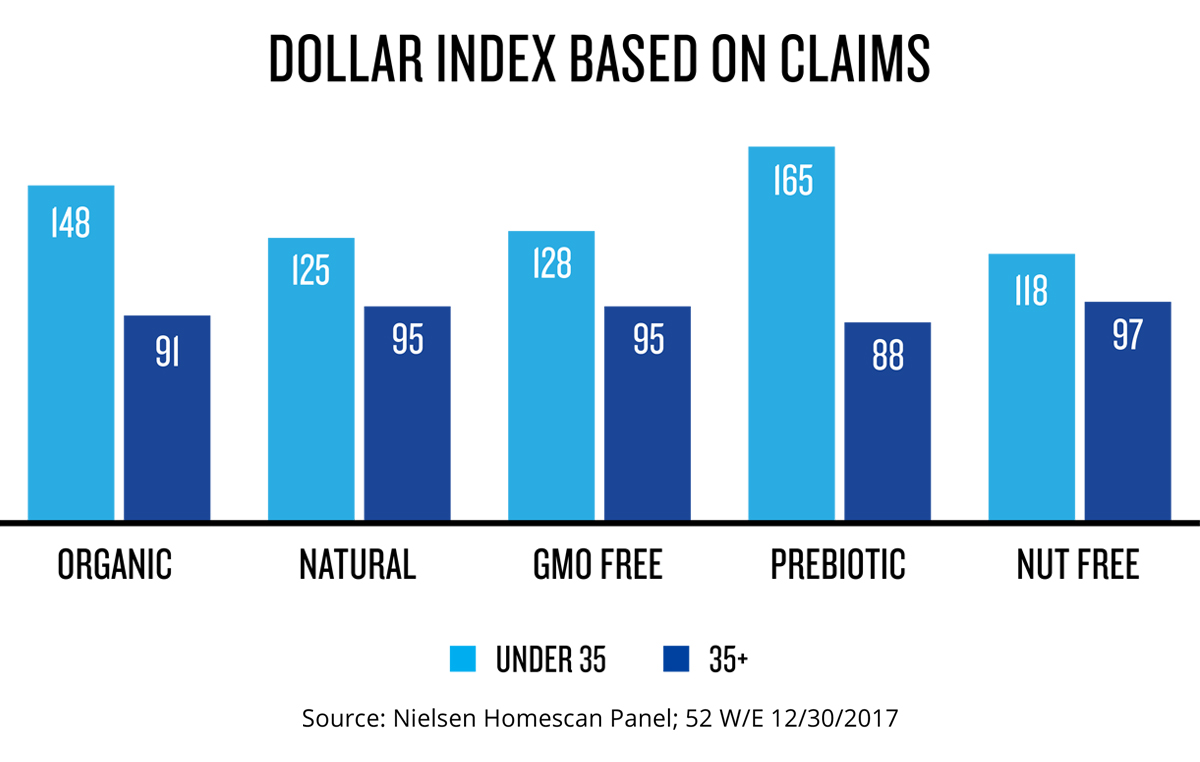 They Value Health and Wellness
Nielsen researchers found that millennials are driving growth of health conscious claims on products. Millennials spend 48 percent of of their spending on organic products, as opposed to the total population, as well as 25 percent more on natural products and 65 percent more on prebiotic products.
At the same time, like other generations, millennials put more emphasis on products marketed as "simple" — with 47 percent reporting its was a "very important attribute" for their food ingredients — versus those marketed as "free-from" or "sustainable."