Fourth & Heart to Introduce Hybrid Ghee MCT Cooking Oils & Sprays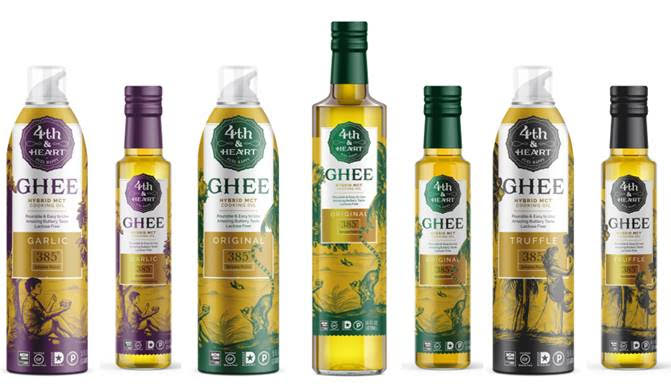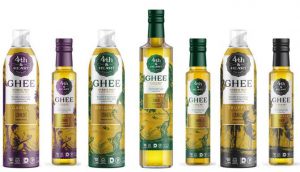 BALTIMORE — Fourth & Heart, the artisan food brand known for their gourmet flavored ghees, debuted their trailblazing hybrid Ghee MCT pour oils and sprays alongside gorgeous redesigned packaging at the 2018 Natural products Expo East Show. Available in three flavors – Garlic, Truffle and Original – the new offerings will continue to re-imagine the alternative butter category by offering something for everyone.
Fourth & Heart's innovative ghee hybrid MCT pour oils and spray are the first of their kind. These medium heat oils and sprays, with a 385° smoking point, are a delicious blend of ghee, MCT and avocado oils packed with omega fatty acids, vitamins A, D, E and K, as well as Butyric Acid. Made with non-GMO ingredients, gluten, dairy and lactose-free, the new oils will fast become a pantry staple. Available in 8.5-ounce pours while the sprays are offered in 5-ounce bottles.
"At Fourth & Heart, we understand how busy life can be and so we created our new Hybrid MCT Cooking Oil to make it that much easier to create delicious recipes," said Raquel Tavares, founder and CEO of Fourth & Heart. "we understand that taste is a priority and we are excited for Expo East attendees to experience the new Fourth & Hearts products and taste the difference for themselves."
Also at Expo East, Fourth & Heart will showcase a new flavor profile to their line of gourmet ghee butters, Turmeric. This tasty addition is perfect for everyday use as a spread, in a sauté or a homemade Golden Milk recipe. The new Turmeric flavor brings with it a new look for Fourth & Heart – redesigned bottles featuring gold caps and gorgeous Californian landscapes, including Big Sur, Venice Canals, Gilroy and Half Dome Yosemite.
Fourth & Heart has established itself as the North American leader in the ghee category with the initial launch of their flavored ghee in flavors of Madagascar Vanilla Bean, Himalayan Pink Salt, California Garlic and Original. The brand has since expanded to include, Ghee Spray, Pourable Ghee Oil, Ghee To-Go packets and their latest line of Chocolate ghee, Chocti. The grass-fed ghee butter with its vast health benefits of increased metabolism, aiding digestion and a rich source of healthy fats, coupled with its delectable flavor makes Fourth & Heart ghee a truly winning combination.
About Fourth & Heart
Fourth & Heart (formerly Tava Life), is an artisanal food brand based in Los Angeles, CA that has set out on a mission to modernize ancient pantry food staples and has started with a line of grass-fed flavored pure spreadable butters known as "ghee." Since their launch in 2015 they've grown to occupy the shelves of over 7,000 stores and have become the country's go-to ghee. For more information, visit www.fourthandheart.com.