Van Leeuwen Ice Cream Raises $18.7M to Fuel Wholesale & Retail Growth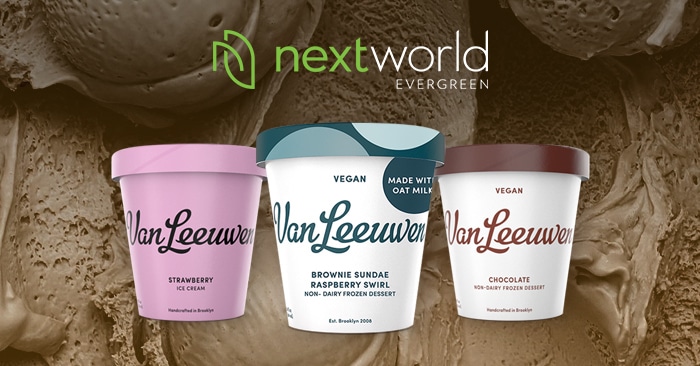 The past 16 months have been a period of growth for super premium ice cream Van Leeuwen Ice Cream, and now the brand wants to fuel the fire. The company announced today the close of $18.7 million in funding, with the goal of increasing efficiencies and reclaiming its innovative heritage.
Investment group NextWorld, LLC led the round via the firm's consumer focused private equity fund, NextWorld Evergreen, LP. Blue Scorpion Investments and M3 ventures, both previous investors from the company's $4.5 million series A round in 2018, also took part. Series A investor Strand Equity declined to re-invest.
Over the past year, the company has grown from five to 35 employees, co-founder and CEO Ben Van Leeuwen told NOSH, and now has a total of 21 retail storefronts. The company's indulgent ice cream line, which includes dairy, vegan and oat milk offerings, has added 1,500 wholesale accounts in grocery, specialty and natural stores over the last 16 months — but the bulk of the pickups have come in the last two months, Van Leeuwen said.
The money will be used to support the larger team, scale into more wholesale accounts and continue to open more retail storefronts. Van Leeuwen's goal is to add 6 more retail stores in 2020.
"We're taking more money so we can put the discipline and organizational structure in place that allows us to operate in a more lean way, which will allow us to accomplish our mission of making great ice cream and making it to more people," Van Leeuwen said.
Part of this work will include optimizing the company's 5,000 square-foot production facility in Greenpoint, New York to allow for increased output. Even with the optimization, some of the core flavors will be transferred to copackers due to the increased production demands.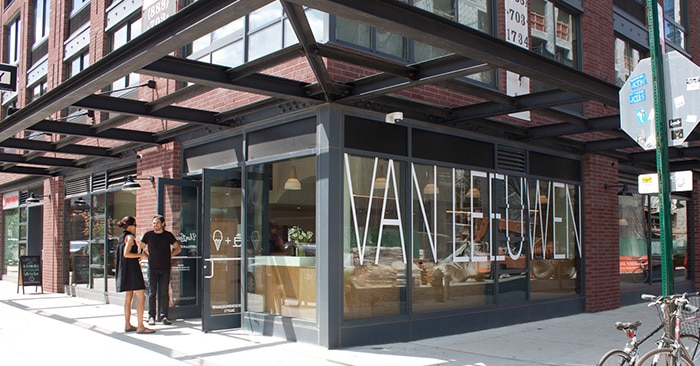 While the freed capacity, the company's in-house facility will now focus on innovation. The company had dropped to producing four to five limited edition flavors every two months, and now will be able to move back to previous levels of five to six limited edition flavors every month. These offerings will be sold in scoop shops or available direct-to-consumer.
The reduction in limited edition flavors had affected the on-premise business, Van Leeuwen said, noting that the company began to take fewer risks, and offer fewer unusual flavors.
"We've now found that the way we used to do it, which was to make stuff that we really love, and was really interesting, is a really good thing because it excites customers… and gets them into the store," Van Leeuwen said.
Currently 75% of the company's business comes from scoop shop sales, with the average returning customer visiting a retail storefront every 7 days. Although the retail shops drive brand awareness and excitement, Van Leeuwen said, the company hopes to bring the balance of revenue closer to an even split between channels over the next few years.
"We think both channels are equally important," Van Leeuwen said. "[Retail] is what we love and our passion… With that said, we cannot open a thousand stores this year. I don't think we [even] can in the next 15 years, but we can very easily go into thousands and thousands of wholesale doors."
In retail, Van Leeuwen pints currently retail for $5 to $8 with many stores ringing in at the higher end of that range. With more scale, the company believes it can drop prices to $5.99 to $6.99 in most retail partners. And despite the vast number of new entrants in the category, Van Leeuwen said there is still plenty of room for a super premium option.
"We still see a ton of whitespace in almost every grocery store in that there's not a lot of what we would consider to be good ice cream," Van Leeuwen told NOSH "For us good ice cream has a lot of fat, it has a lot of solids and it's creamy and super chewy, with none of the unnecessary stuff."