Union Snacks Launches New Meat Snacks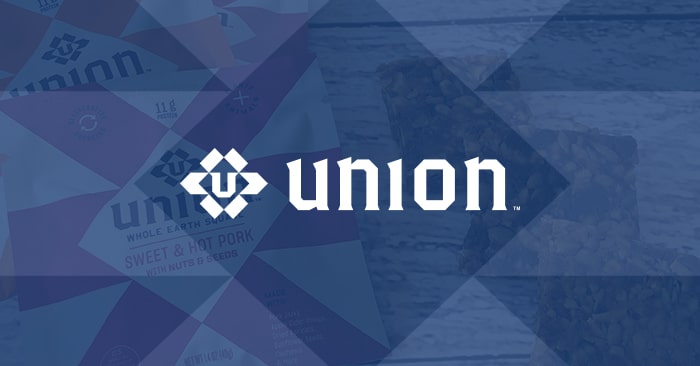 Although many entrepreneurs see the future of food through plant-based glasses, Zubin Mehta sees it differently. Banking on consumer appetites for clean ingredients and responsibly-sourced meat, Mehta launched Union Snacks into retail last week with two varieties: Charcuterie Crisps and Trail Mix Squares.
Mehta, an entrepreneur and investor (and former CEO of snack brand Nourish Snacks), first launched incubation and advisory firm Born Wild in 2017 to build a platform of brands. Although he has further brand ideas across food, beverage and wellness, Born Wild's sole brand for now is Union Snacks, Mehta told NOSH.
"It's not easy to create one, let alone multiple [brands]," Mehta said. "[Union Snacks] needs a lot of TLC at this point."
Union Snacks debuted at Natural Products Expo West 2018 with a line of trail mix bites, which had a test launch in Whole Foods 365 stores. But Mehta said the format didn't work for building a snacking platform around regeneratively-sourced meat.
"When you are combining multiple ingredients with different water activity and trying to create something that's shelf-stable, it's tough to get the texture, taste and stability right — particularly for a mass audience," Mehta explained. "We just felt they didn't live up to the promise of the brand."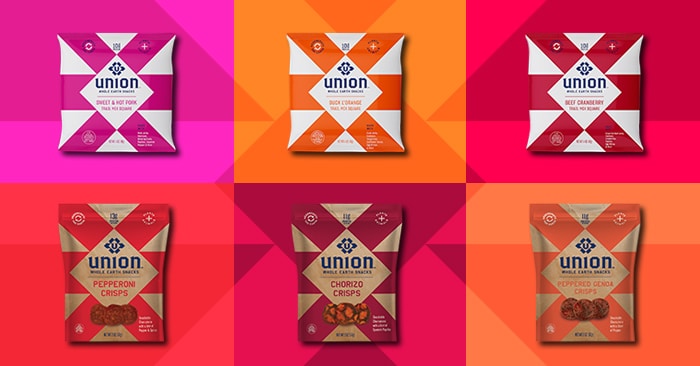 It's a brand that had to do some serious streamlining before entering retail. Union Snacks initially debuted with 15 flavors of Charcuterie Crisps at Natural Products Expo West last year. The first three Crisp flavors — Peppered Genoa, Pepperoni and Chorizo — are ideal for on-the-go snacking but elevated enough for a charcuterie board, Mehta said. The brand is also banking on bars — its new savory, slightly sweet Trail Mix Squares contain meats, dried fruit and nut butters in Sweet & Hot Pork, Duck L'Orange and Beef Cranberry.
Meat bars have met with mixed results in stores. After a 2017 relaunch, meat snack brand Wilde discontinued their bars to focus on chips; jerky brands like Krave have also had curtailed attempts at the subcategory, but meat snack brand EPIC Provisions sells a line of bars alongside its pork rinds and other snacks. Mehta thinks there's still room for a savory offering, however.
"The bars don't really fit any diets — just balanced nutrition through plant and animal protein," Mehta said. "Somebody just wants to eat real food in snack format."
The Crisps and Squares launched in 157 Fresh Market stores last week and will be available online this month. For the retail launch, the charcuterie crisps sit in the snack set, but may later move to the deli section, which Mehta thinks could help them stand out. Mehta expects the products to thrive mostly in natural channels, and Union will be strategic about entering conventional outlets. Currently, the brand is co-packed in Illinois.
Mehta also co-owns and operates M2 Growth fund, with clients in food, beverage, beauty and cannabis but said he is mostly focused on Union Snacks' launch, with plans to soon raise capital to support the brand's growth and expand the team.
The play might seem to run against the grain, as plant-based snacks and proteins are garnering attention of late, but meat snacks are still growing as well. According to a recent SPINS report, jerky and meat snacks saw the highest growth rate (10%) of any category in specialty channels in 2018. Thus Union Snacks is joining a crowded set, with pork rinds eating up share (and even sparking plant-based versions.) But Mehta noted the brand is seeking to carve out a unique space — using regeneratively-sourced meats and plant-based ingredients to capture a "broader audience" beyond traditional meat snacks. And despite using more costly premium meats — the Crisps retail for $7.99 and the Squares for $2.99 — Mehta expects the products' proposition and consumers' care for regenerative agriculture to outweigh price.
"Plant-based is growing and blooming, but meat-based is also growing at a rapid rate," he said. "[We want to] find our own territory of 'plant plus animal.'"