Can Beanfields Grow with Plant-Based Pork Rinds?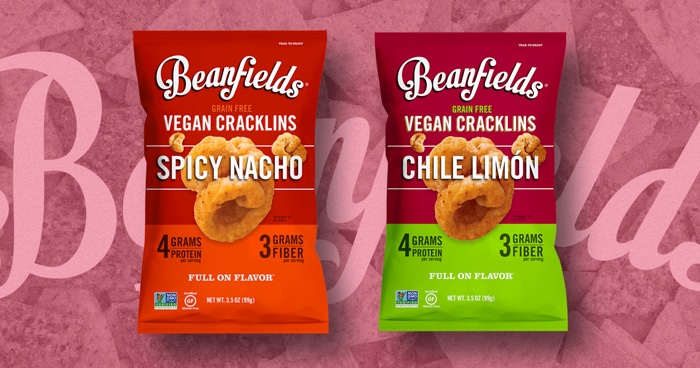 The plant-based movement has resulted in the evolution of categories from burgers to baking mixes. Now chip brand Beanfields wants to ride the wave further afield into the snack set by launching a line of plant-based pork rind analogs called Cracklins.
After showing at the Winter Fancy Food Show, the line will first launch into Whole Foods Market in Spicy Nacho & Chile Limón, before the company debuts the full five flavor lineup at Expo West and expands into other chains.
Beanfields knows something about evolution. With its 2017 sale to Powerplant Ventures, the snack brand has grown from being a founder-run, smaller snack brand to becoming a nationally distributed company known for its bold flavors and design. But it's the upcoming years that could hold its biggest changes as CEO Arnulfo Ventura tries to grow the brand beyond its original concept of bean-based chips.
Ventura told NOSH there are eight areas, not all within the snack set, that he has roadmapped the brand's expansion into, but to start, he wanted to take the brand "right down the aisle." Retailers such as Whole Foods Market have built out entire sets within salty snacks devoted to meat-based chips, pork rinds, and cracklings; Beanfields, Ventura said, will have one of the first nationally-distributed plant-based alternatives.
"I started to think about where we wanted to take the brand, and what would be the lowest risk tolerance," Ventura shared. "I realized, there was an addressable space here and I don't think anyone has done it the way we can, without compromising. Ultimately the data shows that whether it's at some of the largest natural retailers in the country or at other markets, the fastest growing sub-segment within salty snacks is pork rinds."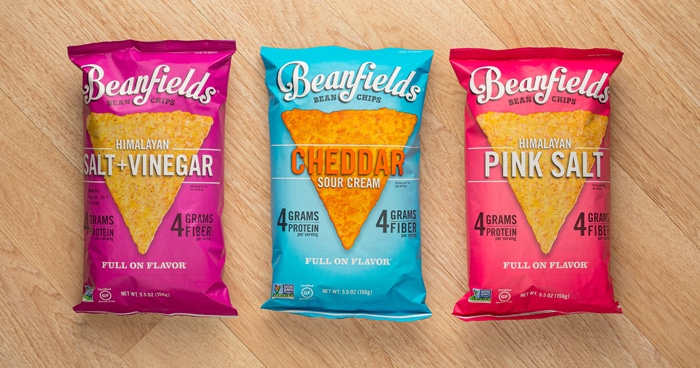 According to Ventura, when the company first started thinking about the new product line in 2019, the pork rind segment was up 29% from the prior six months. In natural retailers, that number was even higher.
However, while consumers have been drawn to more low-carb, high protein snacks, the meat snack segment has been particularly popular with keto consumers — but reaching those consumers could be a hurdle for a non-ketogenic brand entering the space. Beanfields' vegan Cracklins have 14 grams of carbohydrates in each 1 oz. serving — Epic and 4505's offerings each have zero. While each serving of Cracklins does contain 4 grams of protein, certainly more than many salty snack options, Epic and 4505's meat snacks range from 10 to 18 grams of protein per serving.
Ventura believes that this won't be an issue — that the interest from vegan or flexitarian shoppers in plant-based, protein rich, grain-free snacks is still there. He shared with NOSH that the product line came about as the brand tried to develop a puff to target these shoppers. The Beanfields team looked at the reasons consumers crave "lightning-bolt," shaped snacks like Cheetos and found that shoppers appreciate the crunch and intense flavor experience. Beanfields' resulting product most closely resembled the cracklins of Ventura's childhood, so that's simply the nomenclature the brand chose to use.
"The addressable market on puffs is absolutely huge, but I think we have to look for how we solve for that category in unconventional ways," Ventura said. "If you didn't know a puff should be a round ball or a half pearl or a lightning bolt — and you just start with that you want it to be crunchy and variegated —you start to really think."
Ventura sees opportunity in capitalizing on the interest in plant-based options. He believes the Cracklins will appeal to that flexitarian shopper who wants meat alternatives in other categories. And he may have a point. Research firm IRI found that a third of Americans now view themselves as "flexitarians" and, furthermore, 55% are trying to actively add more plant-based foods to their diets.
The question is whether this is a segment where shoppers want plant-based alternatives. Snack brand Snacklins previously referred to their product as a vegan cracklin before shifting to the term "puffed crisps." Snacklins' latest packaging has no real product name, but rather sports the descriptor "a delicious guilt-free crunch."
Ventura, however, maintains the Beanfields Cracklins are all about offering new innovation in the set — plant-based or not.
"With the heightened awareness [of plant-based], the way to reach consumers is by looking for the meat-based alternative," Ventura said. "It's a different angle to come into the puff space because to come in the way everyone else is coming in, how differentiated is that?"