Beanfields Acquired, Adapts New Mission-Driven Structure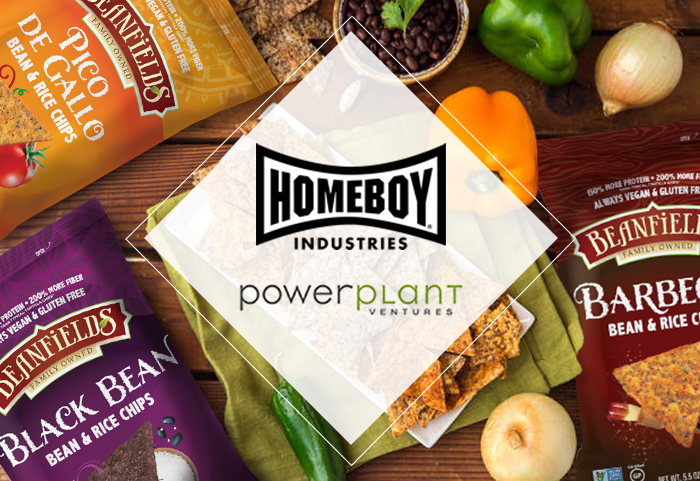 PowerPlant Ventures has looked to coconuts, greens, pea protein and algae, and now the private equity group is betting on beans — and rehabilitation.
The venture fund announced today it had acquired Beanfields, a line of rice and bean-based chips. The brand was acquired by a coalition of investors including Zico founder Mark Rampolla, media and CPG investor Bruce Friedman and PowerPlant Ventures, where Rampolla is a partner. Terms of the deal were not disclosed. Some of the management team will remain in place while others will shift their roles or depart. Current CEO and Co-Founder Reed Glidden will focus his time as the new co-chairman of the board with Rampolla. The company will be led by a "co-executive team" of Beanfields COO/CFO Amrit Khalsa and Beanfields Executive Vice President of Sales, John Honeck.
Rampolla told NOSH that the deal could pioneer a new type of investment structure that allows nonprofits to benefit from ongoing heavy investor interest CPG industry. The new model includes an equity and revenue sharing partnership with nonprofit Homeboy Industries. The organization runs a bakery and other food businesses — including a line of chips and salsas — that give employment opportunities to gang members and former prison inmates in an attempt to keep them from criminal activities and rejoin society.
Rampolla, who was an earlier angel investor in Beanfields and is currently acting as PowerPlant's Co-Founder and Managing Partner, said that the ability to include Homeboy in the deal was what motivated Glidden to select this advisor pool.
"Reed had some other offers from some very professional groups in the industry. And I know Reed well enough by now to know he's a thoughtful, caring guy who cares about his brand, but he also cares about social impact entrepreneurship," Rampolla told NOSH. "Reed accepted a valuation that was slightly less than he could have gotten in the market and we are all accepting a slightly less return then we have gotten in the market. But we all believe that fundamentally the association with homeboy is not only the right thing to do but will also help us grow."
In the deal, the nonprofit will receive a 5 percent stake in the future value of the company, and other investors, including Rampolla, have pledged enough to cover an additional 5 percent. Additionally, Homeboy will receive 1 percent of sales every quarter.
Beyond the monetary benefits, Rampolla hopes to establish a deeper partnership with Homeboy and build employment opportunities for the group's graduates.
"The long term goal, my dream, is that in ten years there's a homeboy grad running the company," Rampolla said. "At the same time, we're going after Frito-Lay. So imagine a brand the size of Frito-Lay that has anti-recidivism at it's core."
That's not to say this is simply a charity program. Rampolla, Friedman and PowerPlant all see the potential for Beanfields to become a leader in the better-for-you snack category.
"I think the brand is really strong, I think the products are great," Rampolla said. "This is much more about first of all, providing resources which the company just didn't have, and execution. The right distribution, the right consumer targeting, the right marketing and doing all the brand building exercises that are so valuable."
While the Homeboy partnership is valuable to helping the brand appeal to customers, Rampolla believes that products themselves must stand on their own. Another PowerPlant investment, Rebbl Beverages, has a partnership with the Not for Sale Foundation, but also features a similar emphasis on product.
Consumers care about taste, value proposition and brand before a company's social mission, Rampolla said, but added that regardless of the sales impact of a company mission, he wouldn't run a business any other way.
"It's the only way I build businesses and it's the only thing I want to do for the rest of my life. And what I believe is that it's not only the right way to do business but it attracts top talent, it attracts great investors and it attracts great partners," Rampolla said. "Ultimately I think it's gravy. It's just the way myself and my partners at Powerplant and Bruce and Reed are choosing to build businesses. Results be damned, but it's also going to deliver results."