Saffron Road Steers Toward Shelf-Stable Meals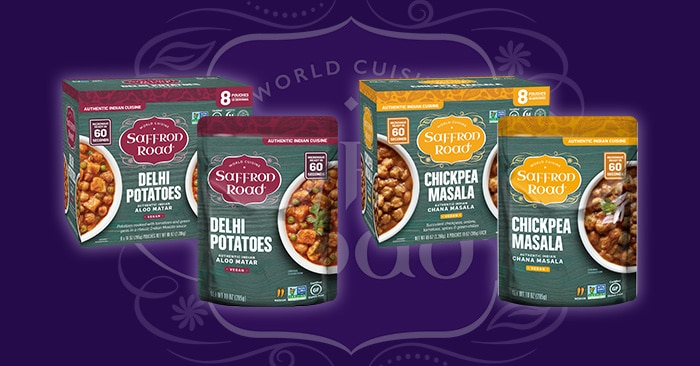 Halal frozen meal, sauce and snack brand Saffron Road is mapping another category entry, launching shelf-stable meals this month.
The new microwavable pouches come in two Indian-inspired flavors: Chickpea Masala and Delhi Potatoes, sold at Costco in 8-packs for $11.99, or $3.49-$3.99 per unit in other retailers. Chickpea Masala launched last March in Los Angeles-area Costco stores and has since been added to most locations, while the new Delhi Potatoes will launch in Bay Area Costco stores next month, and both will enter The Fresh Market in April. The products will debut to the rest of the industry at Natural Products Expo West, along with three new flavors of the company's Crunchy Chickpea snacks: toasted coconut, buffalo and salt & pepper.
The Stamford, Connecticut-based brand, founded in 2009, already offers 40 Halal-certified products, including frozen meals, its biggest and best-selling category, as well as simmer sauce packs, bone broth, and snacks. Its products are sold in over 25,000 stores, including Whole Foods, Kroger and, most recently, Walmart. The brand entered Costco in 2012.
Adnan Durrani, Saffron Road founder and CEO, said that the brand — owned by corporate parent American Halal Company — saw "enormous growth" from 2012 to 2016. Despite a slower top line growth rate in 2018, as big CPG brands launched similar frozen meal offerings, Saffron Road's authenticity and transparency remain powerful, Durrani said: sales increased 18.1% in multi outlet (MULO) in 2019, according to SPINS data provided by the brand.
The shelf-stable meals, which were requested via consumer research, delve even "deeper into the culinary funnel," Jack Acree, Saffron Road's EVP, told NOSH. Although the brand appears predominantly in conventional outlets, Costco drives trial for larger households (with guaranteed volume), and has so far seen the Chickpea Masala packs perform well, Acree noted.
"It not only shows the strength of our ability to scale, but the breadth of the brand as well," Acree said.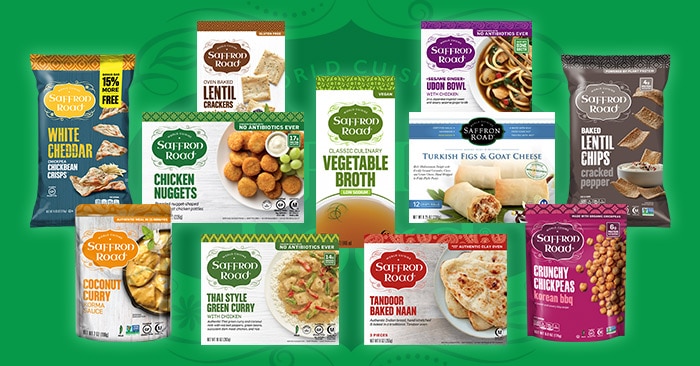 Moving forward, the company will continue leading with legumes, which offer a sustainable and nutrition-packed profile and, conveniently, fall in line with on-trend plant-based preferences. According to information from the brand, its Crunchy Chickpeas are the top-selling chickpea snacks in the U.S., despite similar snacks from Biena and The Good Bean gaining steam. The new shelf-stable meals, though, will further the brand's mission to bring legumes into mainstream mealtime occasions, Durrani said, and looking ahead, the brand will explore on-trend Mediterranean and Asian-inspired meal offerings.
The new snack flavors, meanwhile, reflect a slightly different path — though not too far off-course. Although the brand has leaned toward world cuisine-inspired flavors (think bombay spice and Korean BBQ) for its products, the new buffalo and salt & pepper Crunchy Chickpeas are more straightforward flavors, while toasted coconut is more "exotic," Acree explained. All are designed around a "fun and unique" ethos, he said, though not all fun ideas have stuck: the brand is phasing out its chocolate-covered chickpeas, as it strives to get more consumers' heads (and hopefully, hands) wrapped around savory chickpea snacks.