Biena Closes Round, Bringing Total Funding to Over $15M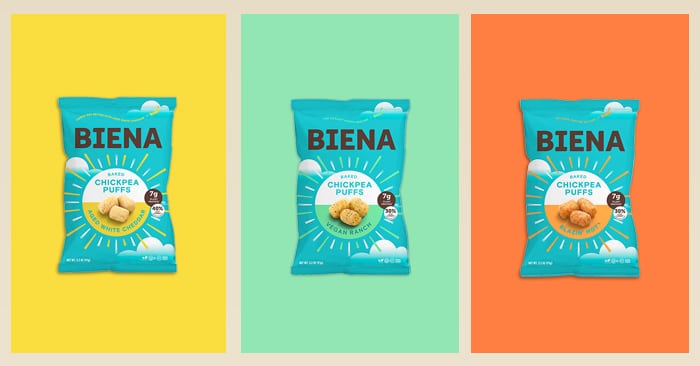 Snack brand Biena announced today the close of an $8 million round of funding, bringing the company's total fundraising efforts to over $14M since its founding in 2012. The round was led by MAW Investments, with all previous venture investors (including Blueberry Ventures, Centerman Capital, Tastemaker Capital and New Ground Ventures) also participating.
Biena last raised $2.3 million in 2018 and $3.75 million in the summer 2017. The current round closed earlier this summer in July.
MAW brings several Snyder's-Lance alumni back together, including Peter Michaud, who ran the company's healthy snack division; Ed Good, the former CFO of Snyder's of Hanover; and Patricia Warehime, the widow of Mike Warehime, the former chairman of Snyder's of Hanover. Mike Wareheim originally established MAW but after his passing in 2014, Patricia Wareheim assumed responsibility of the firm. In 2017 the Wareheim family, which collectively owned 13.2% of Snyder's-Lance's, participated in the sale of that business to Campbell Soup Company.
Biena CEO and founder Poorvi Patodia told NOSH that the company chose to take investment from MAW because of the group's "deep experience in snack" and cultural fit. She was introduced to the firm via a board member who had previously worked with the team. The capital was necessary in order to support Biena's continued growth.
"It just made a lot of sense for us to go out and raise money to take advantage of the growth opportunities in front of us with the brand platform," Patodia said. "The series B is really a signal that we hit all the milestones that we intended to hit with our series A and that we're at a different stage as a business and as a brand. This is about the next phase of growth."
That next phase of growth is being largely driven by the company's first major product release since inception. In March Biena launched a line of chickpea-flour based puffs to complement its flagship line of flavored or enrobed roasted chickpeas. Patodia said while the roasted line still represent the bulk of the company's revenues, the puffs (which until recently have been sold in Wegmans) are already meeting sales goals and seeing fast retailer pickup. The puffs will launch into Whole Foods Markets in September and into several Kroger banners (including QFC, Fred Meyer, Mariano's, Fry's and Ralphs) later this year.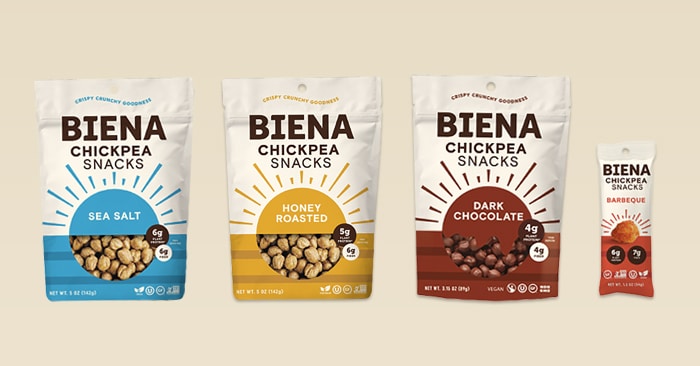 The capital will go towards both adding to store counts as well as driving trial and then maintaining repeat purchases. Patodia said. The puffs line hopes to steal share from rival Pirate's Booty, offering families a more nutritious alternative. Pirate's Booty was sold to global brand Hershey's in 2018.
"Mostly [the capital] will be used for sales, anything from paying for slotting or promotional dollars to hiring more team members or merchandising partners," Patodia said. "It will also be used in marketing. We have highly differentiated snack products that have more work to be done in terms of driving awareness and trial."
Biena will also explore launching new products, some of which will not utilize chickpeas at all. Patodia told NOSH the company has led with the legume for its clean source of plant-based protein and positive association with consumers, but is by no means tied to being an ingredient driven brand. She added that, over time, the company will "stretch the brand equity" to other plant-based ingredients.
The new investment may help with the company's innovation pipeline (and production) as well. In 2018 MAW purchased private label producer and co-packer G&S Foods/Tastysnack Quality Foods, Inc. Patodia told NOSH that Biena's deal does not include moving production to the facility, although she's open to that in the future.
"We may evaluate working with that plant, but that would be just like we'd evaluate any other manufacturing plant," Patodia said. "But really, in the case of Biena, it's MAW putting investment into the brand because they really believe in it and have significant snacking experience that can help."