Chicken(ing) Out: Alpha Foods Closes $28M Round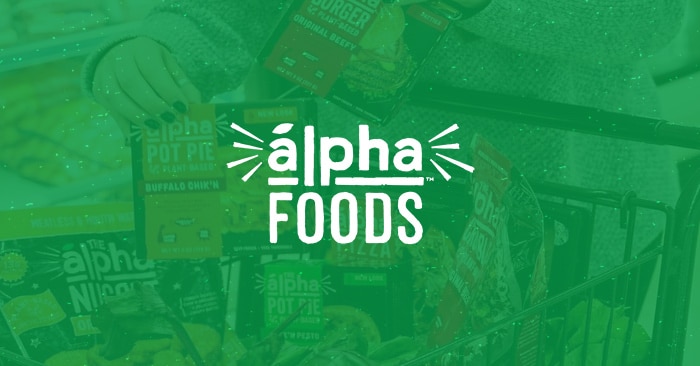 To-date, the plant-based meat world has been largely dominated by sausage, burger and ground beef alternatives — Alpha Foods, however, sees a future in faux fowl. Investors are supporting this outlook, with the brand announcing today the close of a $28 million round of investment.
Venture firm AccelFoods led the round, with previous investors New Crop Capital, Green Monday and Blue Horizon also taking part. Since hitting store shelves in 2017, the company had raised roughly $12 million over two funding rounds. The money will go toward new product launches, hiring, marketing and expanding the company's distribution domestically and abroad.
Cole Orobetz, co-founder and president of Alpha Foods, said that the cost of doing business has continued to creep upwards for emerging food brands, hence the step up in the size of the raise.
"Coming from Canada where I started on the venture capital side, it was really surprising to see the costs of not only entering the market but continuing to build momentum of the brands and the products," Orobetz said. "It's extremely expensive to operate in the United States."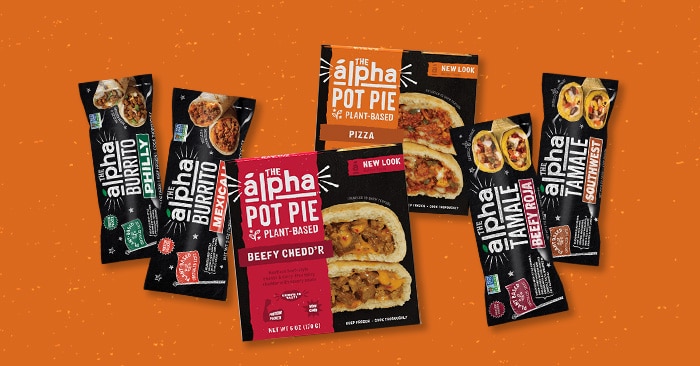 Although marketing against larger brands such as Beyond Meat is a cost driver, hiring is also becoming a significant expense for the company.
"Attracting people from other well-paying, full-time jobs has been, not a challenge, but it's gotten to be a huge line item," Orobetz told NOSH.
That talent will be needed as the company looks to expand its distribution. The brand is in 9,000 stores, including Walmart, Kroger, Abertsons/Safeway, Sprouts and Wegmans domestically. If that sounds like a conventional retail focus, it's intentional.
"For an early brand with limited resources and bandwidth, Walmart was a perfect first retailer to start, given that there was no daily management of consumer/shopper marketing, deductions and unpredictable ordering," Orobetz said. "The administrative and supply chain burden was low."
In 2020, however, the company hopes to add depth in specialty and natural retail channels. In addition, Alpha hopes to expand its reach abroad. Its relationship with Green Monday, which is based in Hong Kong, has given it a presence in stores in that country, as well as on Alibaba's Tmall platform, where it can ship directly to mainland China consumers. But moving forward, Orobetz said the company will focus on markets closer to the U.S., such as Canada and the Caribbean.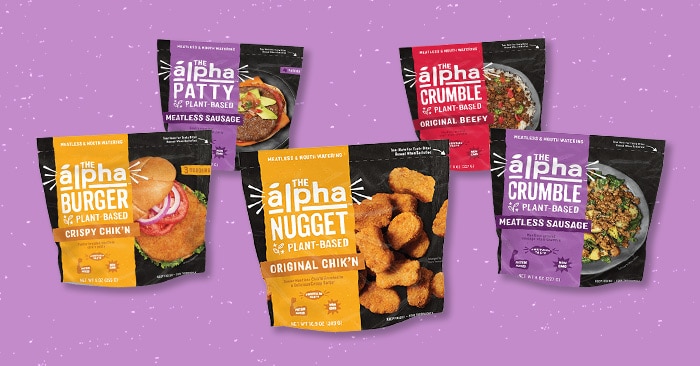 The company has also spent a year preparing to enter more fully into food service, hiring new brokers and sales staff. Alpha originally launched into the marketplace with complete meal offerings – such as tamales and burritos – before launching more "center of plate" proteins such as crumbles, nuggets and patties in 2019.
Orobetz sees the plant-based chicken patty and chicken nuggets as the company's best shot at attracting food service clients. While many quick-serve restaurants now offer burger alternatives, few offer plant-based options for their breaded chicken sandwiches, nuggets or tenders.
As consumers transition to vegetarian or flexitarian diets, chicken is generally the second meat they stop eating after red meat, Orobetz said. Thus it's an incredibly large category to target, with little current competition — think about KFC's plant-based chicken and mix it with the Popeye's sandwich to consider the potential.
"Chicken is really where we see the white space for 2020 and going forward," Orobetz said. "It's the next largest opportunity for plant-based companies to innovate around."