What is Meat? New Bill Aims to Define It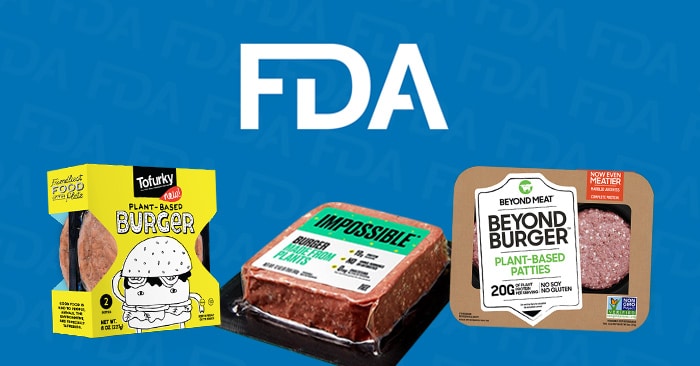 Last week Rep. Anthony Brindisi (D-NY) and Rep. Roger Marshall (R-KS.) proposed the Real Marketing Edible Artificials Truthfully Act (Real MEAT Act) to Congress, which would establish strict guidelines against labeling alternative proteins as "meat." Although the meat versus plant-based battle isn't new, up until now, legal action on the matter has happened only at the state level — this is the first federal bill addressing the subject.
The bill comes about as more and more companies — both big and small — are entering the plant-based meat space, primarily focused on beef alternatives. To prevent what the bill says is "confusion in the marketplace," the REAL Meat Act states that any alternative beef product not derived from cows must have the word 'imitation' in the product name. If approved, the bill would be added to the Federal Drug Administration (FDA) Federal Food, Drug, and Cosmetic Act (FD&C Act.) Though the bill doesn't specifically call out plant-based versus cell-based meat, which is derived from meat cells, it would apply to labeling any alternative beef product.
The bill notes that such definitions already exist in the Beef Research and Information Act, part of the 1985 Farm Bill: 'beef' is defined as flesh of cattle and 'beef products' as those produced in whole or in part from beef, exclusive of milk and products made therefrom. Thus, proponents say, this new federal bill would establish tighter regulations around labeling in order to fight consumer confusion.
"This bill is about safety and transparency, and will make sure that meat-lovers and vegans alike have the transparency and honest labels that can allow customers to make their own decisions," Rep. Brindisi said in a statement.
Opponents of the bill — including plant-based meat's biggest players — argue it will likely hinder the growth of the plant-based and cell-based meat markets. They believe that the bill is unconstitutional, violating the First Amendment, and unnecessary because consumers understand plant-based versus animal meat.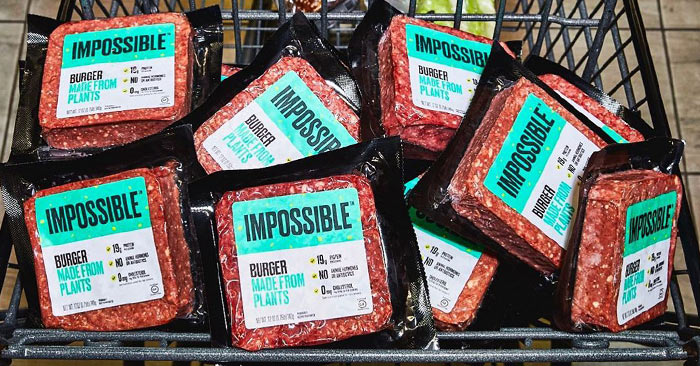 In a statement to NOSH, Impossible Foods, which entered retail in September, said consumers are "crystal clear" on what's in — and not in — its products, which don't feature the word "meat." Indeed, consumers are "taking proactive steps" toward plant-based, alternative meat brand Tofurky CEO Jaime Athos told NOSH. U.S. retail sales of plant-based foods have grown 11% this past year, bringing the total market value to $4.5 billion, according to the Good Food Institute (GFI) and the Plant Based Foods Association (PBFA.) The market is further heating up with big CPG brands entering a playing field that previously was dominated by Impossible Foods and Beyond Meat.
With such avid consumer interest in plant-based alternatives, passing this bill would unfairly favor the meat industry, Athos said.
"Our government has for far too long propped up the meat industry with unfair support from subsidies, to regulatory preferences, to warping the science around our nutritional guidelines," Athos told NOSH. "I am ultimately not surprised to see a federal bill because the meat industry has been pretty relentlessly lobbying for these sorts of anti-competitive laws at all levels of government."
Indeed, similar tensions are already sizzling within state legal cases. This summer plant-based food brand Upton's Naturals and PBFA sued the state of Mississippi over its "Fake Meat Bill" which banned cultured meat, insect-based and plant-based food brands from using "meat product terms" ('hamburger,' 'sausage,' 'bacon' and 'meatballs') on products. In another lawsuit this summer against the state of Arkansas, Tofurky, the ACLU of Arkansas, GFI and ALDF alleged that the state's truth-in-labeling law, Act 501, which banned using "meat" or related words on plant-based or cell-based products, violated the First and Fourteenth Amendments: the right to free speech and due process, respectively. Neither case has yet been resolved.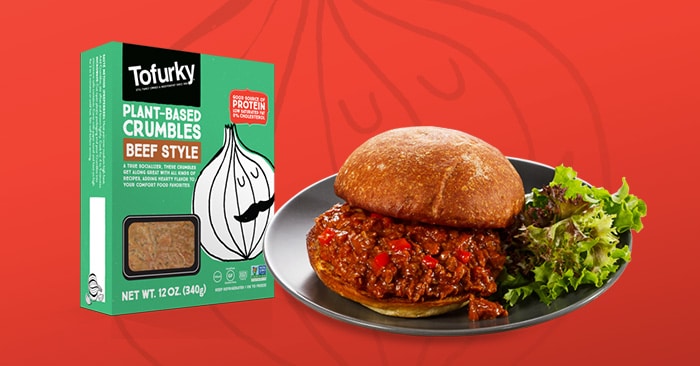 Previously, in 2018, Tofurky, GFI, the Animal Legal Defense Fund (ALDF), the American Civil Liberties Union (ACLU) of Missouri sued the state of Missouri for a bill that banned language "misrepresenting" meat as something not from a slaughtered animal. According to the lawsuit, that bill violates First Amendment rights, the Due Process Clause and the Dormant Commerce Clause, and discriminated against out-of-state companies to protect in-state meat producers. The case is currently on appeal after a judge rejected Tofurky's injunction, noting the legislation doesn't limit Tofurky's speech.
But are consumers actually confused? When GFI asked to view the consumer complaints said to have fueled the Missouri lawsuit, for example, the state had none, Jessica Almy, GFI's director of policy, told NOSH. Consumers, she noted, have long understood the difference between meat and alternative meat.
The rise in flexitarian households means many consumers are buying both meat and alternative meats, she added, which has led to more entrants into the category and products on shelf. While large CPG companies like Tyson are "smart" for investing or diversifying instead of fighting plant-based excitement, Almy added, it's the smaller plant-based brands that will struggle to survive if labeling laws change. The word 'imitation' would also likely complicate the marketing and sale of plant-based products — and probably increase costs and reduce options in the marketplace, she noted.
"Plant-based products are not staking being the real thing but lesser quality; instead they're their own thing — and arguably the same or higher quality than the meats they're competing against," Almy said. "Label censorship is a way of preventing companies from selling products to consumers."
Further, banning "meat" from alternative meat labels could prove dangerous once cell-based options, derived from actual meat, are available, Almy added. Cell-made meat brand Memphis Meats and the North American Meat Institute (NAMI) already formed an alliance in 2018 to push for cell-grown meat and poultry standards. As a result, the U.S. Department of Agriculture (USDA) and FDA in March agreed to jointly regulate cell-based meat, but haven't yet established the required language for the products to enter the marketplace.
Back on the ranch, the National Cattlemen's Beef Association (NCBA) expressed support for the bill.
"A growing number of fake meat products are clearly trying to mislead consumers," NCBA president Jennifer Houston said in a release. "Consumers need to be protected from deceptive marketing practices, and cattle producers need to be able to compete on a fair, level playing field."