The Checkout: Plant-based Labeling Lawsuit Dropped, Kroger Rebrands
Welcome to The Checkout: an express lane for weekly news you need to know, always 10 items or less.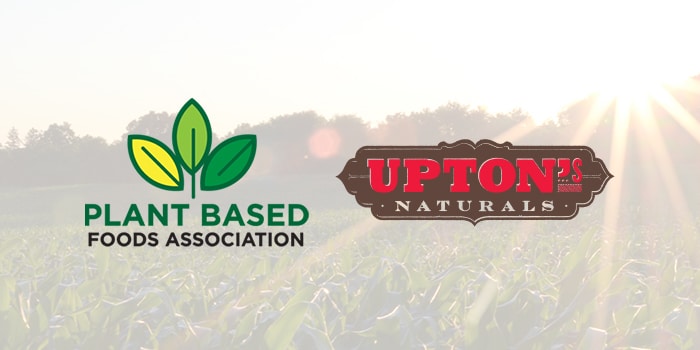 Upton's Naturals and PBFA Drop Labeling Lawsuit
Vegan meat brand Upton's Naturals and Plant Based Foods Association (PBFA) have dropped their joint lawsuit against the state of Mississippi after the state updated its "Fake Meat Bill."
Originally, the bill banned plant-based and insect-based meat substitutes, along with cultured meat, from using "meat product terms" like "burger" and "hot dog" on their packaging. The lawsuit, which was filed in July, said the bill violated the First Amendment rights of Upton's and the PBFA's member companies and would cause them financial hardships from relabeling products and lost sales.
In an update to the bill yesterday, Mississippi agreed to allow "plant-based meat" and other terms on labels, as long as there's a qualifier, according to a PBFA blog post. The new regulation states that plant-based foods will not be considered to be labeled as a "meat" or "meat food product" as long as their label also describes the product as "meat-free," "meatless," "plant-based," "vegetarian" "vegan" or uses other comparable terms.
"Our clients simply wanted to continue using clear labels with the terms consumers understand best," the plaintiffs' lead attorney, Institute for Justice attorney Justin Pearson, said in the post. "The Mississippi Department of Agriculture has done the right thing, so there is no need to move forward with the lawsuit."
Dan Staackmann, founder and owner of Chicago-based Upton's Naturals, which sells vegan bacon, chorizo, burgers and other products, noted the company has always strived to avoid consumer confusion via clear labeling.
"We have a First Amendment right to use common terms like 'bacon' and 'burger' and we're prepared to fight for that right in any other state that passes anti-competitive laws being pushed by the meat industry," Staackmann said in the post.
The original law, which does not apply to alternative poultry products, received support from North American Meat Association, the Mississippi Cattlemen's Association and the Mississippi Farm Bureau. A similar bill aiming for clear-cut definitions of meat terms was proposed in Congress last week.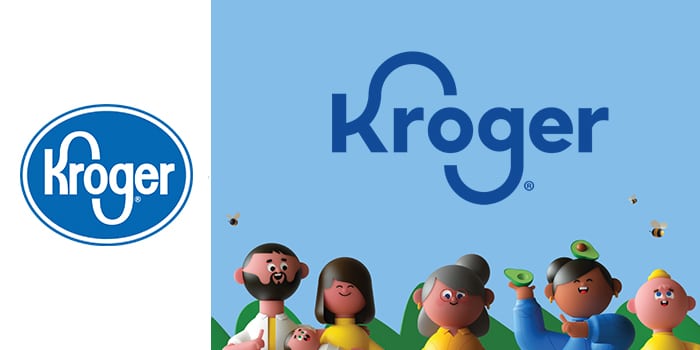 Kroger Debuts Fresh Look
Grocery retailer Kroger revealed an updated logo this week with the tagline 'Fresh for Everyone' as part of a new branding campaign.
While the company retained the logo's familiar bold blue color and arched, exaggerated shape of the "K" and "G," the new tagline will emphasize that everyone deserves fresh, affordable food, according to a company release. Furthermore, the release noted, Kroger is putting that principle into action through its Zero Hunger Zero Waste initiative that aims to end waste company-wide by 2025. As part of the efforts, last month the company announced simplified date labeling for its private label line.
For the branding campaign, Kroger, which owns about 2,759 retail food stores under various banners retained its first creative agency, DDB New York. The campaign features inclusivity-focused animated Kroji (Kroger + emoji) characters based on its customers and half a million customer associates, which will appear on various advertising platforms.
"Kroger's new brand celebrates our love of people and our love of food, cutting through the 'sea of sameness' that has beset grocery retail advertising for far too long," Mandy Rassi, Kroger's VP of marketing, said in a release. "Kroger's brand campaign was developed using the deep insights we have about our customers, their needs and how we can help make it easier for them to achieve their food aspirations."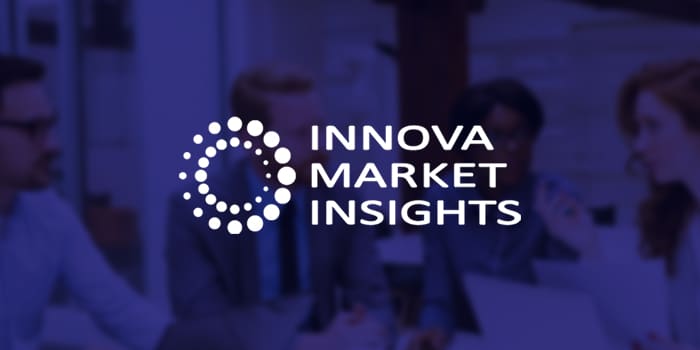 Innova Market Insights: Top 10 Trends for 2020
In a webinar this week, research firm Innova Market Insights unveiled its top 10 global trends for 2020.
A macro theme across all trends is the importance of storytelling. Fifty six percent of consumers say brand stories influence their purchasing decisions. They want to know ingredient details, including where they're from and why they're used in a product, LuAnn Williams, Innova's director of innovation, said.
"I think a lot of small brands have done that well," Williams said. "Now it's time for all companies to do that."
Williams further noted plant-based products — especially clean-label ones — are driving "a revolution," and increasingly entering the mainstream market. The average annual growth of plant-based food and drinks was 68% from 2014-2018, she noted, fueled by mainstream attention. She cited plant-based meat brand Impossible Foods and vegan egg brand JUST as examples of plant-based moving into mainstream channels; for example, JUST Egg brand is sold at 20 of America's largest grocers, according to data from the company.
Other lasting trends include sustainable packaging, hybrid products (especially meat and dairy) and eating for beauty. Williams noted that while some of these trends have been seen in the firm's previous annual reports, they're more nuanced each year.
"We're not picking fads; we're picking things really having an impact on what happens in the industry," she said. "They build on each other from previous years. It's the most exciting time to be in food."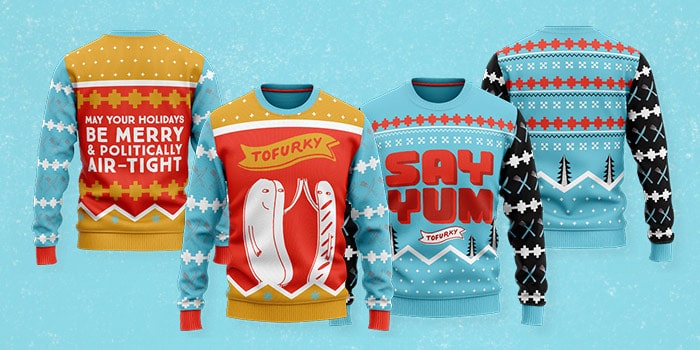 Tofurky: Sparking the Season with 'Ugly' Sweaters
Tofurky plans to serve up some holiday cheer this year alongside its signature (and namesake) meatless holiday roast. The plant-based protein brand will launch two 'ugly' Christmas sweaters to celebrate the 25th anniversary of its Tofurky Turk'y Roast. Profits from the sweaters, which will be available online December 3 and retail for $34.99, will benefit conservation organization Wild Aid.
The sweaters feature quirky slogans like "Say Yum" and "High Five," the latter of which shows a (presumably plant-based) sausage high-fiving a bun. The holiday marketing campaign is the latest extension of the brand's refreshed image — an effort to give the company a more distinct personality amidst an increasingly competitive category.
"In keeping with the fun-loving and purpose driven nature of the brand, we've designed two holiday sweaters that we think will continue our tradition of inspiring eyerolls and open-mindedness at the dinner table," Tofurky president and CEO Jaime Athos said.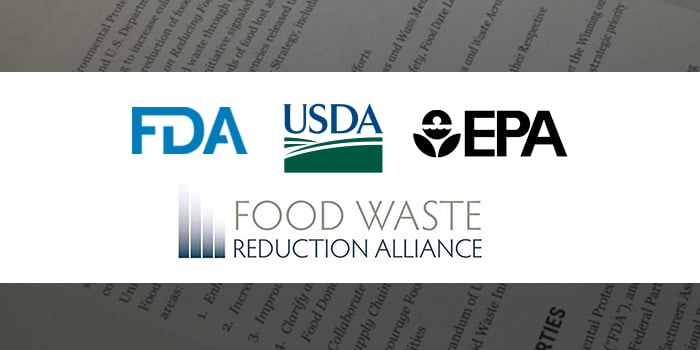 USDA, FDA and EPA Join Food Waste Fight
Last week the U.S. Department of Agriculture (USDA), the U.S. Environmental Protection Agency (EPA), and the U.S. Food and Drug Administration (FDA) announced a partnership with the Food Waste Reduction Alliance (FWRA) to help meet a national goal of reducing food waste by 50% by 2030.
Founded in 2011 by the Grocery Manufacturers Association (GMI), the Food Marketing Institute (FMI), and the National Restaurant Association (NRA), the FWRA aims to prevent food waste at the source, stop it from entering landfills and expand nutritious and safe food donations. The organization works with partners across food manufacturing, retail, and foodservice, including retailers Target, Wegmans and Albertsons and CPG brands Conagra, General Mills and DelMonte.
Waste occurs across the supply chain, with nearly 85% of it occurring downstream at consumer-facing businesses and homes, according to food waste nonprofit ReFED. Reducing these numbers has both environmental and social benefits, EPA administrator Andrew Wheeler said in a release. Food waste costs consumers $218 billion yearly, according to ReFED, and collaboration across agencies is a step towards meeting the nation's food waste goal, Wheeler noted.